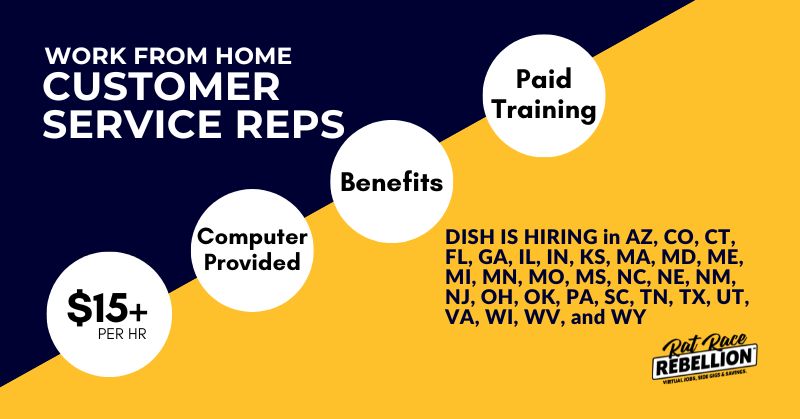 by Chris Durst      Aug, 24, 2022
Dish has posted openings for Work from Home Customer Service Reps. In this role, you would "serve as an information resource for billing, programming, and troubleshooting questions – including suggesting ways for existing customers to get the most value and enjoyment from their DISH experience."
Currently hiring from AZ, CO, CT, FL, GA, IL, IN, KS, MA, MD, ME, MI, MN, MO, MS, NC, NE, NM, NJ, OH, OK, PA, SC, TN, TX, UT, VA, WI, WV, and WY. However, this may change, so be sure to check the listings.
The pay range is $15 – $16.50/hr. Starting pay rates vary by state, as noted below.
DISH will supply your equipment.
The job comes with what looks to be broad benefits.
Here's what the company has to say about the jobs:
DISH's first priority is customer experience, and our agents excel at simplifying lives and helping communities get the most from their TV experience. For over 40 years we have been tuned in to the needs of customers. It's why we've earned the J.D. Power accolade of being #1 in Overall Customer Service six years in a row, and #1 in overall Customer Satisfaction four years in a row.
Job Duties and Responsibilities
As a Customer Experience Representative, you will serve as an information resource for billing, programming, and technical troubleshooting questions – including suggesting products and services to our new and existing customers so they get the most value and enjoyment from their DISH experience. You will be providing solutions to customers, from simple concerns to escalated and complex situations. If you like to solve problems and interact with people from across the country or maybe just a few towns over, this is the spot for you!
In this role, you will:
Always have at least 2 days off in a row
Support customers between the hours of 6 AM to 10 PM MT
Two shift structures: 8 hour shifts 5 days a week, or 10 hour shifts 4 days a week
Have open availability including weekends and holidays, that allows for potential schedule change every 12-15 weeks based on business needs
Take back-to-back tech support or customer service phone calls with customers throughout the entirety of your shift
Engage with a diverse consumer base to provide solutions for customer needs and technical issues
What's in it for you?
This is a Full Time, Work-From-Home position #remote
10% increase to your starting rate upon completing apprenticeship
Company-provided equipment
Extensive Benefits Package
Medical, Dental, Vision Insurance
PTO and Paid Sick Time
401(k) Investments with Company-matched funds
Tuition reimbursement
Discounted DISH, Sling & Boost services
Opportunity is our greatest benefit
Our representatives are built to work hard and rise. We offer defined career ladders and extensive opportunity for upward mobility.
Skills, Experience and Requirements
Ideal representatives have:
High School diploma, GED, or equivalent experience
Six months of related customer service and troubleshooting experience and/or training
An openness to being coachable and a desire to learn new techniques
All representatives must have:
Ability to remain engaged on the phone throughout the entirety of your shift with minimal to no distractions
Ability to be on camera during all video meetings
Superb attendance
Open availability to work between the hours of 6 AM to 10 PM MT as well as weekends and holidays
Flexibility with schedule changes every 12-15 weeks
Tech savviness with the ability to smoothly operate multiple windows and tabs, while simultaneously providing Best In Class Customer Experience speaking to
customers over the phone
Where you'll be working:
You'll be working from home! At DISH, we understand the modern employee may need to operate fast on their feet and out of the office. Working from home allows you to perform a professional workday from the comfort of your home.
Work-at-Home Technical Requirements:
DISH will provide all equipment required to perform the role aside from home internet!
Home Internet

Dedicated home office workspace with:

Stable Cable, DSL, or Fiber ISP internet connection with minimum 25 Mbps download and 2 Mbps upload speed with 99% uptime and no bandwidth or data caps
Wired ethernet between modem and PC without the use of an adapter: Wi-Fi / wireless is not supported
All costs to meet and maintain these requirements are the responsibility of the employee and are not reimbursed by DISH, except where required by law.
Starting Pay varies by your home location:
Arizona $15.50
Arizona, Phoenix $15.00
Colorado $16.00
Connecticut $16.50
Florida $15.00
Georgia $15.00
Illinois $16.00
Indiana $15.00
Kansas $15.00
Massachusetts $16.50
Maine $15.50
Maryland $16.00
Michigan $15.50
Minnesota $16.00
Mississippi $15.00
Missouri $15.00
Nebraska $15.00
New Mexico $15.00
New Jersey, $16.50
North Carolina $15.00
Ohio $15.50
Ohio, Hilliard $15.00
Oklahoma $15.00
South Carolina $15.00
Pennsylvania $15.50
Tennessee $15.00
Texas $15.00
Utah $15.00
Virginia $15.50
Wisconsin $15.50
West Virginia $15.00
Wyoming $15.00
Salary Range
Compensation: $15.00/Hour
CLICK HERE for full details and to apply. For more jobs like these, check our Newest Jobs & Gigs page. To be the first to hear about jobs like these, like our Facebook page.
PLEASE SHARE this post – turn your friends into Rat Race Rebels!
[social_warfare]