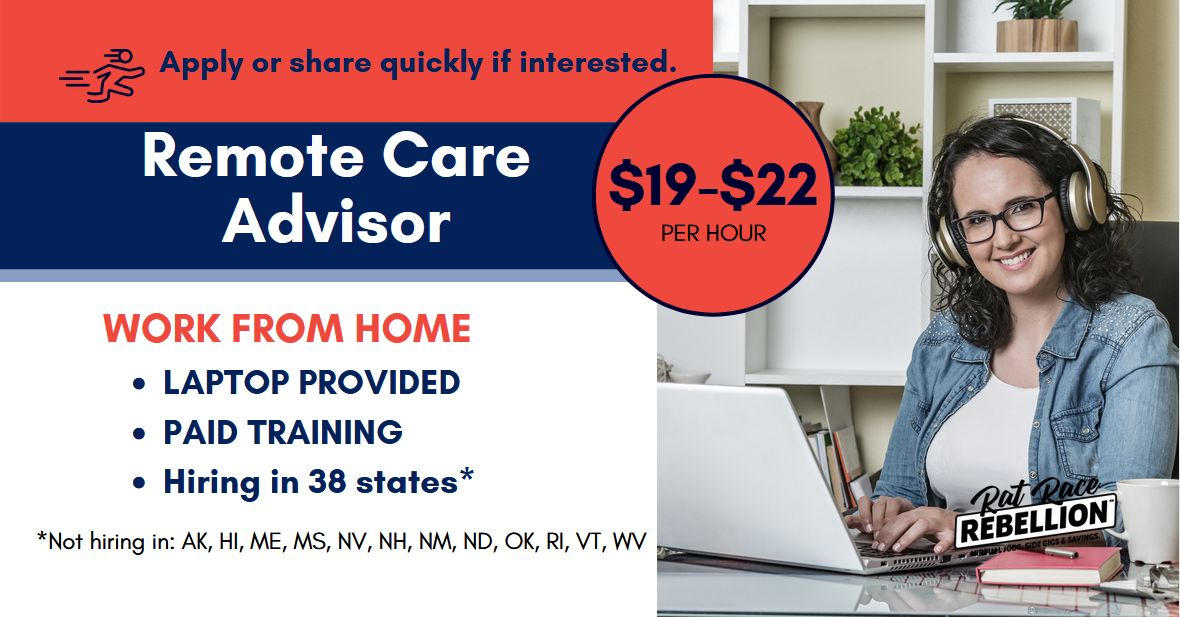 By Chris Durst       Dec. 5, 2022
Wellthy — a chronic and elder care concierge that helps manage healthcare for families with sick and aging loved ones — is looking for Remote Care Advisers.
They are hiring from all states except AK, HI, ME, MI, NV, NH, NM, ND, OK, RI, VT and WV.
The pay for this role is $19- $22/hr.
Typically, the company provides a Mac computer for their home-based employees.

Here's what the company has to say about the openings:
Wellthy is a digital care concierge for families with chronic, complex, and ongoing care needs. By tackling the logistical aspects of caregiving, Wellthy helps employers increase productivity, improve retention, and reduce time away—all while giving employees the support they need to care for themselves and those they love.
As our Virtual Care Adviser, you will assist with various tasks to support families and individuals and address their unique caretaking needs.
We love collaborating here at Wellthy and in this role you will work closely with Care Coordinators and other Care Advisers.
You will report directly to the Team Lead and Care Manager.
To be successful in this role, you will:
You will collaborate with Care Coordinators, Team Leads, and Managers by using your expertise and know-how to support tasks to help Wellthy customers.
You will collaborate with Care Coordinators, Care Advisers/Specialists, Team Leads, and Managers to help Wellthy Care Recipients, by using your expertise and know-how to support with tasks
Support with improving and updating Wellthy's Guides and Team Resources.
If interested and when applicable, represent Wellthy at events such as health fairs, open enrollments, and internal/external webinars (travel and expenses covered by Wellthy)
Other non-client-specific work, including but not limited to: feedback and guidance on Wellthy's product, service, guides, etc.; contribution to the team culture; writing and advising for marketing materials; and support and teamwork for other service team members.
Qualifications required for this role include:
It is important to note that you will need the ability to work in an ever-changing environment, be flexible, creative, and be comfortable in knowing that we are constantly evolving.
High school diploma
Ability to work independently while being communicative and collaborative with the Coordination Team
Proficiency with macOS systems, GSuite, Slack, and 1Password
Strong ethical standards and a respect for client confidentiality
Ability to integrate and collaborate well with others while adapting to evolving service experiences
Knowledge of and ability to navigate the healthcare sector
TEAMS – Each of our specific teams have additional qualification for the role.
Housing: 1+ years experience in senior living facilities or property management, Section 8/Low-income housing vouchers, or facility placement preferred.
Medical: Experience researching and vetting medical providers and specialists.
Mental Health: Experience in mental health/ substance abuse with a general knowledge of diagnoses. Experience locating mental health providers, residential facilities, and support groups.
In Home Support: experience with private and agency in-home support services including childcare, elderly care, personal care.
Finance: experience with medical billing/coding, insurance, and billing claims.
Veterans: experience with Veterans Affairs, benefits, and services for military personnel and their families.
Qualifications that are preferred but not mandatory:
Remote work experience
Associates degree or higher
Proficiency in more than one language is a plus.
3+ years work experience in healthcare or caregiving field, as well as customer service or administrative experience
Total Rewards Package
Salary: $19.00 – $22.00 per hour
Remote work environment
Medical, dental and vision benefits within 30 days of hire
Retirement saving account with matching company contributions
Mental health benefits
15 days paid vacation, two additional days for each subsequent years (up to a maximum of 25 days)
Professional development initiatives for growth
Generous parental leave (maternal and paternal) during a new child's first year (born into family or adopted)
Location:
This is a fully remote position. Our Wellthian's are located throughout the United States but we are currently not accepting candidates in the following states: Alaska, Hawaii, Maine, Mississippi, Nevada, New Hampshire, New Mexico, North Dakota, Oklahoma, Rhode Island, Vermont and West Virginia.
Role Requirements:
To work from home, you must have a strong internet connection, quiet space to take calls and a professional (distraction free) environment.
What to expect in the hiring process
Before hiring a Care Adviser, we put individuals through a rigorous screening process which includes interviews, case study, reference checks, and background checks.
Training:
If a Care Adviser is invited to join the team, they then go through a two-week bootcamp training program with a daily curriculum of learning, shadowing, and hands-on work that is both self-guided and collaborative with other Advisers, Coordinators, and their Team Lead over Zoom Video. At the end of the two weeks, a Care Adviser must pass our certification test before being allowed to work with families. The certification tests for proficiency in:
Technical knowledge
Use of Wellthy platform
Customer service
The Wellthy way of communicating and delivering a high-touch customer experience
CLICK HERE for full details and to apply. For more jobs like these, check our Newest Jobs & Gigs page. To be the first to hear about jobs like these, like our Facebook page and check your feed for our posts. May you be working from home soon!
PLEASE SHARE this post – turn your friends into Rat Race Rebels!
[social_warfare]