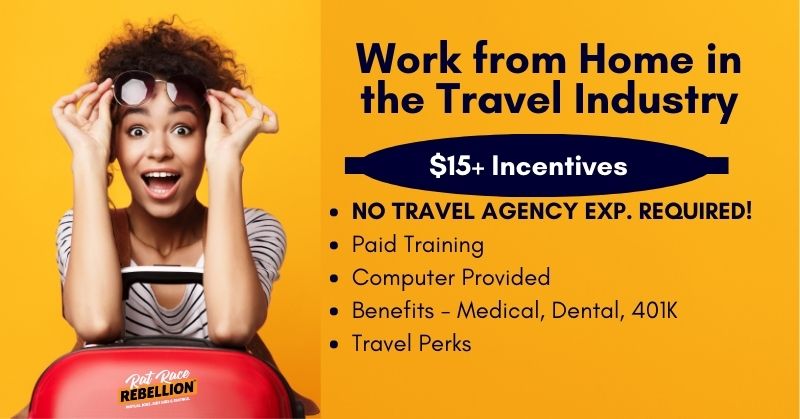 by Chris Durst      Aug. 11, 2023
As we write, this job listing is online and applications appear to be open. But jobs can fill at any time, so apply or share quickly if you're interested! Sorry, but we have no role in the HR processes of other companies. If you encounter difficulties in the application process please contact them directly. Good luck in your hunt, and may you be working from home soon!
World Travel Holdings is hiring work at home Customer Service Representatives.
Hiring from all states EXCEPT AK, CA, HI, KY, ND, OH, OR and PA.
The job comes with deeply discounted cruises!
In this role, you'd be taking inbound reservation and customer service calls.
The job pays an hourly base rate of $15 plus bi-weekly incentives.
A computer and headset are included. Paid training is also provided.
Benefits available after 90 days.
Here's what the company has posted about this opportunity:
Are you passionate about providing world-class customer service? Do you have the discipline to work in a remote, structured, call center environment? Do you work well independently utilizing available resources, yet know when to reach out for support as needed? If yes, we may have the role for you!
World Travel Holdings is seeking Remote Customer Service Representatives to support our mission of delivering a remarkable experience to our customers. In this role, you will handle inbound customer service and reservation calls focusing on one call resolution. (Assesstment to follow after application).
What you'll receive…
Training: Paid training, as well as on-going development to help you grow in your role and career.
Pay: You will receive an hourly base pay of $15/hour plus bi-weekly incentives based on performance.
Equipment: We'll provide you with the computer equipment and headset needed to work remote.
Support: You are home but not alone! Our internal support team is available real-time to help you be successful.
Benefits: Eligible 90 days after hire to include medical, dental, 401K, paid time off, and more.
Travel Perks: Experience the industry through deeply discounted cruises, access to travel agent rates, an annual rewards cruise for top agents, and much more.
About World Travel Holdings
World Travel Holdings is the nation's largest cruise agency and award-winning leisure travel company with a portfolio of nearly 40 diverse brands. In addition to owning some of the largest brands distributing cruises, villas, resort vacations, car rentals, resort day passes and luxury travel services, World Travel Holdings has a vast portfolio of private-label partnerships comprised of top leisure travel providers, including almost every U.S. airline, leading hotel brands and prominent corporations. The company also operates a top-rated travel agency franchise and is consistently recognized as an industry leader in employee engagement and work-at-home employment. Its global presence includes operating multiple cruise brands in the United Kingdom. World Travel Holdings has offices in Wakefield, Mass.; Ft. Lauderdale, Fla.; and Chorley, England. For more information, visit WorldTravelHoldings.com.
Responsibilities
Effectively handle 2 – 3 inbound service and reservation calls per hour.
Accurately process new vacations and make requested changes to existing reservations in a timely manner.
Adhere to our Customer Connection methodology to ensure customers receive a remarkable experience.
Utilize available resources to efficiently handle customer requests independently and accurately.
Consistently meet or exceed performance goals and maintain productivity standards.
Navigate through multiple browsers and systems, chat via instant messaging, and respond to emails all while maintaining an engaged conversation with our customer.
Be reachable and available by telephone, email, and instant message during work hours.
Engage in team meetings and/or training sessions to build your knowledge base and awareness of company initiatives.
Qualifications
Schedule Adherence: Available to work a full-time schedule between 35-45 hours/week based on business needs.
Additional schedule requirements include:
6-week training schedule: Monday-Friday, 10am-7pm EST.
1st schedule post-training: You will be assigned a schedule based on business needs. Hours will vary between 8am-10pm EST, Sunday-Saturday. Schedules will include weekends, holidays, and your days off may not be consecutive.
Shift-Bid scheduling: After your 1st schedule post-training, your schedule will be based on a ranking system as part of our shift-bid process. Schedules change every quarter and vary between 8am to 10pm EST, Sunday-Saturday. Schedules will include weekends, holidays, and your days off may not be consecutive.
Reliability: Must be able to adhere to and work your schedule on a consistent basis.
Service: Ability to delight customers by creating a remarkable experience on every call. Attention to detail is a must!
Tech Savvy: Strong typing skills and proficient with internet navigation, instant messenger tools, email, and Microsoft Office.
Communication: Amazing phone presence and ability to communicate through all mediums (verbal, listening, written) to win customers over quickly and help them experience their dream vacation.
Receptive: Open to receive coaching feedback through regular meetings and apply learnings.
Dexterity: Able to concentrate and sit or stand at a desk while viewing a computer screen repetitively and answering the phone for each scheduled shift.
Remote: Disciplined and resourceful to meet business demands in a structured, virtual call center environment.
Workspace: You'll need a workspace free from distractions with reliable internet connectivity (minimum internet speeds of 5.0 Mbps upload and 10 Mbps download). This home office must not be in the same residence as an existing remote employee.
Residency: Must be a resident and live in a US state. We do not hire in AK, CA, HI, KY, ND, OH, OR, and PA.
CLICK HERE for full details and to apply. For more jobs like this, check our Newest Jobs & Gigs page. To be the first to hear about jobs like these, like our Facebook page. Good luck as you make your work from home plans a reality!
PLEASE SHARE this post – turn your friends into Rat Race Rebels!