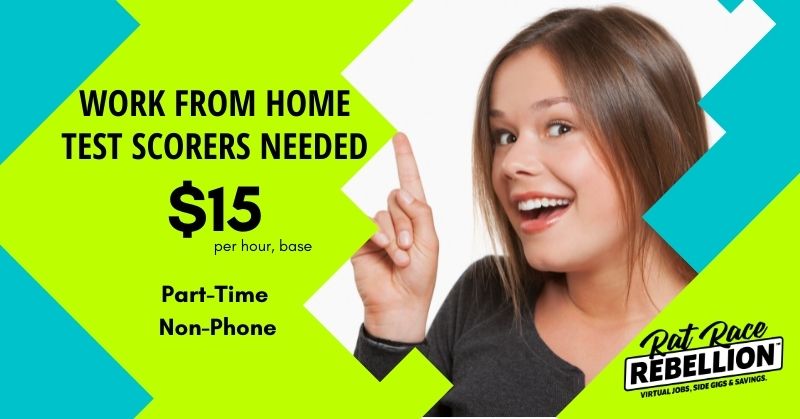 by Chris Durst         Mar. 30, 2022
If you're looking for a seasonal side gig, Measurement, Inc., a testing company founded in 1980, is again taking applications for Part-Time Work from Home Seasonal Reader/Evaluators to score student tests and essays online. Pay starts at $15/hr., with raises for experience and performance. Paid online training provided at the beginning of each project.
Applicants must reside in one of the following 28 states: AL, DE, FL, GA, HI, IA, ID, IN, KS, KY, LA, MI, MS, MT, NE, NC, NH, OH, OK, PA, SC, SD, TN, TX, UT, VA, WI, and WV.
The base pay rate for a Reader/Evaluator is $15.00 per hour. Any adjustments above this pay rate will align with the required tasks of the project.

Here's what the company has posted about this opportunity:
"NOTE: Before applying for this Reader/Evaluator position you must review the Position Requirements below. Please do not apply if you are unable to fulfill all requirements.
This page is for General Population Remote Readers only.
This includes new and returning applicants that can fulfill all Position Requirements below.
This DOES NOT include certified teachers currently teaching in the Virgin Islands or one of these states: CA, CT, DE, HI, ID, IN, MT, OR, SD, VT, or WA. If you are a certified teacher currently teaching in one of these locations please exit this page now and select the appropriate job posting from our Job Portal.
Dear Applicant:
Measurement Incorporated (MI) is seeking to fill seasonal positions of Remote Reader/Evaluator during 2022. We are a diverse company engaged in educational research, test development, and the scoring of tests administered throughout the world. Our company has grown to be the largest of its kind by providing consistent and reliable results to our clients. We can do so through the efforts of a professional and flexible staff.
Thank you for your interest in employment as a Reader/Evaluator with Measurement Incorporated. If you are hired as a Reader/Evaluator, you will be placed into our qualified reader pool. You will be eligible for work assignments that fit your qualifications and schedule.
Important Information for All Applicants
Apply to one job position only. Applying to multiple positions may result in no work assignments.
The highest demand for Readers/Evaluators begins in mid-April and ends in mid-June. New Readers/Evaluators are typically staffed during this time.
Work assignments are available on a limited basis throughout the rest of the year. Experienced, Returning Readers/Evaluators are typically staffed during these times.
You must have a computer that meets our technical requirements. Please check the requirements HERE If your system does not meet our technical requirements, please do not apply.
Measurement Incorporated requires all seasonal employees to complete Form I-9 each year to work. Once you have accepted your first work assignment, instructions will be provided.
Note: A Smartphone is required to complete this process.
Important Information for Returning Applicants
When you click on the Apply Now button you are directed to the login screen of MyStaffingPro. When logging into MyStaffingPro to complete your application, please make sure you are using the EXACT same email address to which your reapplication notice was sent. This is the email address we have on file for you.
Using a different email address to log in to MyStaffingPro will create a duplicate account. Please be sure to check the spelling and spaces between words and numbers before submitting the email address. Even minor differences will create a duplicate account. Creating a duplicate account will cause a delay in processing your application.
If you want to use a different email account for further notices, you may change it after you are logged on with the email address to which this application notice was sent.
If you have forgotten your login information, follow the onscreen directions to retrieve your username and/or password. If you have received a new password that will not work, or if you have not received a new password soon after your request, please contact us via HELPSPOT and Submit a Request. Do not create a new account using a different email address or setting up a new username and password.
Working Hours
Work shifts are Monday through Friday.
Morning Only: 8:30 a.m.–12 noon
Afternoon Only: 12:45 p.m.–4:15 p.m.
Full Day: morning and afternoon hours combined
Evening: 6:00 p.m.–10:00 p.m.
You cannot combine a partial Day shift with an Evening shift.
Some projects will not offer all these shift options.
What you will Score
Many work assignments (also known as projects) require Readers to score essays for content, organization, grammatical conventions, and/or the student's ability to communicate and to respond to a specific directive.
Other projects involve scoring student responses to test items in reading, math, science, social studies, or other subject areas.
The tests our Readers score come from many different states and from students at all grade levels.
What you Need to Know
A Reader/Evaluator is expected to work 4-5 days or evenings per week, Monday through Friday, for the duration of a project.
A Reader/Evaluator must be able to accept and apply the scoring criteria as directed and maintain consistent and reliable scoring results throughout the project.
A Reader/Evaluator must be willing to operate in a repetitive task situation while maintaining confidentiality and project security.
Each project has its own scoring criteria; therefore, we conduct paid training at the beginning of each project.
The base pay rate for a Reader/Evaluator is $15.00 per hour. Any adjustments above this pay rate will align with the required tasks of the project.
If newly hired, you will register in our payroll system. It is preferred that you set up direct deposit; however, it is not required. Returning Readers should update direct deposit information if applicable.
Payments are made every other Friday for the preceding two-week pay period.
Submitting an application will NOT guarantee a position. Selection of Readers is based on prior experience as well as performance (accuracy and productivity), attendance, and appropriate conduct during previous projects.
Position Requirements
Bachelor's degree from an accredited college or university or an equivalent foreign degree verified by an educational equivalency agency recognized by NACES.
Completion of a Recognition of Reader Requirements questionnaire and satisfactory professional references.
Access to a home computer, password protected high speed internet access, and a work area that can be secured. NOTE: our project security requirements do not allow public computers or computers licensed to another business, unprotected and public WIFI or networks, or workstations located at a public place or at another place of business.
Reside in one of the following 28 states: AL, DE, FL, GA, HI, IA, ID, IN, KS, KY, LA, MI, MS, MT, NE, NC, NH, OH, OK, PA, SC, SD, TN, TX, UT, VA, WI, and WV.
Full-Time/Part-Time Seasonal
Shift Various Shifts
Content Area Reading, Writing, Mathematics, Science, Social Studies
Grade(s) 3-11
Position Remote Reader
Close Date 4/27/2022″
CLICK HERE for full details and to apply. For more jobs like these, check our Newest Jobs & Gigs page. May you be working from home soon!
PLEASE SHARE this post – turn your friends into Rat Race Rebels!
[social_warfare]