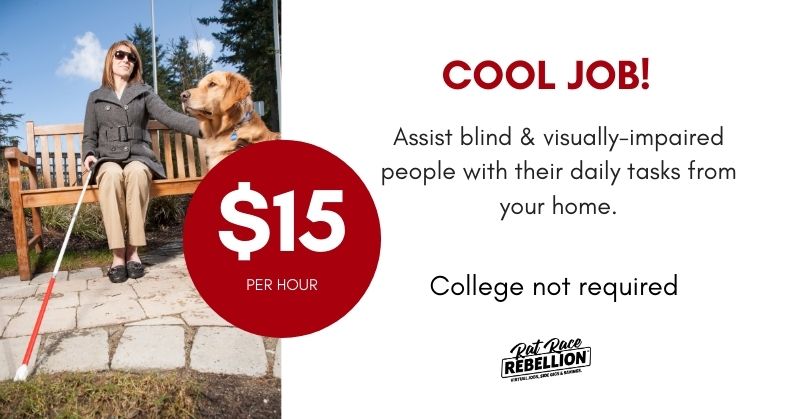 by Chris Durst       Apr. 19, 2021
Work from Home Jobs – Assist Blind and Low-Vision People Remotely – No State Hiring Restrictions Mentioned – College Not Required – Training Provided
This is one of our favorite jobs, and the company is still recruiting. (One of our RRRebels has notified us that the company is not hiring from CA, NY, IL, or Washington, DC, though this isn't official.)
Aira has developed technology that allows you to assist people who are blind or have low vision when they want help. Through this technology, they push a button and YOU SEE what's in front of them.
Now you, as an Aira Agent, can assist them with shopping, reading email or computer screens, identifying obstacles on walking routes and helping them change their course to get around them, and so much more.
Here's what the company has posted about this opportunity:
"Working as an Aira agent is unlike most jobs because, as we like to say, "The only constant at Aira is change." Scenarios are always varied and unique – agents could be called upon by Aira customers for assistance with anything from ordering a morning coffee on the way to work to planning a dream journey around the globe. Since no two calls are the same, Aira agents are chameleons who are ready to adapt, quick to troubleshoot, and who always provide superior customer service.
How does Aira work?
Aira is an information-providing service that empowers individuals to live with greater freedom and independence. We deliver instant access to visual information; in fact, Aira's technology has been described as having vision in your pocket. As a certified Aira agent you simply log onto our specialized dashboard from your personal computer at home and begin answering live video calls from our customers.
Who are Aira's customers?
Many of Aira's customers, known as Explorers, are blind or have low vision. While the majority of our Explorers live in the United States of America, we also have Explorers in Canada, U.K., Australia and New Zealand. Therefore, on any given day it is not unusual for an Aira agent to virtually join a morning commute to one of Boston's many universities, read the funnies of an evening newspaper in Houston, and end the shift by catching the tram in Melbourne.
Sound exciting but not sure you're up for the challenge? Don't worry! We have developed a specialized training and certification process to ensure you'll be ready and able to help all of Aira's customers with these activities of daily living. Regardless of your current stage in life, becoming an Aira agent is rewarding and we want you to join our growing network of Aira agents!
We are looking for:
Patient people who are enthusiastic, friendly, and articulate
Active listeners who pay attention to every detail
People who are flexible and eager to learn new things
People who love to search the web to find the best and most relevant information
People who can multitask while remaining calm and focused under pressure
Respectful people who excel at working through complicated tasks or difficulties
Requirements:
As a technology that connects real people in real time, we take the privacy of all parties very seriously. Due to the unique role and working environment, all Aira agents must meet these listed minimum requirements. All listed specifications require proof in order to qualify for this position and must continue to be true throughout your time with Aira.
Personal Requirements:
All agents must meet or exceed the following personal, physical, and educational requirements before applying.
Minimum of 2 years customer service experience, 5 years preferred
A high school graduate, some college preferred
Must be 18 years or older and authorized to work in the United States
Fluent in English, additional language familiarity a bonus
Have a private workspace with no background noise that is free from family, friends, pets, etc.
Use a headphones with a noise-cancelling microphone
Able to sit for long periods of time
Able to read, understand, and describe locations using a map
Able to use a mouse and keyboard to navigate a computer
Able to hear and speak on a telephone
Able to see, process, and describe visual information
Computer Requirements:
The technology platform Aira has built is only compatible with computers and is not compatible with tablets, Chromebooks, or smartphones. Please ensure your equipment meets our needs before applying.
Minimum of a 4 CORE CPU as well as these following minimum performance indicators according to this free evaluator: https://www.cpubenchmark.net/cpu_list.php
PC – CPU Mark equal or greater than 5,975 with a Rank less than 810
Mac – CPU Mark equal or greater than 4,303 with a Rank less than 1,104
Minimum of 8 GB RAM
Minimum of 40 GBS available disk space
Windows or Mac computer using at least Windows 10 or Mac OS High Sierra
Free of malware, spyware, or viruses of any kind according to this free malware service: malwarebytes.com
Internet Requirements:
A minimum internet speed that is reliably 25 MBPS according to this free speed test: www.fast.com
A private, secure connection protected by a password
Role & Responsibilities:
Responsible for maintaining a professional friendly demeanor with Explorers to establish positive rapport
Aid Explorers, via the Aira platform, in providing descriptions of products, physical environment, or items, providing directions, public transportation details, troubleshooting technology, placing online orders, and all other requests from Explorers that are within Aira's Terms of Service
Manage large amounts of incoming calls
Utilize all resources available through Aira or the internet to complete Explorer's task
Responsible for knowing how to use Aira's platform, features, and mobile app
Utilize all 3rd party applications for communication with coworkers and management in daily operations
Responsible for adhering to Aira's Data Handling Policy
Responsible for troubleshooting personal computer, headset, and microphone to ensure functionality in order to complete shift
We will only consider applications submitted through https://bit.ly/3abZ1aW
Job Types: Part-time, Contract
Pay: $15.00 per hour
Benefits:
Flexible schedule
Paid training
Work from home
Schedule:
Day shift
Evening shift
Monday to Friday
Weekends"
CLICK HERE for full details and to apply. For more jobs like these, check our Newest Jobs & Gigs page. To be the first to hear about jobs like these, like our Facebook page. Good luck in your next steps toward working from home!
PLEASE SHARE this post – turn your friends into Rat Race Rebels!