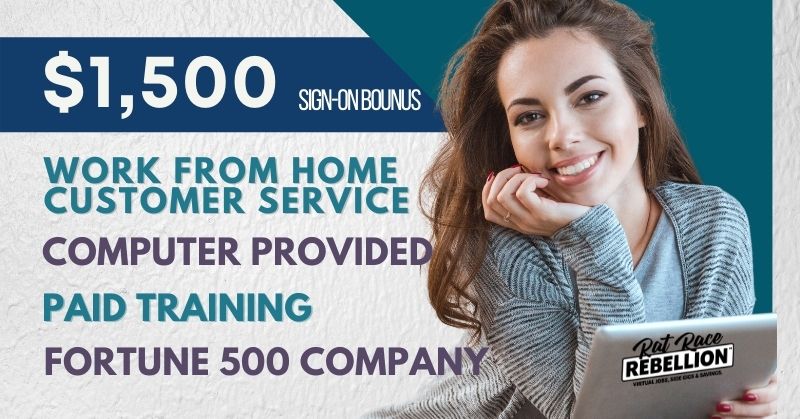 by Chris Durst        Oct. 14, 2021
UnitedHealth's Optum division is looking for work from home Customer Service Reps across the US.
This position involves working with TRICARE members (TRICARE is the health care program for uniformed service members, retirees, and their families around the world), so you applicants must be US citizens and must be able to pass a comprehensive background check.
The company will provide you with a work computer and paid training to help ensure your success in the job.
Additionally,  Optum is currently offering a $1,500 sign-on bonus.
Pay rate is not noted in their ad, however, UnitedHealth generally pays a very competitive wage and offers an attractive benefits package.
Here's what the company has posted about this opportunity:
"Our teams are helping people from around the world. We can bring out your best as you put your listening, analytical and problem solving skills to work in a setting that is geared to helping improve lives and enhance health care for millions. Here, you'll discover a wealth of pathways for professional growth within Customer Service, Billing, Claims, Enrollment & Eligibility and across our global economy. Join us and find out why this is the place to do your life's best work.SM
You'll enjoy the flexibility to telecommute* from anywhere within the U.S. as you take on some tough challenges.
Energize your career with one of Healthcare's fastest growing companies.
You dream of a great career with a great company – where you can make an impact and help people. We dream of giving you the opportunity to do just this. And with the incredible growth of our business, it's a dream that definitely can come true. Already one of the world's leading Healthcare companies, UnitedHealth Group is restlessly pursuing new ways to operate our service centers, improve our service levels and help people lead healthier lives. We live for the opportunity to make a difference and right now, we are living it up.
This opportunity is with one of our most exciting business areas: Optum – a growing part of our family of companies that make UnitedHealth Group a Fortune 10 leader.
Optum helps nearly 60 million Americans live their lives to the fullest by educating them about their symptoms, conditions and treatments; helping them to navigate the system, finance their healthcare needs and stay on track with their health goals. No other business touches so many lives in such a positive way. And we do it all with every action focused on our shared values of Integrity, Compassion, Relationships, Innovation & Performance.
This position requires ACHA Level II Background checks (fingerprinting) by the State of Florida for all Clinicians that have face-to-face contact with members and will require renewal every five years.
Please Note: In order to be considered for this position, you must be able to obtain an SF86 Position of Trust which is only available to U.S. Citizens. Our Facilities Security Officer will initiate this process post-offer acceptance. Failure to obtain this will result in termination from this role.
This position is full-time (40 hours/week) Sunday – Saturday. Employees are required to have flexibility to work any of our 8 hour shift schedules during our normal business hours of (12:00am -11:59pm). It may be necessary, given the business need, to work occasional overtime. Our office is located at 328 Front Street La Crosse, WI 54601.
We offer 4 weeks of paid training. The hours during training will be 8:00am to 4:30pm Monday-Friday. Training will be conducted virtually from your home.
*All Telecommuters will be required to adhere to UnitedHealth Group's Telecommuter Policy.
Primary Responsibilities:
Support the continuum of care for TRICARE Beneficiaries by scheduling a variety of medical services in accordance with customer availability, Military
Treatment Facility (MTF) capabilities and contract guidelines.
Respond to a variety of inquiries and resolves issues with regard to TRICARE eligibility in a timely manner while maintaining sensitivity toward military culture.
Conduct customer contacts related to beneficiary support, referral follow-up, education and resource inquiries
Identify potential emergent concerns and follow contract specific protocol connect beneficiaries to the TRICARE NAL clinical team.
Maintain constant awareness of service level and queue status in order to meet contractual requirements.
Support the continuum of care related to Global Nurse Advice Line contacts
You'll be rewarded and recognized for your performance in an environment that will challenge you and give you clear direction on what it takes to succeed in your role as well as provide development for other roles you may be interested in.
Required Qualifications:
High School Diploma / GED (or higher)
Customer service experience
United States Citizenship
Ability to obtain favorable adjudication following submission of Defense Health Agency eQuip Form SF86
Full COVID-19 vaccination is an essential requirement of this role. UnitedHealth Group will adhere to all federal, state and local regulations as well as all client requirements and will obtain necessary proof of vaccination prior to employment to ensure compliance.
Preferred Qualifications:
Proficient computer skills including Microsoft Office programs such as Microsoft Excel (general spreadsheet navigation, data entry and sorting), Word (creating and editing word documents), and Outlook (email and calendar)
Experience working in the Healthcare Industry
Experience working with Medicaid or Medicare
Experience working in a call center environment
Prior military or TRICARE Beneficiary experience
Telecommuting Requirements:
Required to have a dedicated work area established that is separated from other living areas and provides information privacy
Ability to keep all company sensitive documents secure (if applicable)
Must live in a location that can receive a UnitedHealth Group approved high-speed internet connection or leverage an existing high-speed internet service
UnitedHealth Group requires all new hires and employees to report their COVID-19 vaccination status."
CLICK HERE for full details and to apply. For more jobs like these, check our Newest Jobs & Gigs page. May you be working from home soon!
PLEASE SHARE this post – turn your friends into Rat Race Rebels!