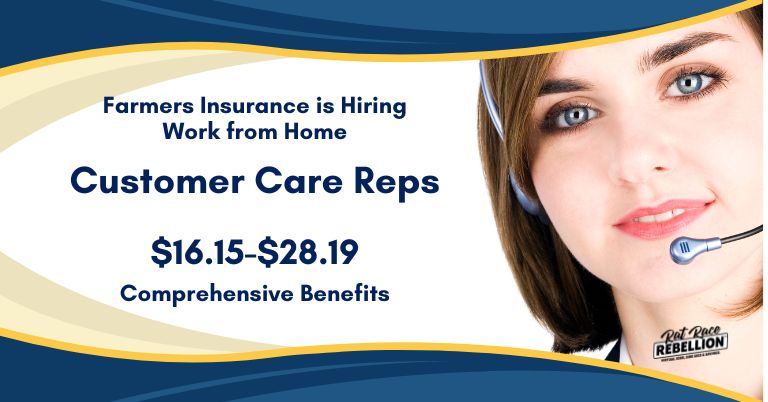 by Chris Durst       Sep. 12, 2023
As we write, this job listing is online and applications appear to be open. But jobs can fill at any time, so apply or share quickly if you're interested! Sorry, but we have no role in the HR processes of other companies. If you encounter difficulties in the application process please contact them directly. Good luck in your hunt, and may you be working from home soon!
We are Farmers! Bum Ba-Dum Bum Bum Bum Bum…
Another insurance company, another sticky jingle — and a new job listing for work from home Customer Care Representatives.
UPDATE – It looks like the company has received all the applications it needed and has deleted the listing. For more jobs like these, see our Daily Jobs & Gigs page and our Big List of Work from Home Jobs & Gigs.
==================
In this role, you will communicate with internal and external customers relating to insurance needs, eligibility and solutions to provide a positive customer experience.
Pay is not listed for every state, however, for the states that are listed, the range is $16.15 to $28.19 per hour.
Their comprehensive benefits package includes, 401(k), Medical, Dental, Vision, Health Savings and Flexible Spending Accounts, Life Insurance, Paid Time Off, Paid Parental Leave, and Tuition Assistance.
While no state hiring exclusions are noted in the job post, it appears they may be hiring in 27 states.
Here's what the company has posted about this opportunity:
Do you thrive in a high-volume, fast-paced environment? Do you enjoy the challenge of a position where no two days are alike? We are looking for positive, high-energy professionals who are not just looking for a job, but a meaningful career!
At Farmers, our ambition is to be the leader in delivering peace of mind, innovating for customers whenever and wherever they need us. That means having people like you who can help us evolve to meet changing customer and business needs. Continuous development is critical to our success at Farmers; that means being curious, continually innovating, being open to new opportunities and embracing change. As the needs of our business and customers change, and you acquire needed experience, you may have opportunities to use your knowledge and skills in a different role. As you take on these new challenges, Farmers is committed to providing you with the necessary training and support along your career journey.
Workplace: Remote ( #LI-Remote )
Job Summary
Consults effectively with internal and external customers relating to insurance needs, eligibility and solutions to provide a positive customer experience.
Utilizes in-depth knowledge of Company products and services while working across multiple lines of insurance and within multiple technology platforms within a fast-paced, dynamic, contact center environment.
Essential Job Functions
Resolves customer and agent inquiries, solves problems related to policies.
Consults effectively throughout the insurance life cycle relating to coverage, renewals, cancellations, pricing and other general service related requests.
Utilizes multiple system platforms to conduct research, identify processes and review prior transactions to make sound decisions and recommendations to customers.
Maintains accurate system documentation of customer interactions or transactions, details of inquiries, complaints, or comments, as well as action taken.
Acts as an advocate of the business to identify new coverage opportunities, retain customers and recommend Farmers Insurance to others.
Identifies trends in service and escalates concerns to leadership.
Refers unresolved customer issues to appropriate department for further investigation and handling.
Partners with various departments including Policy Support, Claims and Underwriting in responding to or assisting to resolve customer concerns.
May work with external vendors to further solve for or respond to customer needs.
Builds knowledge and industry acumen through self directed learning to contribute updated content to Knowledge Management system for department use.
Stays current with underwriting and policy guidelines, and other updates including Department of Insurance requirement changes.
May provide peer support. Performs other duties as assigned.
Physical Environment
This role, whether performed virtually or in an office setting, operates in an open office working environment which will include normal and customary distractions, noise, and interruptions.
Sits or stands for extended periods of time, up to a full work shift.
Occasionally reaches overhead and below the knees, including bending, twisting, pulling, and stooping.
Occasionally moves, lifts, carries, and places objects and supplies weighing 0-10 pounds without assistance.
Listens to, interprets, and differentiates auditory information (e.g. others speaking) at normal speaking levels with or without correction.
Visually verifies and reads information.
Visually locates material, resources and other objects.
Ability to operate a computer for extended periods of time, up to a full work shift.
Physical dexterity sufficient to use hands, arms, and shoulders repetitively to operate keyboard and other office equipment up to a full work shift.
Education Requirements
High school diploma or equivalent required.
Associates degree or progress towards the completion of Bachelor's degree preferred.
Personal Lines or Property and Casualty license may be required for this role. If required, licensing exam must be obtained within a designated number of attempts or testing window in the state(s) in which the license is acquired.
Experience Requirements
One or more years general working experience preferred providing consultative service support within a high volume, complex environment.
Benefits
Farmers offers a competitive salary commensurate with experience, qualifications and location.
CA Only: $17.35 – $23.75
CO Only: $16.15 – $22.55
NY Only: $17.35 – $23.75
Albany County: $17.35 – $21.68
WA Only: $17.35 – $28.19
Bonus Opportunity (based on Company and Individual Performance)
401(k)
Medical
Dental
Vision
Health Savings and Flexible Spending Accounts
Life Insurance
Paid Time Off
Paid Parental Leave
Tuition Assistance
CLICK HERE for full details and to apply. For more jobs like this, check our Newest Jobs & Gigs page. To be the first to hear about jobs like these, like our Facebook page. Good luck as you make your work from home plans a reality!
PLEASE SHARE this post – turn your friends into Rat Race Rebels!