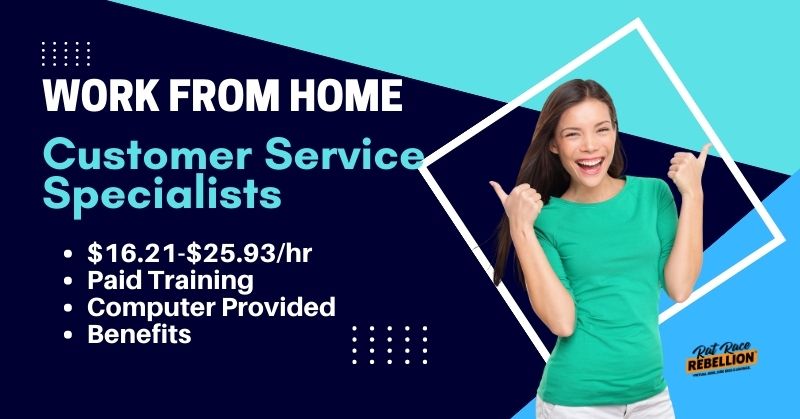 by Chris Durst      May 30, 2023
FAST MOVER – These openings generally fill quickly, so don't delay in applying or sharing!
Assurant, a leading global business services company, has posted openings for Work from Home Customer Service Specialists.
If you're a problem solver who loves helping people, and you have a high school diploma or GED, this might be a good fit!
Pay range is listed as $16.21-$25.93/hr.
The company has a broad benefits package that starts on the first day.
Hiring in the US. No state hiring exclusions are noted in the job post.
Here's what the company has posted about the openings:
This role is responsible for handling inbound calls and off-phone work items related to Vehicle Protection Products such as, but not limited to, mechanical and electrical breakdown repair contracts (commonly referred to by dealerships as "extended warranties"), vehicle maintenance contracts, RV part extended service contracts.
Why You Should Consider This Role
You love helping and connecting with people
You're a problem solver who likes to think on their feet and enjoy challenges
You thrive in a fast-paced and changing environment
You enjoy being on the phone and are passionate about customer service
What You Will Like
The variety of work – every day and every customer's situation is unique
Being a part of a high performing, collaborative and supportive team
The opportunity to demonstrate your exceptional problem-solving abilities
Medical benefits begin on your first day
Competitive compensation and paid time off
Career advancement opportunities
The Details
The agent is responsible for addressing questions from customers on how the agreement works including explaining claim procedures, coverage details, claim details, relaying denied claim determinations, etc.
The agent must learn to navigate multiple systems, learn and adhere to departmental scripts and processes, adhere to quality assurance metrics, average handle time (AHT) and call volume metrics, properly convey the contract details/language to the customer and relay claim details and determinations to customers.
The agent must also address inbound and outbound calls with repair facilities/service providers related to claim payment delays and processing.
The agent is also responsible for several off-phone items including, but not limited to, claim audits and processing claim payments, working inbound and outbound emails and faxes, working payment requests coming into queues. The agent may be responsible for handling payment plan updates and manual payment requests.
If bilingual, the ability to speak, read and write the Spanish language fluently.
Note: This position does not involve cold calling/outbound calls related to solicitations, contract upgrades or sales of any kind
The Ideal Candidate
High school diploma or GED
1 year of experience in an office, call center, or customer contact environment
Other Requirements:
Excellent written and verbal skills to communicate with team members, management, customers, counselors and other employees of the organization
Strong customer service skills
Ability to work with frequent interruptions and under deadlines
Ability to work collaboratively with others to generate ideas or resolve problems
Ability to present a professional image
Ability to establish courses of action to ensure efficient completion of work
Ability to think creatively and make decisions based on incomplete information
Ability to process time sensitive data and information from multiple sources, including data from mainframe systems, makes decisions based on this data, and to effectively communicate the related required actions to a broad audience
Ability to quickly adapt to change, proactively recognize process improvement opportunities and be able to work independently as well as in a team setting
Preferred Qualifications:
2+ years of experience in an office, call center, or customer contact environment
Previous experience as a team leader or trainer in an office, call center, or customer contact environment
620, 440, or other applicable and relevant licenses or certifications
What are the working conditions and physical requirements of this job?
General office demands
This is a Full-time job. Assurant's hours of operation are Monday – Friday 6 am – 9 pm CST and Saturday 7 am – 7 pm CST. Work schedules are generally set for several months at a time but are subject to change based on business needs and we have periodic shift bids that help determine your work schedule. Interested candidates must have a reasonable degree of schedule availability and flexibility to work varying schedules throughout the year. Shifts for this job are typically 8 hours per day and can range anywhere between 6am to 9pm CST.
While working remotely, you are required to have internet services with a minimum internet speed of 15 Mbps on the download side and a minimum of 3 Mbps on the upload side. You can test your internet speed at www.speedtest.net or by contacting your service provider.
Pay Range: $16.21 – $25.93
Any posted pay range considers a wide range of compensation factors, including candidate background, experience and work location, while also allowing for salary growth within the position.
CLICK HERE for full details and to apply. For more gigs like these, check our Newest Jobs & Gigs page. To be the first to hear about gigs like these, like our Facebook page. Good luck in your next steps toward working from home!
PLEASE SHARE this post – turn your friends into Rat Race Rebels!