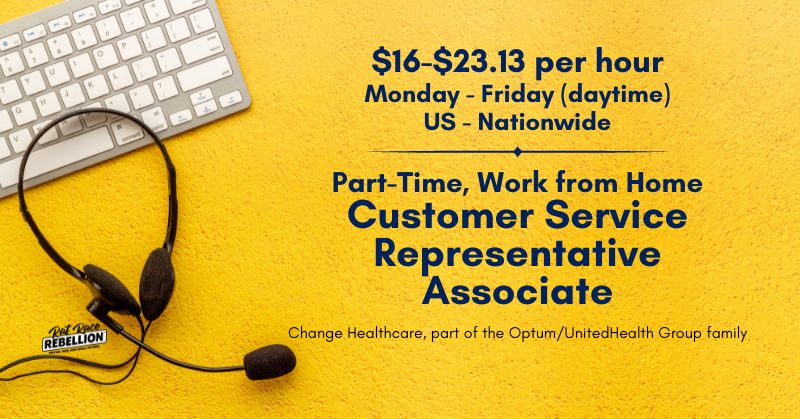 by Chris Durst      Jun. 1, 2023
Change Healthcare, part of the Optum/UnitedHealth Group family, has posted openings for part-time, work from home Customer Service Representative Associates.
Update – It looks like the company has received all the applications it needed and has deleted the listing. For more jobs like these, see our Daily Jobs & Gigs page.
****************
This is a 20 hour per week, Monday through Friday, 8:30am – 5:00pm EST role.
Applicants don't need a college education, but should have at least one year of customer service experience.
Hiring from across the United States and no state hiring exclusions are noted in the job listing.
Pay is not listed for all states, but is in the $16-$23 per hour range for those that are noted.
Here's what the company has posted about this opportunity:
You'll enjoy the flexibility to telecommute* from anywhere within the U.S. as you take on some tough challenges.
Opportunities at Change Healthcare, part of the Optum family of businesses. We are transforming the health care system through innovative technology and analytics. Find opportunities to make a difference in a variety of career areas as we all play a role in accelerating health care transformation. Help us deliver cutting-edge solutions for patients, hospitals and insurance companies, resulting in healthier communities. Use your talents to improve the health outcomes of millions of people and discover the meaning behind: Caring. Connecting. Growing together.
This position is part-time (20 hours / week), Monday – Friday. Employees are required to work our normal business hours of 8:30am – 5:00pm EST.
*All Telecommuters will be required to adhere to UnitedHealth Group's Telecommuter Policy.
Primary Responsibilities:
Provide excellent customer service
Constantly meet established productivity, schedule adherence, and quality standards
Respond to complex customer calls
Resolve customer service inquiries which could include:
Benefit and Eligibility information
Billing and Payment issues
Customer material requests
Physician assignments
Authorization for treatment
Explanation of Benefits (EOB)
You'll be rewarded and recognized for your performance in an environment that will challenge you and give you clear direction on what it takes to succeed in your role as well as provide development for other roles you may be interested in.

Required Qualifications:
High School Diploma / GED (or higher)
1+ years of customer service experience analyzing and solving customer problems, OR 1+ years of experience in an office setting environment using the telephone and computer as the primary instruments to perform job duties
Basic proficiency with Windows personal computer applications, which includes the ability to learn new and complex computer system applications
Ability to work at least twenty hours per week, between 8:30AM – 05:00PM EST
Telecommuting Requirements:
Required to have a dedicated work area established that is separated from other living areas and provides information privacy
Ability to keep all company sensitive documents secure (if applicable)
Must live in a location that can receive a UnitedHealth Group approved high-speed internet connection or leverage an existing high-speed internet service
Soft Skills:
Ability to navigate a computer while on the phone
Ability to remain focused and productive each day though tasks may be repetitive
Ability to multi-task, this includes ability to understand multiple products and multiple levels of benefits within each product
Careers with OptumInsight. Information and technology have amazing power to transform the Healthcare industry and improve people's lives. This is where it's happening. This is where you'll help solve the problems that have never been solved. We're freeing information so it can be used safely and securely wherever it's needed. We're creating the very best ideas that can most easily be put into action to help our clients improve the quality of care and lower costs for millions. This is where the best and the brightest work together to make positive change a reality. This is the place to do your life's best work.SM
California, Colorado, Connecticut, Nevada, New Jersey, New York, Washington or Rhode Island Residents Only: The salary range for California / Colorado / Connecticut / Nevada / New Jersey / New York / Washington / Rhode Island residents is $16.00 – $23.13.Pay is based on several factors including but not limited to education, work experience, certifications, etc. In addition to your salary, UnitedHealth Group offers benefits such as, a comprehensive benefits package, incentive and recognition programs, equity stock purchase and 401k contribution (all benefits are subject to eligibility requirements). No matter where or when you begin a career with UnitedHealth Group, you'll find a far-reaching choice of benefits and incentives.
CLICK HERE for full details and to apply. For more gigs like these, check our Newest Jobs & Gigs page. To be the first to hear about gigs like these, like our Facebook page. Good luck in your next steps toward working from home!
PLEASE SHARE this post – turn your friends into Rat Race Rebels!