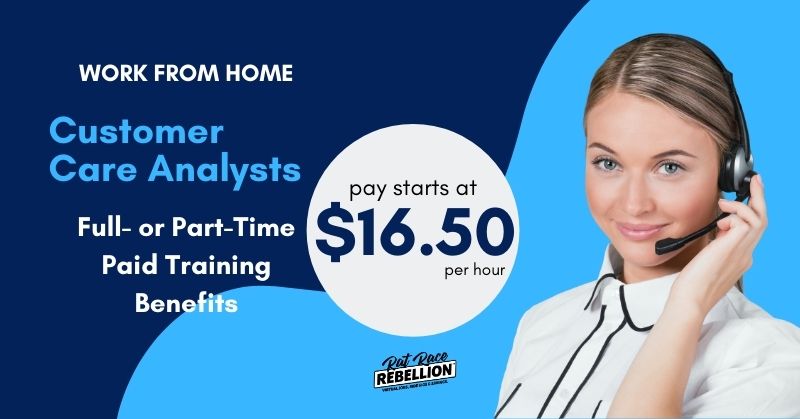 by Chris Durst        Feb. 8, 2021
UPDATE 2/8/21  18:18: It appears that Mutual of Omaha has received all of the applications they need at this time and the ad has been removed. We will post to the site if/when they hire for this position in the future.
Mutual of Omaha — the name always raises warm memories of my family's Sunday night ritual of gathering around the TV to watch Marlin Perkins on "Mutual of Omaha's Wild Kingdom." Most of us (I was one of six kids) would lay on the floor — covered in zig-zag patterned afghans my grandmother crocheted. In the winter, our feet were up on the hearth of the fireplace my dad built from field stone found on our property. Daddy and Mommy had the couch and chuckled over how "Jim" had to do all of the hard work while Marlin got all the glory.
Alas, I digress!
As I learned later, Mutual of Omaha is actually a Fortune 500 insurance and financial services company based in Nebraska.
The company currently has openings for Remote Full- and Part-Time Customer Care Analysts. 
The hourly pay rate is $16.50 ($17.50 for Spanish bilingual applicants after successful certification).
Training classes begin in April.
Their benefits package includes: Medical, Pharmacy, Dental, Vision, Life Insurance, Short- and Long-Term Disability , Accidental Death & Dismemberment, 401(k), Tuition Reimbursement, and more.
The job ad lists "Various Locations" and makes no mention of state hiring restrictions. We'll update this post if we learn of any excluded states.
Here's what the company has posted about this opportunity:
"If you're looking for a career where you have the power to be a positive influence to help others, this is it. As a Customer Care Analyst, you will be the voice of Mutual of Omaha — the voice our customers turn to for clarity, support, and guidance.
In this role, you will quickly assess each customer's needs, research a variety of outcomes and provide real-time solutions. Key elements of success include listening to customer needs, critical thinking and the ability to change tasks at a moment's notice.
While most customer interactions will be positive and routine calls, it may be necessary to deescalate situations at times. Through it all, you will strive to provide the industry-leading service our customers have come to expect from Mutual of Omaha.
If have the power to be engaging, poised, resourceful, adaptive and caring, apply today. Combine your power with ours and see how far you can go. Classes will start in April!
What We offer:
An hourly rate of pay of $16.50
Spanish bilingual associates receive $17.50/hr after successful certification
These roles will onboard, train and work remotely from home at this time.
Career advancement opportunities
Daytime shift availability
Full time and part time schedules available
MUST be able to work full time hours Monday – Friday 8:00 a.m. – 4:30 p.m. during training
Medical, dental, and vision insurance for full time employees
401(k) plan with 6% employer match with additional 2% employer contribution, vacation accrual, and paid holidays
PLUS many more amenities and benefit perks!
WHAT YOU'LL DO:
Provide exceptional customer service via multiple channels such as phone (to include inbound and outbound calls), written/email correspondence, etc.
Effectively respond to and resolve customer requests by utilizing basic knowledge and skill sets, systems, policies, procedures, regulations and other reference materials.
Provide an effective level of customer service by meeting (or exceeding) department standards related to attendance, productivity and quality.
Meet deadlines and perform successfully within a fast paced, ever changing and diverse production environment, to include multitasking, system utilization and accurately entering data to handle entire requests from start to finish.
Actively participate in the identification and implementation of process improvements.
Develop and maintain effective working relationships with internal and external parties to include customers, team members, business partners and other stakeholders.
In this role, you'll be working in a fast-paced, high volume environment with set productions goals. This position requires sitting 66% of the time and visual acuity at 20 inches (or less) over 66% of the time.
ABOUT YOU:
You help promote a culture of diversity and inclusion within the department and the larger organization. You value different ideas and opinions. You listen courageously and remain curious in all that you do.
You are able to work remotely and have access to high-speed internet.
Ability to actively listen, assess and understand the needs of the customer and demonstrate accountability in responding to and resolving requests in empathetic, respectful, confident and timely manner.
Available to work Monday – Friday between the hours of 8:30 AM – 5:30 PM and maintain regular and predictable attendance with adherence to department expectations.
Ability to show a sense of urgency and accountability for results.
Demonstrate approachability, work independently, and/or as part of a team, in a collaborative environment.
Ability to adapt to a diverse and changing work environment.
Highly skilled at verbal, written and interpersonal communication; sound judgment and the ability to think within a structured and compliant work environment while focusing on the customer.
Capacity to learn and utilize a variety of computer systems simultaneously such as web tools, policy administration systems and Microsoft products, with proficient keyboarding skills.
VALUABLE EXPERIENCE:
Insurance knowledge experience.
Previous customer service experience in a call center environment.
WHAT WE CAN OFFER YOU:
A diverse workplace where associates feel a sense of belonging.
An organization that feels like a small, close-knit community and has the strength of a Fortune 500 company.
Tuition reimbursement, training and career development.
Comprehensive benefits plan that includes medical, dental, vision, disability and life insurance.
Flexible spending accounts for healthcare and childcare needs.
401(k) plan with a 2% company contribution and 6% company match.
Competitive pay with an opportunity for incentives for all associates.
Flexible work schedules with a healthy amount of paid time off.
For more information regarding available benefits, please visit our Career Site.
Salary: 16.50/hr"
CLICK HERE for full details and to apply. For more jobs like these, check our Newest Jobs & Gigs page. May you be working from home soon!
PLEASE SHARE this post – turn your friends into Rat Race Rebels!
[social_warfare]