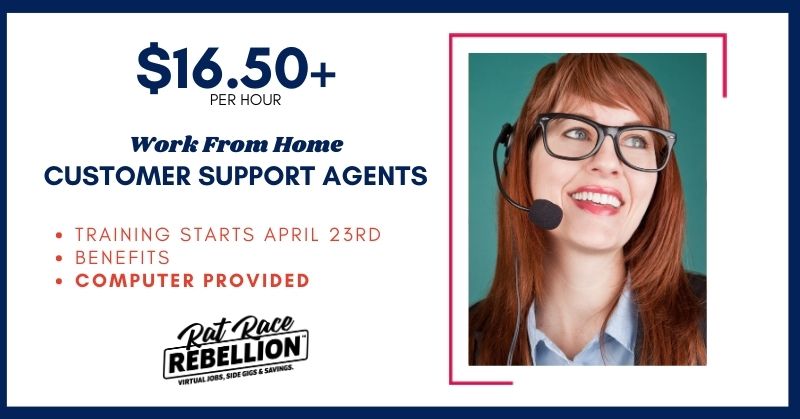 by Chris Durst        Apr. 5, 2021
Inflection's GoodHire division provides background checks for more than 80,000 companies.
Currently, the company is looking for Work from Home Customer Support Agents – Software Support to respond to effectively resolve customer issues through phone, email, and chat.
Pay is listed at, "$15/hr, with additional earning potential up to $350/month for meeting attainable metrics ($16.50+ an hour average!)"
Training starts Friday, April 23rd.
They also offer a comprehensive benefits package including medical/dental coverage, 401K, and life insurance.
"At Inflection, our mission is to build trust by harnessing the power of data. To achieve our ambitious goals, we're growing a diverse and inclusive team of collaborative, adaptable, hard-working people who are passionate about solving problems and achieving success. We're dedicated to fostering a company culture that's inclusive, engaging, supportive, and offers a place where employees can grow and thrive.
Our top rated software platform, GoodHire, is a leading provider of background checks, serving more than 80,000 organizations of all sizes. The business is growing rapidly and our Customer Support team is growing with it. As a GoodHire Customer Support Agent, you'll play a vital role in delivering a great customer experience. You'll handle all facets of the pre-employment background screening process via phone, email, and chat.
This is a full-time work-from-home opportunity with exceptional benefits. The base pay is $15/hr, with additional earning potential up to $350/month for meeting attainable metrics (16.50+ an hour average!) In addition, the first 4 weeks are paid virtual on-the-job training, from your home office! Training starts Friday, April 23rd, and will be held on weekdays from 9:30a – 6:00p EST / 6:30a – 3:00p PST.
Remote Shifts Available After Training:
Monday – Friday 5:00 – 1:30 pm PST / 7:00 – 3:30 pm CST / 8:00 – 4:30 pm EST
Monday – Friday 6:00 – 2:30 pm PST / 8:00 – 4:30 pm CST / 9:00 – 5:30 pm EST
Monday – Friday 6:30 – 3:00 pm PST / 8:30 – 5:00 pm CST / 9:30 – 6:00 pm EST
Monday – Friday 8:00 – 4:30 pm PST / 9:00 – 5:30 pm CST / 10:00 – 6:30 pm EST
Monday – Friday 8:30 – 5:00 pm PST / 10:30 – 7:00 pm CST / 11:30 – 8:00 pm EST
Job Duties: Our Customer Support Agents quickly adapt to customer needs to deliver a world-class support experience through creative problem solving and a thorough knowledge of how GoodHire Background Screens work.
AS A CUSTOMER SUPPORT AGENT AT GOODHIRE, YOU WILL:
Partner with our customers to effectively resolve issues through phone, email, and chat
Answer how-to questions and help customers navigate a variety of tools within GoodHire
Diagnose issues and advocate for our customers by engaging with our product and engineering teams
Collaborate with internal teams and account owners to identify existing customers' opportunities to use self-help to solve issues and answer questions
Show composure, resilience, and flexibility as customer needs evolve
YOU'LL BE A FANTASTIC MATCH FOR THIS ROLE IF YOU:
Care deeply, genuinely, and passionately about providing a world-class customer experience
Are naturally empathetic and articulate their thoughts well
Have a clear, professional, and informative communication style
Find creative problem solving fulfilling & challenging
Are self motivated & eager to learn
Thrive in a dynamic & collaborative environment and are comfortable with ambiguity
Are open to learning and practicing new processes, communicating new ideas, and committing to the best end result
YOU KNOW YOUR STUFF:
Minimum 2 years customer and / or technical support experience
At least six months working in a business office environment is preferred
Strong desire to work to your greatest potential and provide excellent customer support
Self-motivated
Ability to maintain standards of adherence and metric goals
A strong command of the English language; both written and verbal. Strong proficiency with the Internet and keyboarding skills. 40 WPM typing is highly preferred
Ability to multitask, organize, and prioritize in a fast paced environment
Ability to communicate effectively via phone by utilizing active listening skills combined with clear communication to both customers and data providers
Ability to communicate effectively via email while using proper grammar and punctuation
WORK FROM HOME REQUIREMENTS:
Internet access with at least 25 mbps download speed, and 5 mbps upload speed (10 mbps upload speed required for family households)
Inflection will provide the computer, monitors, keyboard, and mouse
Inflection will subsidize a portion of your Internet expense
Ability to set-up Inflection computer equipment, and connect it to the Internet via ethernet cable preferred
Ability to work in a dedicated space with lockable doors and minimal distractions
ABOUT YOU:
Some experience in HR, banking, or insurance environments with customer interaction is preferred
Strong proficiency with the Internet, including the ability to perform searches
Experience with email and voice contacts
Strong typing skills and ability to multitask in a fast paced environment
A focus on actions and results. Tracking of various actions may be required to assist with trending of customer feedback
Experience with being held to metrics and maintaining a high standard of work is preferred
Direct work experience in dealing with challenging customers and delivering complex messages that address company needs is highly preferred
TO WIT, INFLECTION OFFERS:
Innovative products that customers love
Competitive compensation including stock options
Comprehensive benefits package including medical/dental coverage, 401K, and life insurance
Track record of promoting and hiring internally
Fast paced environment with big opportunities for impact
Learning & Development funds to enhance and learn new skills
Diversity and Inclusion program
3 paid days per year to volunteer with nonprofit organizations of your choosing
Ability to dress casually and work from the comfort of your home
Stipend for home Internet and office furniture needs
YOU BELIEVE WORK IS ABOUT MORE THAN JUST THE BOTTOM LINE
We don't want to just be good at what we do; we want to be good for the world. We've met rigorous standards of social and environmental performance, accountability, and transparency. We care about all stakeholders, including customers, employees, and the community."
CLICK HERE for full details and to apply. For more jobs like these, check our Newest Jobs & Gigs page. To be the first to hear about jobs like these, like our Facebook page and check your feed for our posts. May you be working from home soon!
PLEASE SHARE this post – turn your friends into Rat Race Rebels!