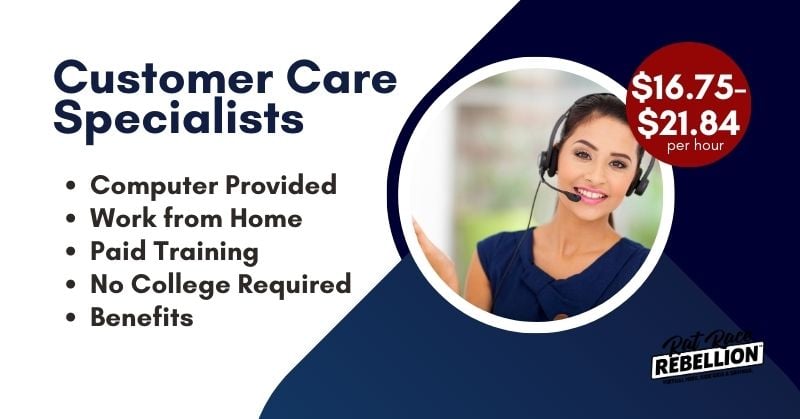 by Chris Durst       Aug. 21, 2023
As we write, this job listing is online and applications appear to be open. But jobs can fill at any time, so apply or share quickly if you're interested! Sorry, but we have no role in the HR processes of other companies. If you encounter difficulties in the application process please contact them directly. Good luck in your hunt, and may you be working from home soon!
NOTE: These roles generally fill very quickly. Apply or share asap if interested!
Cardinal Health is a multinational health care services company, and "the 14th highest revenue generating company in the United States."
The company has posted openings for work from home Customer Care Specialists. You'd be answering calls from customers for orders or reorders of medical supplies.
A computer is provided. No state hiring limitations listed; no college required.
The pay range is $16.75 – $21.84/hr, plus shift differentials. Among the benefits are health insurance, 401k contributions, paid time off and vacation.
Here's what the company has posted about this opportunity:
What Customer Operations Support contributes to Cardinal Health
Responsible for answering inbound calls from customers to place orders or reorders of medical supplies. Agents will act as a liaison, problem-solving order issues, researching accounts and providing resolutions in a high-volume call center.
Qualifications:
High school diploma, GED or equivalent, or equivalent work experience, preferred
2-4 years experience in high volume call center preferred where communication and active listening skills have been utilized
Previous experience working in a remote/work from home setting is preferred
Prior experience working with Microsoft Office is preferred
Prior experience working with order placement systems and tools preferred
Customer service experience preferred
Root cause analysis experience preferred
Familiarity with call-center phone systems preferred
Excellent Phone Skills with a focus on quality
Previous experience being able to achieve daily call center metrics including but not limited to average handle time, adherence, average speed to answer, QA
Responsibilities in this Role:
The Customer Care Specialist operates as a "Universal Agent", who is able to meet the needs of our customers throughout the entire order placement lifecycle. Ultimately, qualified candidates, will be responsible for providing customer assistance, including, but not limited to, order placement, product information, order status, order discrepancies, and customer complaints for approximately ~60-80 incoming calls per day.
Answer incoming phone calls from customers, caregivers, and applicable referral sources regarding various medical supplies while having sincere interest in the speaker
Ability to handle high call volumes consistently throughout the workday that range in complexity and sensitivity while maintaining composure with customers
Process orders for new and existing customers, collecting necessary information for insurance billing; collect payment as needed
Operate company provided hardware and navigate multiple computer programs throughout the day to address customer's concerns
Consults with Supervisor or Team Lead on complex and unusual problems
Adhere to business processes to ensure all work is being done compliantly and in accordance with regulatory standards
Navigate multiple systems and consult with internal resources to provide order status updates to achieve first time call resolution
Interpret the meaning of insurance terminology, plans and documentation and explain what it means in an easy-to-understand way
Explain our products and offerings to our customers to ensure compatible with customer conditions
Identify and communicate appropriate next steps and expectations to customers based upon system messaging, insurance requirements, and order placement process
Maintain a positive, empathetic, and professional attitude toward customers and co-workers at all times
SHIFT: Your new hire training will take place Monday-Friday, 8:30am-5pm EST, mandatory attendance is required. Once you have completed new hire training, you will take part in a shift bid to determine your schedule.
This position is full-time (40 hours/week). Employees are required to have flexibility to work any of our shift schedules during our normal business hours of 8am-9pm EST Mon-Fri and 9am-3pm EST Sat. Agents assigned a shift with a Saturday workday will receive a shift differential of $1/hr. Agents assigned a shift that ends at or after 8pm, will receive a shift differential of $2/hr.
In addition, based on seasonal fluctuations in volume, there are times throughout the year where overtime is mandated.
REMOTE DETAILS: You will work from home, full-time.
As a work from home employee, the expectation is that you have your camera on when participating in your onboarding/training activities. Please note that work from home is not a substitute for childcare or eldercare, arrangements must be made ahead of your start date. You will be required to have a dedicated, quiet, private, distraction free environment with access to high-speed internet.
Internet requirements include the following:
Maintain a secure, high-speed, broadband internet connection (DSL, Cable, or Fiber) at the remote location. Dial-up, satellite, WIFI, WIFI extenders, Cellular/Hot Spot connections are NOT acceptable.
If having connectivity issues and our IT dept. suspects connectivity issues are due to your ISP or your current set up, we will request that you change providers or rework your set up to not disrupt your daily productivity.
Download speed of (25Mbps – Minimum) but (50Mbps – Recommended) if nobody else at home streaming.
Upload speed of (10Mbps – Recommended)
Ping Rate Maximum of 30ms (milliseconds)
Hardwired to the router
Surge protector with Network Line Protection for CAH issued equipment

WHO WE ARE:
Cardinal Health, Inc. (NYSE: CAH) is a distributor of pharmaceuticals, a global manufacturer and distributor of medical and laboratory products, and a provider of performance and data solutions for healthcare facilities. With 50 years of experience, approximately 48,000 employees and operations in more than 40 countries, Cardinal Health seizes the opportunity to address healthcare's most complicated challenges — now, and in the future.
BENEFITS:
Medical, Dental and Vision coverage starting Day 1
401K match program starting Day 1
23 days of Paid Time off after 90-day probation period
Health savings account (HSA) & Flexible spending accounts (FSAs)
Work-Life resources
Paid parental leave
Healthy lifestyle programs
Anticipated salary range: $16.75/hr – $21.84/hr
Bonus eligible: No
Benefits: Health insurance, 401k Contributions, Paid Time Off, Vacation, STD/LTD
Candidates who are back-to-work, people with disabilities, without a college degree, and Veterans are encouraged to apply.
Candidates who are back-to-work, people with disabilities, without a college degree, and Veterans are encouraged to apply.
CLICK HERE for full details and to apply. For more jobs like this, check our Newest Jobs & Gigs page. To be the first to hear about jobs like these, like our Facebook page. Good luck as you make your work from home plans a reality!
PLEASE SHARE this post – turn your friends into Rat Race Rebels!