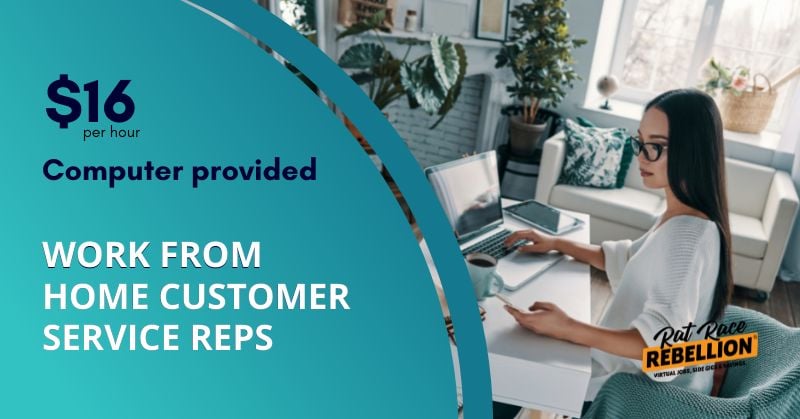 by Chris Durst       Nov. 16, 2023
As we write, this job listing is online and applications appear to be open. But jobs can fill at any time, so apply or share quickly if you're interested! Sorry, but we have no role in the HR processes of other companies. If you encounter difficulties in the application process please contact them directly. Good luck in your hunt, and may you be working from home soon!
Carenet Health, a company that provides healthcare engagement, clinical support, telehealth and advocacy solutions, is recruiting work from home Customer Service Representatives.
In this role, you would provide "…supporting patients with their healthcare needs, empathetic, patient focused and enjoys interacting with patients, patient representatives, providers, pharmacies and more."
Pay is listed at $16/hr. A computer is provided.
Carenet benefits include health, dental, vision and retirement.
No state hiring exclusions are noted in the job listing.
Here's what the company has posted about the job:
At Carenet, we foster collaboration, creativity and innovation. Our promises to our team members include empowering growth through trust, opportunity and accountability. We are looking for people who want to work with an entrepreneurial spirit and deliver market-leading performance!
If you are passionate about healthcare and supporting patients with their healthcare needs, empathetic, patient focused and enjoys interacting with patients, patient representatives, providers, pharmacies and more, then this may be the position for you. Did we mention this was a remote, work from home position?
Responsibilities
Some of what you will be doing:
Using excellent communication and multitasking skills, responds timely to customer inquiries and process requests
Research customer issues and find workable solutions
Provide response to inquiries including scheduling appointments, referral inquiries
Assist with insurance questions, medication requests or general information requests
Identify and understand customer needs; quickly gain customer trust and confidence
Have fun learning new products and projects!
The best part, you will be making a difference in someone's life!
How to thrive when working at home:
Safety
Choose a consistent work area/office
Make your area physically safe
Stay organized
Personalize your desk!
Security
Privacy matters
Keep it quiet – remember, we are dealing with patients and customers!
Protect your computer
Support
Communicate
We coach and focus on your performance
Quality matters
Success
Get ready for work!
Prepare yourself mentally
Use your resources
On your break, get outside once in a while
Why Carenet?
For more than 30 years, Carenet Health has pioneered advancements for an experience that touches all points across the healthcare consumer journey. In fact, we interact with 1 in 3 Americans every day, delivering positive healthcare experiences and improving outcomes. From best-in-class clinical expertise to personalized and automated solutions, we integrate the power of human touch with data-driven technology in our mission to make healthcare better for all.
Qualifications
We want you to be successful, so these are some of the qualifications required:
High School diploma/GED or equivalent
Six or more months of general business experience, preferably in a customer service environment, or the equivalent in related work experience
Strong communication skills via phone, email, chat, etc.
Excellent customer services skills
Excellent demonstration of caring, empathy and compassion
General knowledge of Windows PC, Microsoft Outlook, Word and Excel, CIB, Teams, Tower, and BSA
Flexible with work schedule

CLICK HERE for full details and to apply. (THE PAGE MAY TAKE A MOMENT TO LOAD.) For more jobs like this, check our Newest Jobs & Gigs page. To be the first to hear about jobs like these, like our Facebook page. Good luck as you make your work from home plans a reality!
PLEASE SHARE this post – turn your friends into Rat Race Rebels!