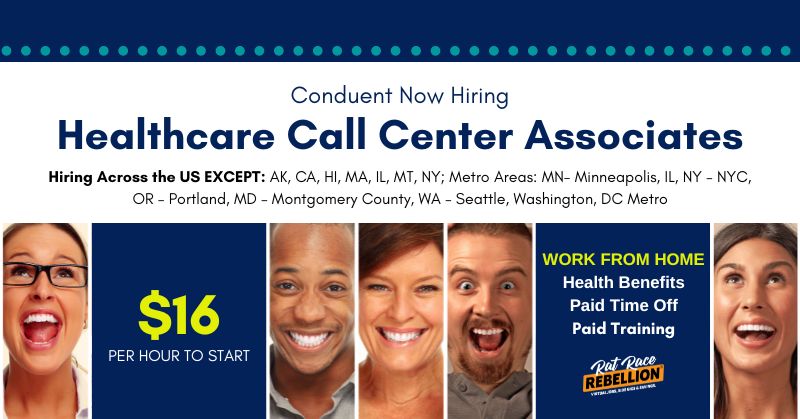 by Chris Durst       June 21, 2023
As we write, this job listing is online and applications appear to be open. But jobs can fill at any time, so apply or share quickly if you're interested! Sorry, but we have no role in the HR processes of other companies. If you encounter difficulties in the application process please contact them directly. Good luck in your hunt, and may you be working from home soon!
Conduent, the world's largest provider of business process services, has posted a work from home Healthcare Call Center Associate role.
Computer provided, broad benefits.
In this role, you will assist customers with questions, inquiries, and issues related to their healthcare coverage.
Those hired must complete a paid 8-week virtual training class.
Starting pay for this position is $16/hr.
The company is hiring from all US locations EXCEPT:
States: AK, CA, HI, MA, IL, MT, NY
Metro Areas: MN- Minneapolis, IL, NY – NYC
OR – Portland, MD – Montgomery County, WA – Seattle, Washington, DC Metro
Here's what the company has posted about this opportunity:
Starting pay rate is $16.00 an hour.
Plenty of career growth opportunities within the healthcare team!
Health benefits for you and your family including medical, dental, and vision, starting on day 1 of work!
Paid time off. Fully work from home!
Training Times will be discussed during interview.
Hours of Operation Monday-Sunday 7:45AM – 11:00PM EST. Shifts will vary from 8 to 10 hour shifts.
Production Schedules can be scheduled within 2 hours of training Schedules, therefore, subject to work a 40 hr work week. MUST be able to work weekends – must be able to work a Saturday or Sunday.  Production schedules days may be moved with 2 weeks notice at anytime
Would you enjoy being part of a team that makes a difference in people's lives? Do you love helping people solve complex problems and delivering solutions? If so, this role is for you!
About the Healthcare Call Center Associate role…
As a member of the Customer Experience team, you assist customers with questions, inquiries, and issues related to their healthcare coverage. You manage a steady volume of incoming calls from customers while navigating multiple systems.
Our call center associates are members of a supportive team. Your excellent customer service and communication skills will help us create positive experiences for our customers and clients. Your punctuality and dependability are key to our clients' success.
A few of the questions you may receive as a healthcare call center associate are the following:
"Can you provide me with a basic overview of benefits I'm enrolled in?"
"What is the status of my submitted claim?"
What we look for…
We're looking for people with a passion for helping others, are naturally empathetic and have the determination to deliver a comprehensive solution to these healthcare related calls. Customer service experience is a plus, but not required. To be successful in this role, you will have:
Ability to successfully complete a 8-week virtual training class. You cannot miss a day of training!
High speed internet
Ability to type 25 words per minute
Great problem-solving skills
Ability to effectively multi-task
High school diploma, GED or college degree
Excellent communication skills
Availability to work weekends
A successful completion of a background check is required for this position which includes education & previous employment verification (you may be asked to provide proof of each).
The training days and hours will be provided in the interview.
Below is what you'll need to do to be considered for this position. It will take less than 20 minutes and includes everything required at this stage!
Apply to the role and provide your basic profile information (2 minutes)
Answer prescreens questions to be sure you meet the minimum requirements for the role (3 minutes)
Complete a typing test (2 minutes)
Take short assessment to determine your fit for the role and set everyone up for success (10 minutes)
For the typing test and assessment, you will need to have access to a computer with a keyboard. If you do not have access to one at this moment, please complete the other steps and then find a local public computer to complete steps 3 and 4. You can access a computer with a keyboard a local coffee shops, library, shipping stores or just search for "public computers near me". Once you access to a computer, you can login to your account and complete the application process.
Be part of the future:
Are you seeking an opportunity to make a real impact in a company that appreciates ideas and new ways of thinking? Come join us and grow with a team of people who will challenge and inspire you to be the best!
We are currently NOT hiring in the following geographies:
States: AK, CA, HI, MA, IL, MT, NY
Metro Areas: MN- Minneapolis, IL, NY – NYC
OR – Portland, MD – Montgomery County, WA – Seattle, Washington, DC Metro
CLICK HERE for full details and to apply. For more jobs like this, check our Newest Jobs & Gigs page. To be the first to hear about jobs like these, like our Facebook page. Good luck as you make your work from home plans a reality!
PLEASE SHARE this post – turn your friends into Rat Race Rebels!