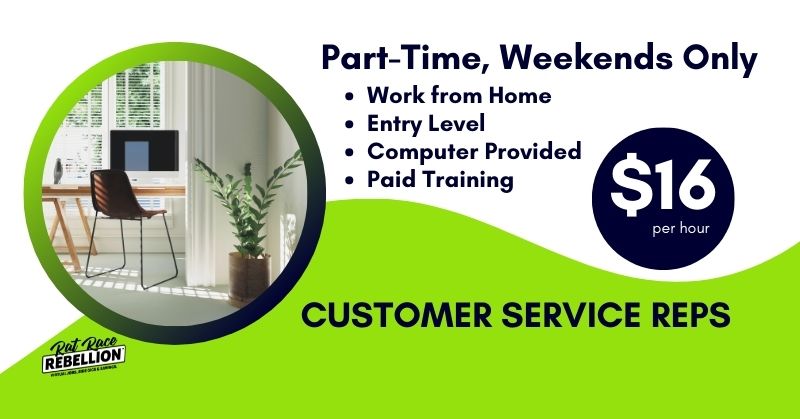 by Chris Durst       Aug. 30, 2022
Update – It looks like the company has received all the applications it needed and has deleted the job listing. Good luck to everyone who applied! For more jobs like these, see our Daily Jobs and Gigs page.
———————————-
Conduent, the business outsourcing giant, is recruiting part-time work from home Customer Service Reps.
Pay is $16/hr. Computer provided. Weekends only. No college requirement or location hiring restrictions mentioned.
According to the job listing, this is an "Entry-level position with limited requirements for licenses, training, and certifications."
Here's what the company has posted about the openings:
Through our dedicated associates, Conduent delivers mission-critical services and solutions on behalf of Fortune 100 companies and over 500 governments – creating exceptional outcomes for our clients and the millions of people who count on them.
You have an opportunity to personally thrive, make a difference and be part of a culture where individuality is noticed and valued every day.
Job Description
Part-Time Work From Home Customer Service Representative
$16.00/hour
Training Hours 8:00PM – 4:30AM CST
Training is 1.5 Weeks
Production Schedule : 8:00AM-5:00PM EST – Saturday & Sunday Only (Off All Weekdays)
Job Track Description:
Performs business support or technical work, using data organizing and coordination skills.
Performs tasks based on established procedures.
In some areas, requires vocational training, certifications, licensures, or equivalent experience.
General Profile
Ability to perform in an analytical and operational process.
Entry-level position with limited requirements for licenses, training, and certifications.
Applies experience and skills to complete assigned work.
Works within established procedures and practices.
Works with a close degree of supervision.
Functional Knowledge
Has basic skillset in a range of processes, procedures, and systems.
Business Expertise
Supports in the achievement of company goals by understanding how teams integrate for the best outcome.
Impacts a team through quality of the services and information provided.
Follows standardized procedures and practices and receives close supervision and guidance.
For consistency, methods and tasks are described in detail.
Leadership
Has no supervisory responsibilities.
Problem Solving
Ability to problem solve, self-guided.
Evaluates issues and solutions to provide the best outcome for the client and end-users.
Has limited opportunity to exercise discretion.
Interpersonal Skills
Exchanges information and ideas effectively.
Responsibility Statements
Assesses calls to provide service immediately, be transferred, or require follow-up for client resolution.
Identifies customer needs by referring to case notes and examining each as a specific case.
Performs routine call center activities concerning business products and services.
Uses standard scripts and established guidelines and under supervision, to meet SLAs.
Provides customers with information that is specialized.
Communicates in a warm and empathetic manner.
Gathers all necessary information to update the database.
Escalates issues to senior levels, based on complaints or concerns.
Explains company policies to customers.
Performs other duties as assigned.
Complies with all policies and standards.

CLICK HERE for full details and to apply. For more jobs like these, see our Daily Jobs & Gigs page. To be the first to hear about jobs like these, like our Facebook page and check your feed for our posts. May you be working from home soon!
PLEASE SHARE this post – turn your friends into Rat Race Rebels!
[social_warfare]