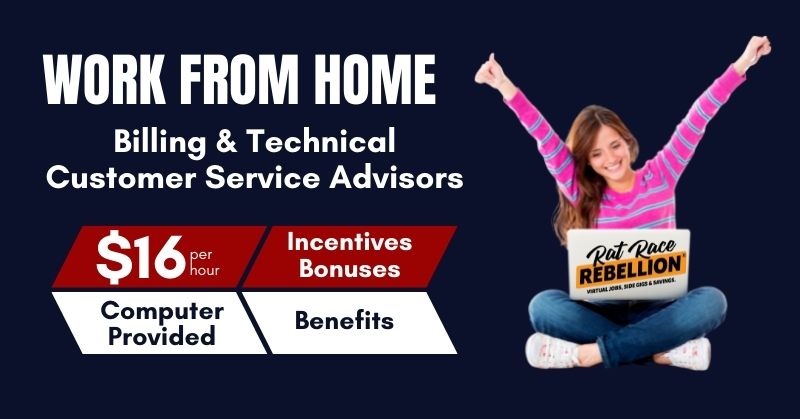 by Chris Durst        June 6, 2022
Conduent has posted work from home Technical Support Advisor openings to their careers page.
They are hiring from AL, AR, AZ, CO, CT, DE, FL, GA, ID, IN, IA, KS, KY, LA, ME, MI, MS, MO, NE, NV, NH, NJ, NM, NC, ND, OH, OK, PA, RI, SC, SD, TN, TX, UT, VT, VA, WA, WV, WI and WY.
The position pays $16/hr. plus incentives and bonuses.
Benefits included.
Here's what the company has posted about the job:
Through our dedicated associates, Conduent delivers mission-critical services and solutions on behalf of Fortune 100 companies and over 500 governments – creating exceptional outcomes for our clients and the millions of people who count on them.
You have an opportunity to personally thrive, make a difference and be part of a culture where individuality is noticed and valued every day.
Job Description
This is a Technical Support Advisor role, with a twist! Ideal for curious individuals who love to learn!
In the first 60 days, you will work as a Billing Support Advisor – where you help others solve their account and billing issues – after 45-60 days you will be upskilled as a Technical Support Advisor! Twice the learning and training opportunities, twice the exposure resulting in accelerated exposure and growth.
We are actively seeking full-time agents to work from home and deliver excellent billing and technical customer service on behalf of our client – a world leader in technology and innovation.
As a Billing and Technical Support Advisor, you will be supporting our client's customers as a first point of contact and resolving their account and billing issues and thereafter any technical issues with their devices. We will rely on you to actively listen to our clients' customers, use your technical experience, passion, and creativity to meet their needs and deliver a world-class experience across every interaction you have with them.
In this role, you will be there to help customers with their billing and account issues, but after 45-60 days you will also provide technical support. You will be working independently from home and will be expected to collaborate with management and co-workers in a remote setting.
To be successful in this role, you should have the ability ensure call resolution in a timely manner, have excellent verbal and written communication skills, maintain the highest standards of quality, guarantee customer satisfaction on every call, provide product solutions, and perform other duties as assigned.
Conduent has an exciting opportunity waiting for you, if you:
Are you a problem solver who can patiently listen to, understand, and address complex customer issues
Have strong people skills to build a genuine connection with a customer
Can navigate multiple applications and research solutions with ease
Love helping people and guiding them to the best solution for their issue
Are excited by innovative technology
Want to work with one of the world's most recognized brands
Provide calm conflict resolution and problem resolution for frustrated customers
Can work in a structured environment for the duration of your allotted, full-time schedule taking high-volume calls from customers
Can commit to 100% attendance for five weeks of paid training
We have a variety of schedules available which will include at least one weekend day, mostly Mid and Evening shifts (typically 9-hour shifts anytime between 10am – 10pm CST). There will be quarterly opportunities to receive new shifts based on customer needs (or more frequently if needed).
To meet our requirements, you should:
Be at least 18 years or older
Have a High School Diploma, or equivalent
Be able to successfully pass a criminal background check
Have at least six months of customer service experience
Have high speed internet access meeting the following speeds: download = ≥10, upload ≥3, Ping ms <175 (no Wi-Fi or satellite internet, you must have ethernet connections)
Preferably, have previous Contact Center and/or work from home experience
Have strong computer knowledge, including ability to accurately type at least 30 wpm; familiarity with iOS and/or macOS, or comparable technology is preferred
Have a workspace that can only be accessed by you during your work hours
Be able to work independently with discipline and motivation to succeed in a virtual environment
Have excellent English written and verbal communication skills
Be courteous and friendly with a high degree of professionalism
Thrive in a fast-paced work environment
Live in one of the following states AL, AR, AZ, CO, CT, DE, FL, GA, ID, IN, IA, KS, KY, LA, ME, MI, MS, MO, NE, NV, NH, NJ, NM, NC, ND, OH, OK, PA, RI, SC, SD, TN, TX, UT, VT, VA, WA, WV, WI, WY
In return we offer:
$16.00 per hour plus incentive and bonus programs
Health Benefits for you and your family, including medical, dental, vision
Ability to develop your skills and grow your career
Paid Time Off
An opportunity to work for a company passionate about helping people
Below is what you'll need to do to be considered for this position. It will take less than 10 minutes and includes everything required at this stage!
Apply to the role and provide your basic profile information (2 minutes)
Answer prescreen questions to be sure you meet the minimum requirements for the role (3 minutes)
Complete a typing test (2 minutes)
For the typing test and assessment, you will need to have access to a computer with a keyboard. If you do not have access to one at this moment, please complete the other steps and then find a local public computer to complete step 3. You can access a computer with a keyboard at local coffee shops, libraries, shipping stores, or just search for "public computers near me". Once you have access to a computer, you can login to your account and complete the application process.
If you do not complete all the steps, we will send you an email reminder. If you don't hear from us please check your spam folder for messages from the recruiting team.
We are currently NOT hiring in the following geographies:
States: AK, CA, HI, MA, IL, MT
Metro Areas: MN – Minneapolis, IL – Chicago, NY – New York City, OR – Portland, MD – Montgomery County, WA – Seattle, Washington, DC.
CLICK HERE for full details and to apply. For more jobs like these, check our Newest Jobs & Gigs page. To be the first to hear about jobs like these, like our Facebook page. Good luck in your next steps toward working from home!
PLEASE SHARE this post – turn your friends into Rat Race Rebels!
[social_warfare]