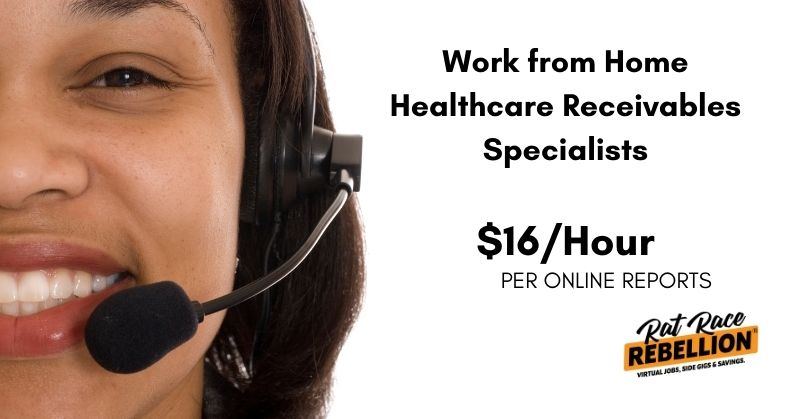 by Chris Durst      Sep. 15, 2021
Xtend Healthcare is a provider of comprehensive revenue cycle solutions to hospitals and health systems. The company has posted openings for Work from Home Healthcare Receivable Specialists who will service and collect patient accounts receivables for medical accounts.
College is not required, but 6 months work experience in a call center environment is preferred.
No state exclusions are noted in the job posting.
Pay is not listed, however, Glassdoor places it at about $16 per hour.
Here's what the company has to share about this opportunity:
"Xtend Healthcare is looking for Healthcare Receivable Specialists (HRS). The HRS is responsible for performing phone activities to service and collect patient accounts receivables for medical accounts. HRS will locate and communicate with patients via the telephone to obtain repayment in full or to establish acceptable payment arrangements. Additionally, HRS will resolve issues of a non-routine nature as necessary as well as answer patients' questions and research account changes when necessary and contract observance functions to ensure compliance of all company, client, and federal and state regulations.
JOB SUMMARY:
1. Communicate with patients regarding the repayment of their medical debt.
Achieve assigned goals (resolutions, call quality, productivity standards – specified by line of business).
Make required number of phone calls daily as determined by management.
Profile patients and obtain financial information. Update demographic and financial information on each call.
Negotiate the best possible arrangements.
Proficiency with company telephone system while placing outbound calls and accepting inbound calls.
2. Perform account research and route accounts through appropriate client workflows.
Use job aids and crosswalks to answer patient questions and resolve accounts in an efficient manner.
Perform account research and document findings.
Effectively communicate with patients and client to obtain necessary account information.
Ensure strong communication skills to convey intricate account information.
3. Ensure all accounts are worked within client standards and Federal Regulations.
Maintain high quality account handling per client standards.
Work within FDCPA, state regulations, department/division & all Compliance Policies.
Maintain clear, concise and accurate documentation of all attempts and/or contacts made and received for accounts in accordance with company and client specifications.
4. Maintain continuing education, training in industry career development.
Maintain current knowledge of and comply with all federal and state rules and regulations governing phone calls and collections including HIPAA, FDCPA, Privacy Act, FCRA, etc.
Attend training sessions as directed by management.
Integrate information obtained through training sessions and policy changes immediately into daily routine.
MINIMUM REQUIREMENTS:
High school diploma (additional equivalent experience above the required minimum substitute for the checked level of education)
6 months work experience in a call center environment is preferred
PC experience in a windows environment
Basic keyboarding skills
PREFERRED QUALIFICATIONS:
Effective written and verbal communication skills
Strong listening skills, ability to follow written and/or verbal instructions
Good mathematical skills including calculator skills
Goal Oriented, and seeks to consistently meet aggressive daily, weekly, and monthly production and quality goals
Strong organizational skills and the ability to meet tight deadlines
Negotiation, counseling and problem-solving skills
Reliable, ability to work flexible day, evening and weekend hours as required
Ability to learn company collections computer system and phone system
Persistent, ability to overcome objections, ability to remove barriers
Team player"
CLICK HERE for full details and to apply. For more jobs like these, check our Newest Jobs & Gigs page. To be the first to hear about jobs like these, like our Facebook page.
PLEASE SHARE this post – turn your friends into Rat Race Rebels!