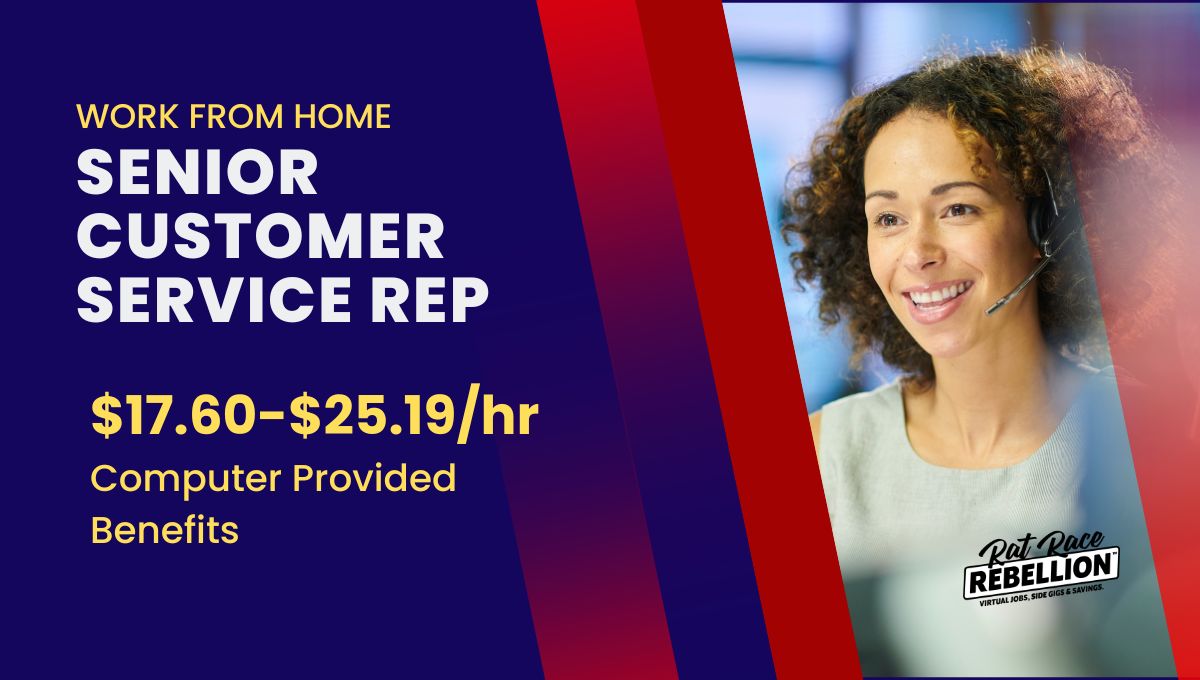 by Chris Durst       Nov. 15, 2023
As we write, this job listing is online and applications appear to be open. But jobs can fill at any time, so apply or share quickly if you're interested! Sorry, but we have no role in the HR processes of other companies. If you encounter difficulties in the application process please contact them directly. Good luck in your hunt, and may you be working from home soon!
NOTE: These roles generally fill very quickly. Apply or share asap if interested!
Cardinal Health is a multinational health care services company, and "the 14th highest revenue generating company in the United States."
The company has posted openings for work from home Senior Customer Service Reps. You'd be providing outsourced services to customers relating to medical billing, medical reimbursement, and/or other services by acting as a liaison in problem-solving, research and problem/dispute resolution.
A computer is provided. No state hiring limitations listed; no college required.
The pay range is $17.60/hr – $25.19/hr.
Among the benefits are health insurance, 401k contributions, paid time off and vacation.
Here's what the company has posted about this opportunity:
What Customer Service Operations contributes to Cardinal Health
Customer Service is responsible for establishing, maintaining and enhancing customer business through contract administration, customer orders, and problem resolution.
Responsible for providing outsourced services to customers relating to medical billing, medical reimbursement, and/or other services by acting as a liaison in problem-solving, research and problem/dispute resolution.
Shift: Monday-Friday 8:30am-5:00pm EST
Remote Details: You will work from home, full-time.
As a work from home employee, the expectation is that you have your camera on when participating in your onboarding/training activities. Please note that work from home is not a substitute for childcare or eldercare, arrangements must be made ahead of your start date. You will be required to have a dedicated, quiet, private, distraction free environment with access to high-speed internet.
Responsibilities
Provides outstanding customer service and supports improvements in operational execution to ensure service levels are achieved and exceeded.
Manages customer account activity including, but are not limited to; customer order fulfillment, customer backorders/substitutes, product change requests, new/lost business submissions and coordinating any customer questions / issues that may arise.
Provides outsourced services to customers relating to invoicing, reimbursement, and/or other services by acting as a liaison in problem-solving, research and problem/dispute resolution.
Collects and reviews customer feedback, complaints, recalls and product returns, working closely with Quality and Regulatory teams.
Identifies customer trends and challenges/opportunities to develop potential alternatives to support business, operational efficiency and develop new customer opportunities.
Supports process improvement initiatives, including but not limited to opportunities for optimizing inventory levels, suppliers and operational performance, cost control and profitability and ultimately customer service.
Builds strong relationships with key business stakeholders (Supply Chain, Finance, Operations, Marketing and Commercial) to work in collaborative approach for improved customer service.
Communicates with customers regarding their needs, questions, and concerns and helps trouble shoot equipment issues as necessary.
Manages cases regarding reporting, backorders, customer complaints, and pricing and processes product complaint and incident reports.
Supports general sales by analyzing account histories, and coordinating internal resources to resolve customer needs.
Investigates and reports on anomalies and discrepancies in point of sales systems, website ordering, and general customer complaint issues.
Redirects customers to applicable in-house resources as necessary.
Supports general post-sales issues resolutions as necessary.
Qualifications
3-6 years of experience preferred
High School Diploma, GED or technical certification in related field or equivalent experience preferred
What is expected of you and others at this level
Effectively applies knowledge of job and company policies and procedures to complete a variety of assignments
In-depth knowledge in technical or specialty area
Applies advanced skills to resolve complex problems independently
May modify process to resolve situations
Works independently within established procedures; may receive general guidance on new assignments
May provide general guidance or technical assistance to less experienced team members
Anticipated salary range: $17.60/hr – $25.19/hr
Bonus eligible: No
Benefits: Cardinal Health offers a wide variety of benefits and programs to support health and well-being.
Medical, dental and vision coverage
Paid time off plan
Health savings account (HSA)
401k savings plan
Access to wages before pay day with myFlexPay
Flexible spending accounts (FSAs)
Short- and long-term disability coverage
Work-Life resources
Paid parental leave
Healthy lifestyle programs
Candidates who are back-to-work, people with disabilities, without a college degree, and Veterans are encouraged to apply.
CLICK HERE for full details and to apply. For more jobs like this, check our Newest Jobs & Gigs page. To be the first to hear about jobs like these, like our Facebook page. Good luck as you make your work from home plans a reality!
PLEASE SHARE this post – turn your friends into Rat Race Rebels!