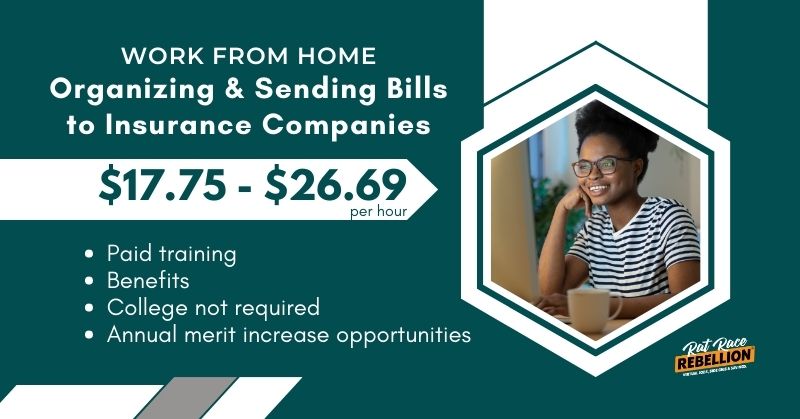 by Chris Durst       Aug. 15, 2023
As we write, this job listing is online and applications appear to be open. But jobs can fill at any time, so apply or share quickly if you're interested! Sorry, but we have no role in the HR processes of other companies. If you encounter difficulties in the application process please contact them directly. Good luck in your hunt, and may you be working from home soon!
One Call, a company in the workers' compensation sector, has posted a work from home Bill Review Associate II position to their careers page.
In this role, you'd organize and send bills to insurance companies for reimbursement.
The pay range is $17.75 – $26.69/hr. 
Past and current employees have rated the company 3.3 out of 5 stars on Glassdoor.
The company's benefit package appears to be broad.
Hiring in the US – no state hiring exclusions noted in the job posting.
Here's what the company has posted about the job:
We're looking for colleagues who are ready to Think Big, Go Fast, Deliver Awe, and Win Together. These core values embody our diverse and inclusive culture and help us live out our mission of "getting people the care they need when they need it." Over the last 30 years, our company has established itself as the market leader in managed care for the workers' compensation industry. We are committed to making a positive impact in the lives of the injured workers we serve, and we have fun doing it.
Salary Range: $17.75 – $26.69 Hourly
This compensation range takes into account the wide range of factors that are considered in making compensation decisions including but not limited to skill sets; experience and training; licensure and certifications; and other business and organizational needs. The disclosed range estimate has not been adjusted for the applicable geographic differential associated with the location at which the position may be filled. At One Call, it is not typical for an individual to be hired at or near the top of the range for their role and compensation decisions are dependent on the facts and circumstances of each case. A reasonable estimate of the current range is $17.75 – $26.69 Hourly
Benefits Summary:
In return for your commitment to our company's mission, we offer a vast array of benefits to help support the whole you.
Opportunities to work from home
Competitive wages with opportunities to earn annual merit increases
Paid development hours to use for professional and community development!
Generous paid time off, 8 company holidays, and 2 floating holidays per year
$1,000 Colleague Referral Program
Enterprise Recognition Program rewarding colleagues for their extraordinary work
Exclusive discounts on travel, activities, and merchandise via work discount program
Colleague Assistance Program that provides free counseling and financial services
Tuition Reimbursement Program including certifications
Quantum Health: A healthcare navigation platform to help our colleagues make the best, most cost-effective healthcare decisions
Medical, dental, and vision insurance
Pre-Tax FSA and HSA health savings accounts
401(k) matching
Company paid life insurance
Company paid short term and long-term disability
Referral program
Healthcare concierge
The One Call Foundation which aims to help colleagues during unexpected emergencies, from car accidents to natural disasters.
The Bill Review Associate organizes and sends bills to insurance company for reimbursement.
Intermediate role. Applies moderate skills to job or specialization. May adapt procedures, processes, tools, equipment and techniques to meet more complex requirements of job. Duties and tasks are somewhat routine, although most questions and problems are resolved by the incumbent. Consults with senior peers on semi-complex processes to learn through experience. Works under general supervision. Requires a High School diploma and typically a minimum of 1 to 3 years of experience in an office setting and/or billing experience.
GENERAL DUTIES & RESPONSIBILITIES:
Answers questions from internal departments about Bill Review protocols.
Reviews bills for accuracy.
Researches billing errors (such as missing ICD codes, therapist license numbers, etc.).
Contacts therapy clinics for missing information/documentation.
Processes mail.
Delivers exceptional customer service with every customer interaction.
Demonstrates knowledge of office equipment (copier and scanner).
Attends department meetings and participate in training sessions.
Performs all other duties and assignments as directed by management.
EDUCATIONAL REQUIREMENTS:
High school diploma or G.E.D.
GENERAL KNOWLEDGE, SKILLS & ABILITIES:
Verbal and written communication skills.
Organization skills.
Ability to work with minimal supervision.
Exceptional Customer Service.
Proficient computer skills and data entry.
Critical thinking and problem solving.
Time management.
Ability to multi-task in past-paced environment.
PHYSICAL/EMOTIONAL DEMANDS & WORK ENVIRONMENTS:
For roles located in office or home settings; this job is primarily sedentary and may involve repetitive motions; the employee is regularly required to sit, use hands and fingers, speak, and hear.
For roles located in the field; this job is primarily active; the employee is regularly mobile and must be able to utilize transportation (such as driving), sit, use hands and fingers, speak, and hear.
The employee is occasionally required to stand, walk, and lift objects (up to 10 lbs. weight; up to 4 ft. height).
Specific vision abilities required by this job include ability to see things from a close distance and ability to adjust focus.
The work environment utilizes florescent lighting; noise level is moderate.
The emotional demand of the job may cause undue stress from, but not limited to, moderate/heavy workload.
Reasonable accommodations will be individually assessed and possibly made to enable individuals with disabilities to perform the essential functions of the position.
Please be advised the job description is subject to change at any time.
CLICK HERE for full details and to apply. For more jobs like this, check our Newest Jobs & Gigs page. To be the first to hear about jobs like these, like our Facebook page. Good luck as you make your work from home plans a reality!
PLEASE SHARE this post – turn your friends into Rat Race Rebels!