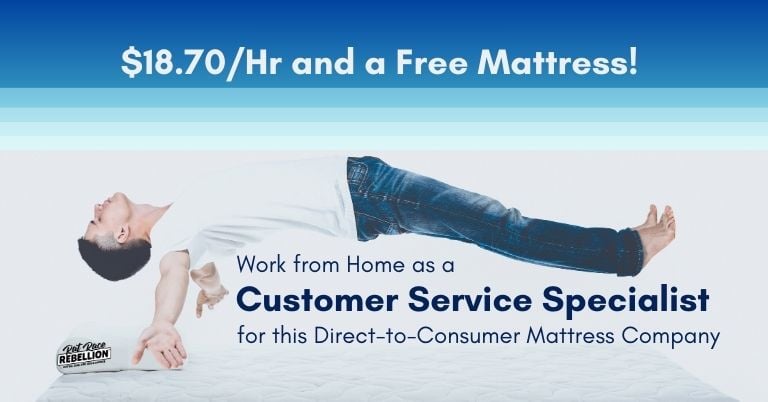 by Chris Durst       Sept. 18, 2023
As we write, this job listing is online and applications appear to be open. But jobs can fill at any time, so apply or share quickly if you're interested! Sorry, but we have no role in the HR processes of other companies. If you encounter difficulties in the application process please contact them directly. Good luck in your hunt, and may you be working from home soon!
UPDATE:
Well, darn! It looks like Resident has received all the applications it needed and has deleted the job.
Never fear though, we've got you covered. Find your ideal remote job on one of our other pages:
While you're here, follow us on Facebook to make sure you never miss out on any of the amazing jobs we post.
——-
Resident, the company that founded the popular Nectar Sleep mattress, has posted a work from home Customer Service Specialist position to their jobs page.
This is a full-time role. Requirements include "1 to 2 years of service/support experience in a call center or remote environment."
Pay is listed at $18.70/hr.
No state hiring exclusions are mentioned in the listing.
No college required.
Benefits include the usual health, medical, 401K, etc. but, because Resident is a mattress company, employees also get a FREE MATTRESS.
Here's what the company has posted about the job:
Resident is an industry-leader in the Direct-to-Consumer mattress and home furnishings category. Since our founding of the award-winning Nectar Sleep in 2016 (with over 1 million happy sleepers and counting), we have also launched the Dreamcloud, Awara and Level Sleep brands to cater to a variety of sleep preferences. Our mission is simple, we strive to make inspiring products people love coming home to (and to help everyone afford a great night's sleep)!
Oh, and by the way – we've been doing the "remote work thing" since the day we started. So you can expect a hard working team of people that understands how to create meaningful connections and get great work done virtually – it's in our nature!
This is a fully remote position. To be considered for this opportunity you must reside within and have the right to work in the United States.
About the Role:
Resident's ideal candidate for this role: a self-starter with an ability to adapt quickly in a fast-paced remote environment who communicates effectively. The Customer Support Specialist is responsible for assisting customers in real time via phone to help address any of their sleep or comfort needs, working to identify and overcome the customers concerns with their purchase, centered around pre and post delivery returns and cancellations.
What you'll be doing:
Work inbound phone, chat, and email channels to provide a world-class customer experience to our customers.
Use a customer experience mindset to manage customer requests, while working to resolve them.
Comfortable handling a high volume of product and service questions.
Be prepared to become a 'mattress and sleep expert'- open to learning new concepts, adept at remembering details, quick on your feet with accurate recall of key information.
Be proficient with multi-tasking, entering data while assisting customers and communicating using company resources(I.E. Slack, Google Hangouts).
Answers customer requests or inquiries concerning products, overcoming objections and creating a solution to retain customers.
Continually maintain working knowledge of all company products, services and promotions
Adhere to daily schedule, being consistent and reliable with adherence and attendance.
Meets and/or exceeds daily,weekly and monthly metrics.
Operate through our core values of Excellence, Customer Love, Big Thinking, Inclusivity, and Forward Momentum.
Be open to feedback and be constantly willing to learn and apply feedback immediately.
Requirements:
Have open availability and able to work weekends and key holidays
2 years of retention or customer success experience.
1 to 2 years of service/support experience in a call center or remote environment.
Great interpersonal skills with the ability to bring an upbeat, professional and respectful approach to internal and external customers.
Well-organized, with a high attention to detail and ability to prioritize and time manage for successful execution.
Must be able to adapt to changes in scheduling and be open to flexible work hours as needed
A demonstrated ability to listen to customer needs.
Excellent written and spoken communication.
Comfortable and familiar with working from home and being a self-starter.
Strong computer literacy with the ability to quickly learn and adapt to new platforms.
Experience/proficiency in programs such as Five9, Chat Tools, Google Suite, and Slack.
What We Offer (subject to eligibility requirements):
Remote-first workplace (since 2016!)
Competitive pay
Health, Vision & Dental Insurance
HSA company contributions
401K with company match component
Generous Paid Time Off
Wellness benefits
WFH office and cell phone/internet stipend
A FREE MATTRESS plus an awesome Friends and Family discount!
If you reside in a state or location where pay transparency laws or regulations have been adopted please read the following: The hourly rate for this position is $18.70. We carefully consider a wide range of compensation factors, including your background, skills, qualifications, experience, geographic location and other non-discriminatory factors.
CLICK HERE for full details and to apply. For more jobs like this, check our Newest Jobs & Gigs page. To be the first to hear about jobs like these, like our Facebook page. Good luck as you make your work from home plans a reality!
PLEASE SHARE this post – turn your friends into Rat Race Rebels!