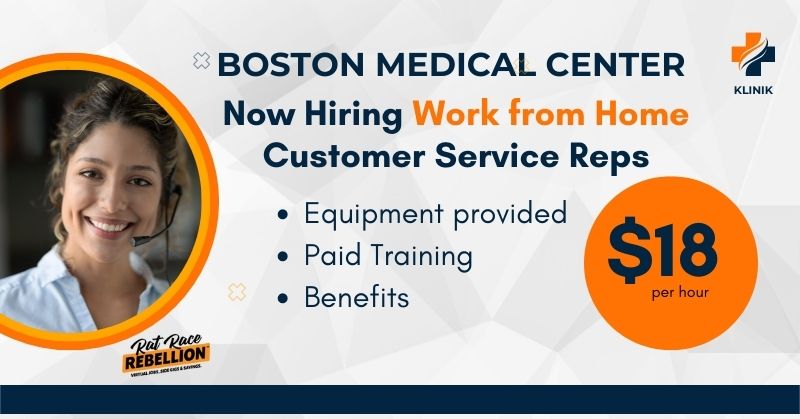 By Chris Durst    Sep. 12, 2022
Boston Medical Center has posted openings for work from home Customer Service Reps and  you won't have to work weekends!
Applicants must live in the United States, but no state hiring exclusions have been listed.
Those hired will participate in a 5-week paid training program in which you will learn everything you need to work confidently in this role.
The hourly rate is $18/hour. Computer and equipment provided. Benefits available.

Here's what the company has posted about this opportunity:
"Positions are full time, work from home
Monday-Friday: 1st shift (no weekends)
Hourly rate: $18.00 per hour
It's an exciting time to join Boston Medical Center Health Net Plan/Well Sense Health Plan, as we work to support our underserved, disabled and elderly populations with their health insurance in these challenging times! Our Customer Care Reps are the first line of support for providing accurate and thorough information to current and prospective members, providers, and internal customers. You will make a difference for others every day! A role on our Customer Care team has also proven to be an excellent starting point for longer term growth and advancement in our company, with demonstrated skills and a strong performance.
Our Investment in You:
Full time remote work! No more commute, do your work from the comfort of your own home.
Paid 5 week training period. Bring your enthusiasm and people skills and we will train you on the health insurance business and how to confidently resolve inquiries.
Excellent benefits program, including a no premium health insurance option.
One on one mentoring and on the job training. New hire buddy program, Team Assist Line and Ulysses Learning, a leader in customer service and call center learning programs.
Skills based career progression program within our call center. Opportunity to increase your title and pay based on demonstrated knowledge, abilities and performance.
Internal employee job bid/application program to grow into roles in other departments.
Recognition and rewards for high-performance and improvement.
Employee resource groups for corporate diversity and inclusion initiatives.
Key Responsibilities:
Own the interaction with callers by delivering outstanding service as a means to build loyalty, improve retention, and satisfy corporate best in service goals and objectives. Complete responsibility to resolve customer inquiries and problems through effective interaction
Responds to a high volume of incoming calls from members and providers (call length can vary widely from 5 minutes to 45 minutes or more)
Utilizes appropriate resource materials to effectively and accurately interpret' respond and resolve customer inquiries and problems; Utilizes interpreter services as needed to assist members
Maintains knowledge of the Plan contracts and effectively interprets information
Employs strong interpersonal skills in order to handle difficult calls courteously and professionally.
Documents calls in accordance with departmental policies
Works with peers to solve problems and promotes teamwork
Meets or exceeds department's quality and productivity goals
Performs other duties as assigned
Our Ideal Candidates:
High school diploma or equivalent required, Bachelor's degree preferred.
Prior professional work experience, ideally with Customer Service. It's ok if you haven't worked in a call center before, we will train you!
Outstanding customer service skills and excellent verbal and written communication skills.
Strong organizational skills with the ability to prioritize a high volume of adjustment requests, multi-task and prioritize work
Ability to make reasonable and sound business decisions based on established standards and guidelines
Ability to work in a fast-paced team environment and to effectively prioritize work. A working knowledge of Microsoft Office products
Bilingual in Spanish, Portuguese, Haitian Creole or other language is highly desirable
Ability and comfort level working from home with access to a high speed internet connection.
Regular and reliable attendance is an essential function of the position. Ability to work OT during peak periods"
CLICK HERE for full details and to apply. For more jobs like these, check our Newest Jobs & Gigs page. To be the first to hear about jobs like these, like our Facebook page and check your feed for our posts. May you be working from home soon!
PLEASE SHARE this post – turn your friends into Rat Race Rebels!
[social_warfare]