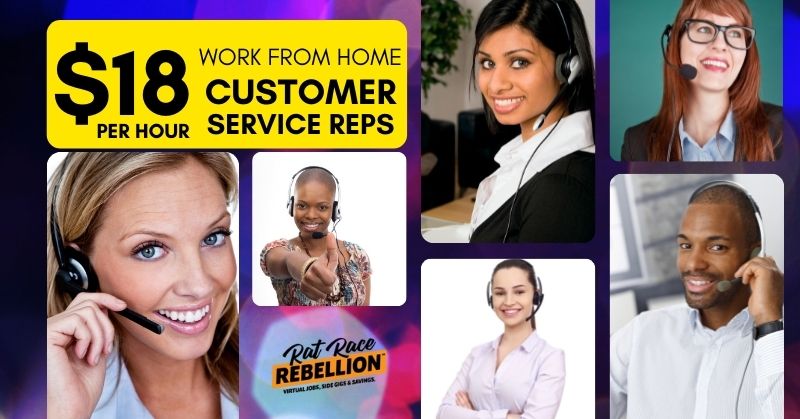 by Chris Durst        Aug. 9, 2021
First Advantage is the "world's largest provider of comprehensive background screening, identity and information solutions that give employers and housing providers access to trusted information for making faster, more accurate people decisions."
The company just posted a Work from Home Customer Service Representative opportunity to their job site.
Among the qualifications they are seeking are at least a High School Diploma or GED, 1-2 years prior experience preferred in a customer-facing, and experience with Microsoft Windows Operating Systems.
Pay is listed as $18 an hour for this contract to hire role.
No state exclusions are noted in the job listing.
Here's what the company has posted about this opportunity:
"The Customer Service Representative receives, evaluates, and answers customer inquiries in a timely manner. This position is responsible for enhancing each customer's relationship with First Advantage services by providing support assistance with application, technical, and business process inquires within First Advantage applications to maximize total value. Answer inbound calls while contributing to ongoing enhancement of shared knowledge content and promoting overall value of First Advantage. Strong organizational skills, analysis, high attention to detail, effective time management, solid decision making skills and effective problem solving are all key components of this role. $18 an hour, contract to hire role.
Essential Duties and Responsibilities:
Deliver an extraordinary customer experience that inspires satisfaction and exceeds expectations of knowledge, empathy, and professionalism. Achieve individual goals while contributing toward departmental goals for quality, customer satisfaction, issue resolution, productivity, and schedule adherence.
Provide resolutions for most low-complexity support issues for environments, databases, and applications supported by First Advantage services such as
Microsoft Windows OS, Microsoft Office, and various Internet browsers (as applicable by product). Document troubleshooting steps recommended for each support incident in a clear, concise, and efficient format. Collaborate with internal experts as necessary to resolve issues.
Actively contribute toward new and updated knowledge content that supports continued enrichment of online resources that helps to resolve support cases while promoting the value of this content to all customers.
Share the voice of the customer through appropriate channels to ensure all parts of the organization benefit and have the actionable information needed to drive business decisions

Schedule:
Monday- Friday. Flexibility of working hours between 8am – 8pm EST
Position Requirements
Education:
High School Diploma or GED required. College Degree (BA or BS) preferred. Bilingual/Spanish language skills preferred
Experience:
A minimum of 1-2 years prior experience preferred in a customer-facing. Desire 3 year experience in a call center environment
Other Knowledge, Skills, Abilities or Certifications:
Domain/industry knowledge related to the specific First Advantage services being supported may be required. Specific educational and/or experience requirements to demonstrate such knowledge are determined by the business unit
Prior experience with Microsoft Windows Operating Systems and ISPs required and prior Customer Care and/or background services work related experience preferred
Ability to work in a logical flow to isolate causes of problems and determine potential solutions
Ability to multi-task (type notes into CRM while assisting customers via phone; work within multiple screens and platforms while assisting customers and/or researching issues; handle up to three concurrent chats, etc)
Confident ability to restate or rephrase questions to verify consistent comprehension of a problem
Ability to effectively prioritize and perform multiple tasks in a dynamic, fast-paced environment
Ability to quickly connect with people, establish a rapport, express empathy and project confidence
Prior experience with Microsoft Office (excel, word, and outlook)
Demonstrated ability to work collaboratively in a team environment
Passion and enthusiasm for delivering an extraordinary customer experience
Effectively communicate in a clear and concise manner
Physical Requirements:
This role is largely a sedentary in nature and involves sitting for long periods of time. The role requires the ability to hear and talk as well as to see data and adjust visual focus for computer and paper tasks, read, type, lift and/or carry equipment and files up to 20 pounds, walk, bend or stand as necessary."
CLICK HERE for full details and to apply. For more jobs like these, check our Newest Jobs & Gigs page. To be the first to hear about jobs like these, like our Facebook page.
PLEASE SHARE this post – turn your friends into Rat Race Rebels!