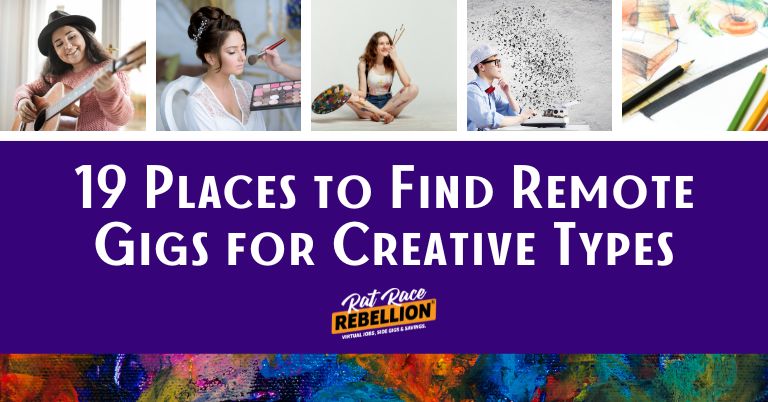 by Christa Barbari (introduction by Chris Durst)      Sep. 6, 2023
If you are a creative person, you probably have a lot of ideas and skills that you want to share with the world. You might be a writer, an artist, a musician, a coder, or a designer.
What if you could find remote jobs for creative people that let you do what you love?
We've pulled together a list of some reputable sites that just might help you start generating some income for doing what you love. Get ready to unleash your creativity!
---
Copy Editor – AHA! "We work on a broad range of marketing initiatives and programs. Your responsibilities will include:
Copy editing 75 percent of the time and writing 25 percent of the time
Peer editing and reviewing content from other writers and the broader team
Delivering high-quality copy edits within fast-paced production cycles
Building and maintaining style resources, such as style sheets, content guidelines, and other editorial documentation
Supporting SEO initiatives that contribute to marketing and company goals
Developing your writing skills and serving as copywriter on key projects
Working proactively to deepen your understanding of our market, customers, and product.."
Compensation of 65,00 to 130,000 annually is listed with a comprehensive benefits package.
For all the details, visit here. 
---
Analog Science Fiction – Writers and Artists " Analog pays 8-10 cents per word for short fiction (up to approximately 20,000 words), 6 cents per word for serials (40,000-80,000 words), 9 cents per word for fact articles, and $1 per line for poetry. "$1,200.00 for color cover art. $125.00 for black and white interiors.."
See their guidelines for full details.
---
Hair Stylists | Makeup Artists | Nail Techs – Glamsquad connects freelance beauty professionals with clients looking for hair, makeup, or nail services from the comfort of their home, office, or hotel suite.
Click here to become a Glamsquad Pro.
---
---
Open your own store – CafePress If you have a portfolio of work and want a creative side hustle, open a store with custom art wares! Over 250 products you can place with your original art pieces.
---
Multiple creative opportunities with Creative Circle! As of publication, they list 145 creative opportunities in design, marketing, research, and many more.
Click here for more information.
Know someone who is a fit? Have them apply and take advantage of the referral program. Everyone is eligible.
For full details, see their referral page!
---
Design by Humans – Artists Marketplace "At Design By Humans we provide a marketplace for you to sell your artwork to people from all over the world who love and appreciate your creativity. We produce, fulfill, and ship all of your custom products while you maintain the rights to your work."
---
Lessonface connects students with great teachers for live music, language, and arts learning online.
Lessonface is a Public Benefit Corporation that has been serving students and teachers since 2012. Lessonface capably handles live online class and lesson operations, including secure registration, payments, video conference session management, reminders, recordings, messaging, tech support and training for organizations, teachers and students.
---
Freelance Writers – DotDash Meredith "Dotdash Meredith is America's largest digital and print publisher. Our 40+ iconic and fast-growing brands harness the best intent-driven content, the fastest sites, and the fewest ads to help nearly 200 million people every month, including 95 percent of US women, make decisions, take action, and find inspiration. Dotdash Meredith brands include PEOPLE, Better Homes & Gardens, Verywell, FOOD & WINE, The Spruce, Allrecipes, Byrdie, REAL SIMPLE, Investopedia, Southern Living and more."
Visit their career page here.
---
---
Artists – Wild Apple is accepting submissions on an ongoing basis.
For all the details, see the submissions page on their website.
---
Are you funny? – The FunnyTimes may be looking for your submission."Our print publication pokes fun at politics, news, relationships, food, technology, pets, work, death, environmental issues, business, religion (yes, even religion), and the human condition in general. Not much is off limits, so do your best to make us laugh.."
---
Cricket is looking for children's content.
See all the particulars here.
---
TeeFury – Designers "Receive commission for all sold designs. Easily track your commissions and sales in the new Artist dashboard."
You can join the community on their Artists page.
---
RedBubble – Your art on products "Creativity. Community. And sweet, sweet cash. Sell your art printed on high-quality products to a global audience. It's fun, easy, and quick to get started.
Create what you love, and connect with people who love it, too. From Boston to Bangkok, millions of visitors come to Redbubble looking for their weirdly meaningful thing."
---
---
SPRING (formerly Teespring) – Creators "A simple solution for creating and selling products that engage your fans and help you monetize your content. No cost, no hassle, no risk."
Their creator's page has further details.
---
Threadless is another option for an artist storefront. Threadless states: "Your online store should be uniquely yours. Your logo, your colors, your brand. That's why Artist Shops are fully customizable. From adding lifestyle photos to your homepage to emailing your customers just to say "thanks!", your Artist Shop is truly your own."
---
Those who have journalistic talents may find a fitting gig at JournalismJobs.com.
For the latest listings, click here.
---
Society6 – Sell your original artwork. "Our mission is to empower creative expression. We support artists both seasoned and new by providing a marketplace for selling their original work, helping them find their voice and connecting them with fellow artists and customers across the world. If you have art within you, we want you to join Society6. Plain and simple."
---
Skyword – "…connects exceptional writers, graphic designers, videographers, photographers, and other creatives with top-tier brands looking to truly connect with their audiences through great storytelling.
We Don't Just Create Content. At Skyword, we are proud to offer opportunities to create work that gets published, seen, and shared around the world."
Click here for all the details.
---
Snapped4u – "Sell event photos the easy way! Snapped4U is for event photography and portrait photography. Customers visit Snapped4U to purchase photos they are in. Travel, landscape, still-life, and stock photos are not for Snapped4U."
---

For more jobs like this, check our Newest Jobs & Gigs page. To be the first to hear about jobs like these, like our Facebook page. Good luck as you make your work from home plans a reality!
PLEASE SHARE this post – turn your friends into Rat Race Rebels!