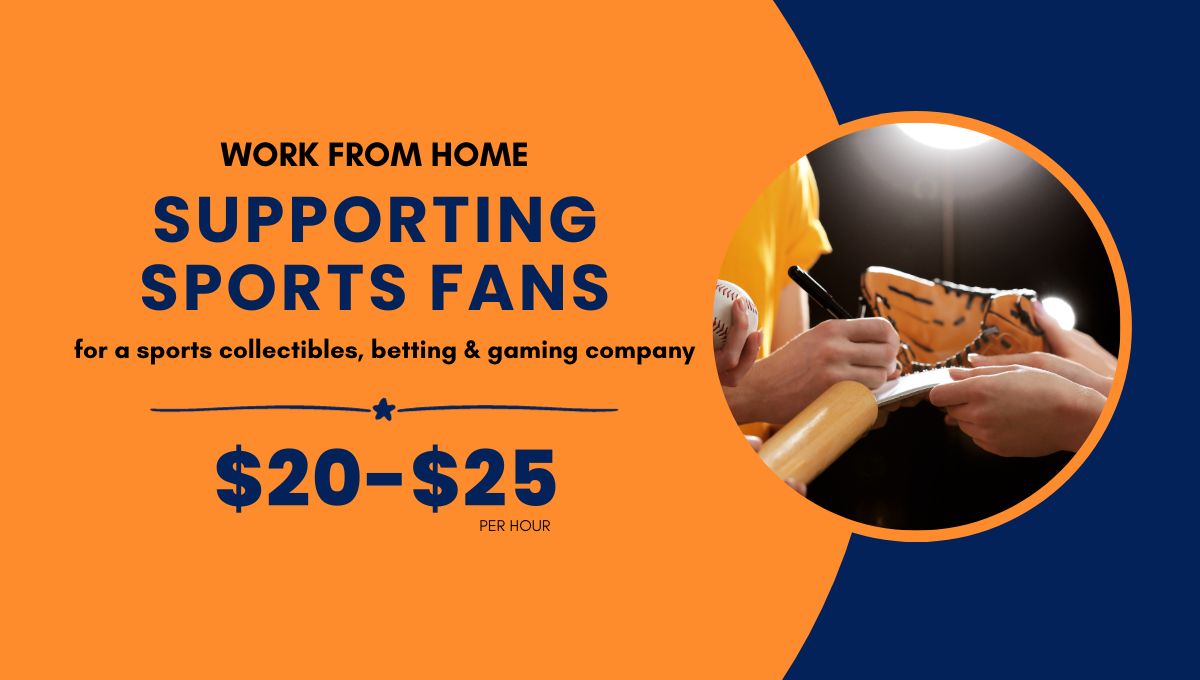 by Chris Durst       Nov. 8, 2023
As we write, this job listing is online and applications appear to be open. But jobs can fill at any time, so apply or share quickly if you're interested! Sorry, but we have no role in the HR processes of other companies. If you encounter difficulties in the application process please contact them directly. Good luck in your hunt, and may you be working from home soon!
Fanatics, a global digital sports platform, has posted a work from home Customer Support Associate opening to their careers page.
In this role, you would, "Liaise between Fanatics Collectibles and consumers by supporting all inquiries and issues."
Communications take place for telephone, email, and direct mail channels.
Pay for this position is $20 – $25 an hour and it appears there may be opportunities for incentive compensation as well.
Hiring in the US, no state hiring exclusions are noted in the job posting.
Here's what the company has posted about this opportunity:
Fanatics is building a leading global digital sports platform. The company ignites the passions of global sports fans and maximizes the presence and reach for hundreds of sports partners globally by offering innovative products and services across Fanatics Commerce, Fanatics Collectibles, and Fanatics Betting & Gaming, allowing sports fans to Buy, Collect and Bet. Through the Fanatics platform, sports fans can buy licensed fan gear, jerseys, lifestyle and streetwear products, headwear, and hardgoods; collect physical and digital trading cards, sports memorabilia, and other digital assets; and bet as the company builds its Sportsbook and iGaming platform. Fanatics has an established database of over 100 million global sports fans, a global partner network with over 900 sports properties, including major national and international professional sports leagues, teams, players associations, athletes, celebrities, colleges, and college conferences, and over 2,000 retail locations, including its Lids retail business stores.
As a market leader with more than 18,000 employees, and hundreds of partners, suppliers, and vendors worldwide, we take responsibility for driving toward more ethical and sustainable practices. We are committed to building an inclusive Fanatics community, reflecting and representing society at every level of the business, including our employees, vendors, partners and fans. Fanatics is also dedicated to making a positive impact in the communities where we all live, work, and play through strategic philanthropic initiatives.
Customer Support Associates act as a liaison between Fanatics Collectibles, Inc. and our consumers as a single point of contact to all customer inquiries regarding products, policies and services available. This role reports directly to the Customer Service Manager. This is a remote role working EST hours.
Customer Service is at the backbone of what Fanatics believes in: dedication and passion to match the fans that drive our business. As such, these roles have a history of advancement within Fanatics up to the Director level in Customer Experience, Project Management, Brand Management, and more. Above all else, we are looking for proactive, enterprising people that want to work directly with customers and are looking to start a long, successful career within Fanatics.
Responsibilities:
Liaise between Fanatics Collectibles and consumers by supporting all inquiries and issues.
Model exemplary service through telephone, email, and direct mail channels.
Delight consumers: apply good judgement on a case-by-case basis, expedite resolutions, and follow up to ensure satisfaction.
Build and maintain relationships with repeat consumers.
Develop a thorough knowledge of Fanatics Collectibles' product portfolio and release calendar.
Additional duties as assigned.
Qualifications:
Positive, consumer-minded individual with a passion to serve.
General knowledge of trading cards and collectibles industry.
Strong problem-solving abilities and attention to detail.
Excellent interpersonal, verbal, and written communication skills.
Able to multitask, prioritize, and manage time effectively.
Proficiency in MS Word & Excel.
Willingness to work through phone and e-mail interactions with customers.
Willingness and ability to work flexible hours, including evenings and weekends.
$20 – $25 an hour
The salary range for this position is $20- $25/hour, which represents base pay only and does not include short-term or long-term incentive compensation. When determining base pay, as part of a final compensation package, we consider several factors such as location, experience, qualifications, and training.
CLICK HERE for full details and to apply. For more jobs like this, check our Newest Jobs & Gigs page. To be the first to hear about jobs like these, like our Facebook page. Good luck as you make your work from home plans a reality!
PLEASE SHARE this post – turn your friends into Rat Race Rebels!