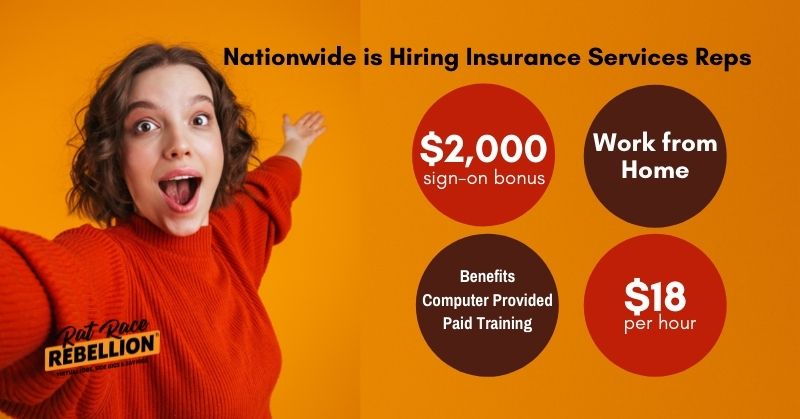 by Chris Durst        Dec. 28, 2021
Nationwide, the insurance and financial services giant, is recruiting Work from Home Insurance Services Reps.
They've noted that they are hiring in 45 states, but the ineligible states are not listed.
There is a $2000 SIGN-ON BONUS that will be paid in two installments. The first $1000 is paid after 3 months, the remaining $1000 is paid after 9 months.
This position begins on January 24, 2022 and kicks off with a 6-week training program.
Pay starts at $36,270 ($18/hr) with opportunities to increase pay based on performance, a 10–15% shift differential on qualifying roles and a competitive benefits package.
Here's what the company has posted about the openings:
If you're passionate about helping people protect what matters most to them, as well as innovating and simplifying processes and operations to provide the best customer value, then Nationwide's Property and Casualty team could be the place for you!
A $2000 SIGN-ON BONUS will be given to all external candidates hired into this role. The first $1000 is paid after 3 months, the remaining $1000 is paid after 9 months.
This position can be filled remotely in 45 states on the mainland.
*Bilingual candidates a plus (differential possible).
Work From Home (Remote) in:
Arizona
Texas
Florida
Iowa
Ohio
and 40 other states
*WFH (Remote) technology requirements
30 mbps download/3 mbps upload
Acceptable internet service provider technologies- broadband cable, fiber
Wired connection between work equipment and home internet equipment
Two open Ethernet ports for call center associates using Cloud Phone
Your career at Nationwide begins on Monday, January 24, 2022 with an award-winning 6-week training program that is designed to set you up for success and confidence in your new role. Your training schedule will be Monday–Friday, 8:00am- 4:30pm CT (9:00am-5:30pm ET). Full-time schedules are 38.75 hours per week and Part-time shift schedules are 20 hours per week. Core hours of operation are 7:00am-11:00pm, 7 days a week/365 day a year. Schedule options fall between the core starting hours of 7:00am-11:00pm.
Your total rewards package includes a starting salary of $36,270 ($18/hr) with opportunities to increase pay based on performance, a 10–15% shift differential on qualifying roles and a competitive benefits package.
Compensation Band: C1
Job Description Summary
Do you thrive in a work environment where you can deliver exceptional customer service? If you are a good listener, skilled communicator and can gather and manage information needed to make decisions about insurance claims – by phone, email, chat and text – then we want to hear from you!
The Insurance Services Representative is the first point of contact with customers, and making a great impression is important to creating and maintaining good relationships. The professional in this role conducts intake for first notice of loss from policyholders, claimants and others. In addition, you will make claims referral decisions and verify coverage, answer questions and provide direction. Creating a great experience for customers, while contributing to individual and team performance expectations, are keys to success. Using a computerized claims system for information gathering and taking manual loss reports as necessary is also part of the job.
Job Description
Key Responsibilities:
Owns the customer experience by establishing trust and building relationships to provide first line customer service contact for claims reporting activity related to personal lines. Utilizes claims call center best practices in all activities, including customer complaint handling and escalation.
Creates loss reports by obtaining information from policyholders, claimant, and other parties. Establishes and maintains information screens and inputs data into necessary software as required. Establishes the claim master record by direct entry of claim data into appropriate systems.
Verifies coverage under various policies or policy provisions based on variances of state, jurisdiction and regulatory requirement.
Makes direct assignments to inside or field claims specialists for prompt resolution of claims. Refers claimants to preferred repair shops or schedules drive-in appointments as appropriate.
Thoroughly and efficiently handles inquiries from policyholders, claimants and others. Responds effectively and appropriately to sensitive events and/or situations as needed.
Establishes and maintains a follow-up system for completion of claim reports. Proactively contacts policyholders/claimants for additional information to expedite proper handling of claims.
Maintains, records and reports information.
Handles the duties of coverage verification with other appropriate functions for all state operations when circumstances do not allow a claim to be established on the system. This includes the verification of Assigned Risk as well as Voluntary policy information.
May perform other responsibilities as assigned.
Reporting Relationships: Reports to Claims Customer Service Supervisor. Individual contributor role.
Typical Skills and Experiences:
Education: High school or comparable diploma; some undergraduate studies preferred.
Experience: One year of work-related customer service experience; prefer experience in the insurance industry.
Knowledge, Abilities and Skills: Strong problem solving, multi-tasking, analytical, and computer skills. Ability to make decisions such as the application of coverage, assignments, and work priorities. Verbal and written communication skills needed to effectively interact with the policyholders, claimants, agents and co-workers. Ability to efficiently navigate and operate personal computer and all related claims/business software.
Other criteria, including leadership skills, competencies and experiences may take precedence.
Staffing exceptions to the above must be approved by the Director and HR Business Partner.
Values: Regularly and consistently demonstrates the Nationwide Values.
CLICK HERE for full details and to apply. For more jobs like these, check our Newest Jobs & Gigs page. To be the first to hear about jobs like these, like our Facebook page. Good luck in your next steps toward working from home!
PLEASE SHARE this post – turn your friends into Rat Race Rebels!
[social_warfare]