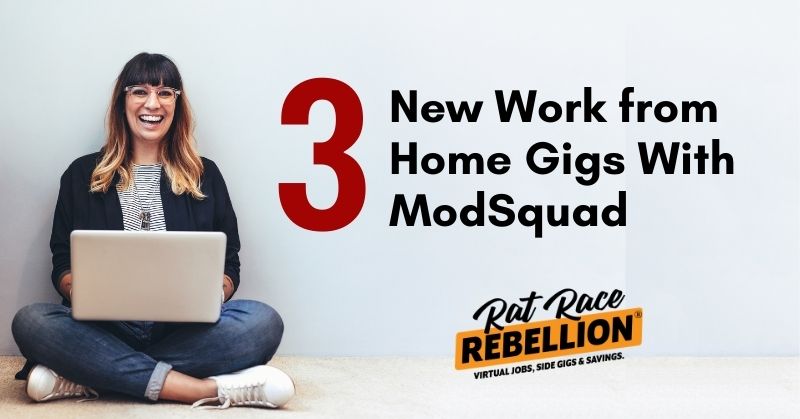 by Chris Durst   Mar. 12, 2021
ModSquad is a company that handles engagement services (moderation of chat rooms, social media, and more) for companies.
Among the company's current openings are:
Bilingual Customer Support – Short Term Rental Properties
Community Engagement – Grocery Project
Remote Customer Support Representative (phone/chat/email) – Authors/Publishing
IMPORTANT: Take your time and make sure you do a thorough job in completing your application. Your responses should be grammatically correct and comprehensive. This will greatly increase the probability of being engaged on a project.
Following is a bit of information about each of these opportunities:
Bilingual Customer Support – Short Term Rental Properties
"Seeking bilingual English/Spanish Mods, to handle mostly English-language calls, with the occasional Spanish-language callers. This project involves telephone customer service for municipalities that host short term rental properties. We will be providing customer service on their hotline for concerns about their properties.
Hours (PST):
Monday through Wednesday, 8 am – 7 pm
Thursday through Saturday, 8 am – 1 am
Sunday, 10 am – 4 pm
60 days commitment as needed
Ideal skills needed:
Customer service experience
De-escalation skills
Professionalism
Bilingual (English native and Spanish near-native speaker)
US-based"
Community Engagement – Grocery Project
"Are you a foodie? If you have a passion for creating connections online we need you on this project. This grocery project is looking to create a fun, witty, and informational online community for its customers.
Hours available: 6 am to 6 pm PST
Minimum weekly commitment: 10 hours
Required Skills and Experience
Empathy
Great Grammar
Critical Thinker
Witty
Detail Orient
Customer First mindset
Love helping people
Familiar with Sprinklr"
Remote Customer Support Representative (phone/chat/email) – Authors/Publishing
"ModSquad is seeking remote Customer Support Reps for one of our elite clients. As a member of this team, you'll respond to customer inquiries via chats, phones and emails.
Hours:
Monday through Friday 12 am to 6 pm PST
Saturday & Sunday 8 am to 5 pm PST
Project Commitment: 90 days
The Ideal Candidate:
can commit to a minimum of 20 hours per week and has weekend availability
is available for orientation immediately & begin working ASAP
is comfortable taking phone calls & chats in a fast-paced environment
has a quiet, distraction free work space, suitable for taking calls
has reliable internet and a working headset
can express empathy & match tone in all forms of communication
can keep up with continuously changing & updating workflows
is comfortable researching answers using provided resource material
is comfortable with assisting people with account set up, locating information and
troubleshooting, both new and advanced users
has Zendesk experience (Talk, Chat and ticket handling)"
CLICK HERE AND SCROLL DOWN for full details and to apply. PLEASE NOTE – ModSquad's site isn't optimized for all browsers and devices. If you don't see the job listing — or the application buttons at the bottom of the page don't appear — you may want to try with a different browser or device. The last time we posted these openings, some folks were also getting erroneous "Job not active" messages through the "Start Here" button. So you may have to try different approaches.
PLEASE SHARE this post – turn your friends into Rat Race Rebels!