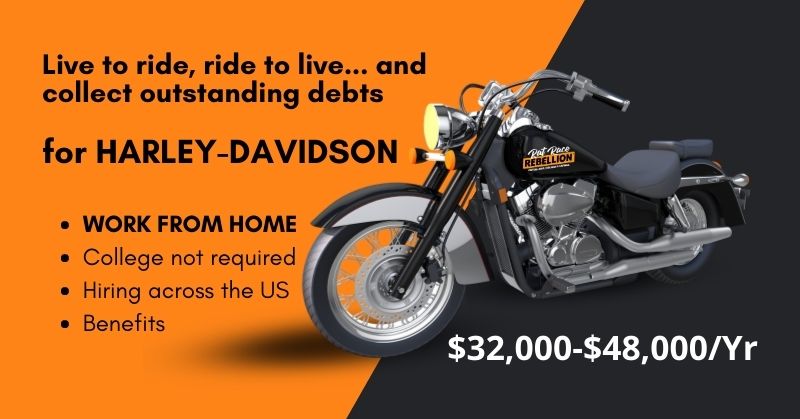 by Chris Durst      Updated Sept. 13, 2023
As we write, this job listing is online and applications appear to be open. But jobs can fill at any time, so apply or share quickly if you're interested! Sorry, but we have no role in the HR processes of other companies. If you encounter difficulties in the application process please contact them directly. Good luck in your hunt, and may you be working from home soon!
Live to ride, ride to live… and collect outstanding debts. (We added that last part. ;–) )

Still recruiting – Harley-Davidson has posted a work from home Collections Rep job to their careers page.
In this role, you'd be responsible for "collecting on assigned delinquent accounts by telephone, or correspondence if necessary."
The pay range for this full-time position is $32,000 – $48,000 per year.
Applicants must live in the US and there are no state hiring exclusions noted in the job post.
If you have great communication and typing skills, and some customer service experience, you may be interested in this job.
Benefits appear to be broad.
Here's what the company has posted about the role:
Harley-Davidson Financial Services (HDFS), a wholly-owned subsidiary of Harley-Davidson, Inc., offers a wide range of financial products and services to motorcycle enthusiasts and Harley-Davidson dealerships. Products available to consumers include financing on motorcycles, MotorClothes™, and parts and accessories; cycle insurance; and extended service plans for Harley-Davidson® motorcycles.
You'll play a pivotal role in helping us create the company we want to be. And for our employees and H-D community it's done through being fair, honest, positive and creative. This isn't just any company. And yours isn't just any career. It's part of your story. Ride with us and make it legendary.
We maximize employee flexibility and well-being through a virtual mindset that supports our highly distributed, global workforce. We take an outcome-focused, people-centered approach to winning, including welcoming the best talent – wherever they may be.
This remote role is not tightly linked to a physical location and provides flexibility in where, when and how you accomplish your work. Remote employees are expected to have a dedicated, quiet and distraction-free work space and an internet connection that's sufficient for completing their job remotely.
Job Summary
Under general supervision the Collections Representative II is responsible for collection of delinquent accounts by phone or correspondence and handles more complex customer cases that may require Collection Representative II to deviate from standard routines and procedures. The Collections Representative II will assist with the onboarding of new employees on processes and procedures.
Job Responsibilities
Responsible for collecting on assigned delinquent accounts by telephone, or correspondence if necessary
Assign accounts to agencies for repossession, skip tracing, or in-person collection activity when approved by appropriate authority level.
Assigned the authority to process and/or assign accounts to Adjustment Queue for payment re-allocations and fee/balance waivers if applicable.
Understands and adheres to company collection and extension policies, the Fair Debt Collection Practices Act, TCPA, GLBA and company confidentiality and privacy issues.
Handles complex collection customer situations
Uses effective time management to ensure customer service experience is satisfactory and meets expectations.
Ensure that all steps necessary are taken to protect the interest of the company.
Protection of information and compliance with the law are paramount. Protecting employee, customer and corporate information is everyone's responsibility at
Eaglemark Savings Bank. All employees must follow established safeguards, including policies regarding data protection, segregation of duties, and access to information based solely on business need. Further, it is the responsibility of all employees to maintain awareness and understanding of relevant laws, regulations, internal policies and procedures, and to comply with all of them.
Education Requirements
Education Specifications
Experience Requirements
Required
Typically requires a minimum of 2 years of related experience.
Previous collection experience or customer service experience
Possesses good communication skills
Keyboarding/data entry skills with moderate speed and accuracy
Ability to handle large volume of collection accounts and inbound customer calls
Ability to prioritize workflow to meet department objectives
Proficient with computers systems
Good problem solving skills
Effective negotiation skills
Harley-Davidson is an equal opportunity employer that continues to build a culture of inclusion, belonging and equity through our commitment to attracting and retaining diverse talent from all backgrounds, without regard to race, color, religion, sex, sexual orientation, national origin, gender identity, age, disability, veteran status or any other characteristic protected by law. We believe in fairness and providing a level playing field for all. We foster a culture that thrives on diverse perspectives and contributions to ignite the creativity and innovation to fuel our business and enhance the employee and customer experience.
The pay range shown represents the national average pay range for this role. Your pay may be more or less than the stated range and is dependent on your geographic location and level of experience.
We offer an inclusive compensation package for all full-time salaried employees including, but not limited to, annual bonus programs, health insurance benefits, a 401k program, onsite fitness centers and employee stores, employee discounts on products and accessories, and more.
Applicants must be currently authorized to work in the United States.
Direct Reports: No
Travel Required: 0 – 10%
Pay Range: $32,000.00 – $48,000.00
Visa Sponsorship: This position is not eligible for visa sponsorship
Relocation: This position is not eligible for relocation assistance
CLICK HERE for full details and to apply. For more jobs like these, check our Newest Jobs & Gigs page. To be the first to hear about jobs like these, like our Facebook page and check your feed for our posts. May you be working from home soon!
PLEASE SHARE this post – turn your friends into Rat Race Rebels!