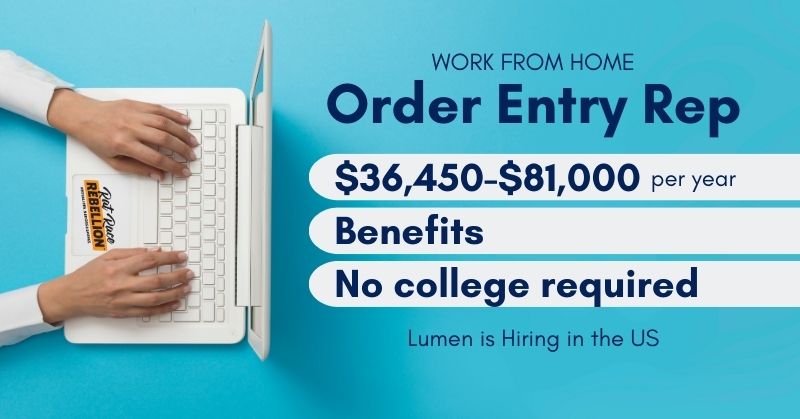 by Chris Durst      June 5, 2023
FAST MOVER! We expect this job to fill quickly – apply and share quickly.
Lumen, an American telecommunications company, has posted a Work from Home Order Entry Rep job to their careers page.
Update – It looks like the company has received all the applications it needed and has deleted the listing. For more jobs like these, see our Daily Jobs & Gigs page.
*****************************
The salary range is $36,450-$81,000. The position is also eligible for short-term incentives or sales compensation.
Applicants must live in the US. No state hiring exclusions are mentioned.
No college required.
Lumen's benefits package includes "Health, Life, Voluntary Lifestyle and other benefits and perks that enhance your physical, mental, emotional and financial wellbeing."
Here's what the company has posted about the job:
Provide timely and accurate processing of orders in both the Local & National space. Builds strong relationships with all aspects of the sales and delivery process all the way through to billing. Order Entry is involved with the development and roll out of new systems and products with partnering with Business Process Innovation (BPI) & Product teams.
The Main Responsibilities
Take orders by various means and ensure orders are keyed as well as execute quotes for customer signature, work on switches, orders for Local Exchange Carriers (LECs), Incumbent Local Exchange Carriers (ILECs) and Competitive Local Exchange Carriers (CLECs).
Coordination of Service Delivery functions and communication of order status
Create architecture confirmation document
Occasionally handles escalations for special ordering requests and expedited order request
Work with sales, provisioning, billing and operations to reconcile order status on less complex products/services while getting assistance from more experienced team members
Partner with Sales, BPI, Sales Engineers, Provisioning, Account Management and product to resolve ordering issues for unique customer solutions
Respond to Sales Team inquiries
Validate contractual information and other key customer information
Other duties as assigned
Develop and maintain close working relationships with sales/CCMs, understand upstream and downstream implications and dependencies, ensuring orders are keyed timely and accurately.
Utilize critical thinking skills to evaluate information provided in the order package, determine most efficient, yet accurate way to translate the information into ordering systems to ensure accurate product and technical information, required notes and accurate billing
Exhibit continuous learning and development by improving job skills through on the job training and available learning pathways
Support Order processes and procedures of Lumen to key orders into the appropriate Order Entry System through to billing
Stay on top of all new product, system/tools and process changes as they are rolled out.
What We Look For in a Candidate
Minimum:
High School diploma, GED or equivalent education and experience
1+ years of related experience
Customer service, problem solving and analytical skills
Verbal, written and interpersonal communication skills
Collaboration skills and use a team approach to accomplishing work
Self-starter
Ability to multi-task
Computer and keyboarding skills
Experience using Computer Systems and Windows-based applications including word processor, spreadsheet
Preferred:
Understanding technical products and service
Knowledge of order process and technical side of the provisioning process
Telecom experience
What to Expect Next
Based on your job application information you may be given the opportunity to complete a video interview immediately after applying. This will include a set of questions for you to record a response to in addition to Game Challenges. Completion of this video interview is a requirement in order to be considered for our open position. Now not a good time? No worries, we will also send you an email with a link to complete the video interview. We strongly recommend that you complete this within 5 days of your application date.
When applying for a position, you may be subject to a background screen (criminal records check, motor vehicle report, and/or drug screen), depending on the requirements for the position. More information on what's included in these checks can be found in the Post Offer section of our FAQ page. Job-related concerns noted in the background screen may disqualify you from the new position or your current role. Background results will be evaluated on a case-by-case basis.
Salary Range
Salary Min : 36450
Salary Max : 81000
This information reflects the anticipated base salary range for this position based on current national data. Minimums and maximums may vary based on location. Individual pay is based on skills, experience and other relevant factors.
This position is eligible for either short-term incentives or sales compensation. Director and VP positions also are eligible for long-term incentive. To learn more about our bonus structure, you can view additional information here. We're able to answer any additional questions you may have as you move through the selection process.
As part of our comprehensive benefits package, Lumen offers a broad range of Health, Life, Voluntary Lifestyle and other benefits and perks that enhance your physical, mental, emotional and financial wellbeing. You can learn more by clicking here.
CLICK HERE for full details and to apply. For more jobs like these, check our Newest Jobs & Gigs page. May you be working from home soon!
PLEASE SHARE this post – turn your friends into Rat Race Rebels!