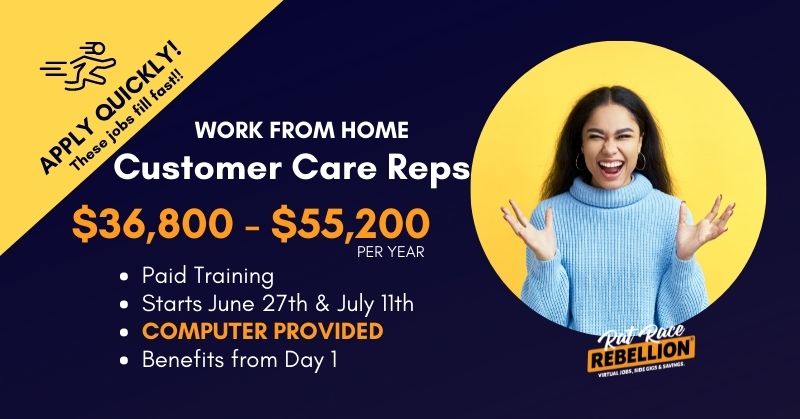 by Chris Durst      May 6, 2022
Please Note — The last time we posted this job it filled quickly, so apply or share ASAP if interested.
The Hartford has posted NEW openings for Work from Home Customer Care Rep positions.
Start Dates: June 27th & July 11th
No college required.
EQUIPMENT PROVIDED.
The annualized base pay range for this role is: $36,800 – $55,200
As with many insurance companies, The Hartford also offers comprehensive benefits.
No state limitations are noted in the ad, however, their previous listing indicated there may be some restrictions.
Here's what the company has posted about this opportunity:
"You are a driven and motivated problem solver ready to pursue meaningful work. You strive to make an impact every day & not only at work, but in your personal life and community too. If that sounds like you, then you've landed in the right place.
Are you looking for a career where you can apply your talents to meaningful work? Have you considered a career in the insurance industry? Would you like to work for a company whose core mission is to help individuals and businesses succeed? Well then you have found the right fit!
As a Customer Care Representative on the Group Benefits team, your primary role is to provide excellent customer service by answering customer questions about disability and leave management claims. In this role, you'll help our customers rebuild their lives and get back to work as soon as reasonably possible after an unexpected event happens. The Hartford will provide you with 4 weeks of paid training, as well as ongoing coaching and development to ensure your success.
This is an entry level position in our dynamic claims contact center and provides excellent career pathways into our claims organization. With a detailed road map for learning opportunities and managers who are trained to coach and guide toward career development, you will be equipped with the right tools to build a long-lasting and evolving professional career.
RESPONSIBILITIES:
Initiate claims according to claims best practices, as assigned and provide exceptional customer service
Utilize multiple computer applications to accurately document claim information
Be provided with 6 weeks of paid training as well as ongoing coaching and development to ensure your success
Location: Remote
Upcoming Start Dates: June 27th & July 11th
Training Hours are Monday – Friday, 10:00 AM – 6:30 PM EST for the first 6 weeks of employment. Time off during training is not accommodated.
After training, shifts offered range between 9:30 AM – 9:00 PM EST, Monday – Friday, year-round.
QUALIFICATIONS:
 A demonstrated background in customer service, insurance, retail, restaurant or a related field
Excellent communication skills with strong ability to empathize with customers
Strong attention to detail
Experience working in a Windows-based computer environment
The ability to work in a collaborative environment
High School Diploma or equivalent required, bachelor's degree a plus

Training Requirements: As a condition of employment, you will be required to successfully complete a multi-week New Hire Training Course and, upon completion, obtain a passing score on the final course assessment. Continued employment with The Hartford is contingent upon you successfully passing the exam(s) within 30 business days from the completion of the New Hire Training.
Internet Connectivity Requirement/Remote Positions: For 100% remote positions, we require that (1) you have high speed broadband cable internet service with minimum upload/download speeds of 3Mbps/30Mbps and (2) your Internet provider supplied device is to be hardwired to the Hartford issued router and/or computer. To confirm whether your Internet system has sufficient speeds, please visit http://www.speedtest.net from your personal computer.
Compensation
The listed annualized base pay range is primarily based on analysis of similar positions in the external market. Actual base pay could vary and may be above or below the listed range based on factors including but not limited to performance, proficiency and demonstration of competencies required for the role. The base pay is just one component of The Hartford's total compensation package for employees. Other rewards may include short-term or annual bonuses, long-term incentives, and on-the-spot recognition. The annualized base pay range for this role is:
$36,800 – $55,200″
CLICK HERE for full details and to apply. For more jobs like these, see our Newest Jobs & Gigs page. To be the first to hear about jobs like these, like our Facebook page. Good luck in your next steps!
PLEASE SHARE this post – turn your friends into Rat Race Rebels!
[social_warfare]