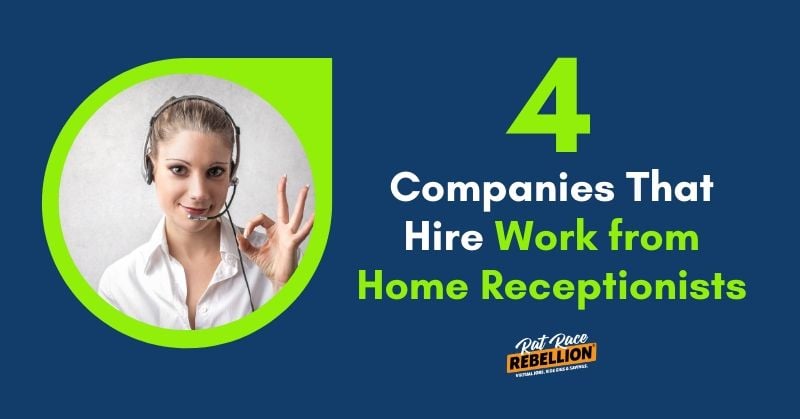 by Chris Durst     Dec. 22, 2020
If you are well-spoken and have that "just right" balance of professional and friendly, Virtual Receptionist work may be ideal for you!
The following four companies hire Virtual Receptionists on a regular basis. If they aren't hiring today, be sure to circle back in a couple of weeks to check again!
From their site: "Working at Smith.ai allows you to earn income and grow your career from the comfort and convenience of your home, all while helping small businesses thrive. Work remotely, yet closely, with a team of receptionists operating around the country to answer calls and web chats on behalf of businesses. We promote a fun and productive work environment that is challenging, varied, and highly rewarding.
We operate 24/7, nearly every day of the year, except for a few holidays. We hire for both full-time (40hrs/week) and part-time positions. For part-time positions you must be available 4 hours a day, 5 days a week (the more the better). Shifts are broken into 2- to 5-hour blocks and are scheduled based on the business needs of Smith.ai and its clients, as well as your availability.
Must Have
Great work ethic and professional demeanor
Prior receptionist or call answering experience
Ability to follow instructions and clearly summarize details
Ability to multitask and work well under pressure
Great communication skills and positive attitude"
From their site: "Our receptionists are often the first employee of an organization to have contact with a customer or client. They are responsible for making a good first impression for the organization, which can affect the organization's success. Our virtual receptionists work within almost any kind of industry and organization: hotels, legal and medical offices, manufacturing businesses, and even salons.
Conversational Receptionist Qualifications:
Education: High School Diploma or G.E.D
1-2 years of related experience (Experience in customer service preferred)
Typing skills 35 wpm or higher
Excellent communication and writing skills
Ability to build positive relationships with high level of interpersonal skills
Excellent talent to interact with people in a positive and courteous manner
Ability to prioritize tasks according to importance in a fast paced environment
Multi-tasking capability without compromising on quality
Dependable, punctual, and able to work in flexible working hours
Basic knowledge of Microsoft Office Applications, Excel, and various scheduling software
Technically comfortable with learning new software"
From their site: "Our clients are busy, small business owners who hire us to handle their phone calls and treat their customers the way they would.
Our job is to answer those phone calls, and do what we can to be helpful, and turn those callers into loyal customers and raving fans of the businesses we serve.
If you decide to join our team, you will be handling phone calls (from your home, through your computer and a headset) for multiple businesses throughout the day, assisting callers with questions and booking appointments, and performing basic receptionist duties.
Requirements:
Live in the U.S.
Fast, reliable computer
Stable, high-speed internet connection
Quiet work environment during business hours
Able to quickly learn how to use multiple types of software, email, and live chat computer programs
Upbeat, caring, cheerful, empathetic, customer-focused attitude
Phone-based support or customer service experience a bonus
A sense of humor"
From their site: "VoiceNation is the nation's highest-rated live answering service according to a recent Clutch.co survey of industry peers. We are the architects of our own call center technology, OpenAnswer, and have been highly disruptive to the answering service industry over the past 10 years. The ideal candidate is success-driven, fast-paced, works well with a diverse team, and enjoys a dynamic and changing environment.
Qualifications
***Candidates will attend a mandatory 2-week training. 9AM – 5PM Monday – Friday***
***Training is paid – Full/Part Time Positions Available – Remote Agent Opportunities***
Job Requirements:
MUST BE RELIABLE, DEPENDABLE AND ON TIME!!!
Available to work weekends (includes both Saturday and Sunday)
Available to work holidays
Great phone voice
Type 35 wpm with 70% accuracy (online data entry)
Successfully complete call center pre-employment skills assessment
Great verbal and written communication skills
Detail oriented
Adapt quickly to change
Possess the ability to diffuse difficult or irate callers
Ability to multitask"
For more jobs like these, check our Newest Jobs & Gigs page. To be the first to hear about jobs like these, like our Facebook page and check your feed for our posts. May you be working from home soon!
PLEASE SHARE this post – turn your friends into Rat Race Rebels!
[social_warfare]