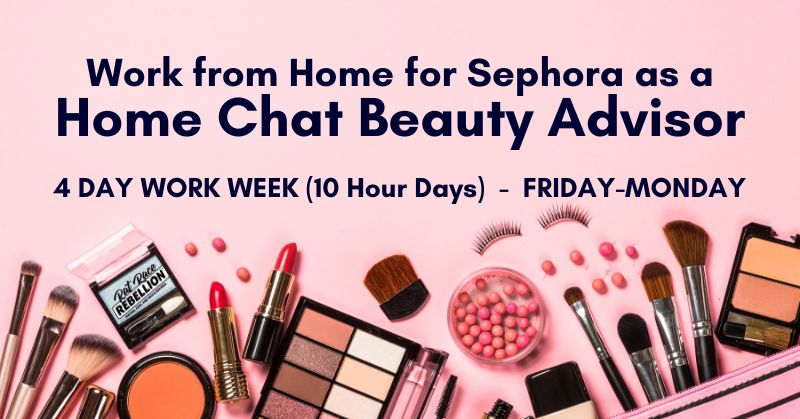 by Chris Durst       Aug. 28, 2023
As we write, this job listing is online and applications appear to be open. But jobs can fill at any time, so apply or share quickly if you're interested! Sorry, but we have no role in the HR processes of other companies. If you encounter difficulties in the application process please contact them directly. Good luck in your hunt, and may you be working from home soon!
Sephora, the beauty product giant, has posted a Home Chat Beauty Advisor, Client Services job on their careers page.
UPDATE – It looks like the company has received all the applications it needed and has deleted the listing. For more jobs like these, see our Daily Jobs & Gigs page and our Big List of Work from Home Jobs & Gigs.
==================
The job is open to candidates from all states EXCEPT Alaska, California, and Nevada.
"The schedule for this position is Friday-Monday, 4 days-10 hour shifts. Shift times may vary."
No college required.
The pay rate isn't mentioned, though Glassdoor places it at about $38,456/yr. However, we haven't confirmed this with the company, so it's not official.
Here's what the company has posted about the job:
At Sephora, we stand together and we stand for something more. For empowerment, for exploration, for the opportunity to impact people's lives through the unlimited power of beauty. So we embrace uniqueness, unleash creativity, and pursue progress every day. Sparked by energy and excitement, our passion is contagious.
We are united by a common goal – to reimagine the future of beauty.
Reimagine your future, with Sephora.
*The schedule for this position is Friday-Monday, 4 days-10 hour shifts. Shift times may vary. Not eligible in AK, CA, or NV.
Your role at Sephora:
Provide exceptional solutions for client requests / inquiries that come through proactive and reactive live chat software while working remotely from home.
Inquiries may include: beauty consultations, product information, product sales and upselling, sephora.com order issues and general questions about Sephora.com products and services.
Demonstrate Sephora standards for quality service and incorporate Sephora culture into every client interaction
Fulfill client requests by asking clarifying questions and providing relevant solutions
Maintain open communication with lead / QA / Supervisor for support and personal development
Apply feedback and coaching to develop skills that will improve the client satisfaction you provide
Proactively engage in the Sephora.com website, knowledge base, and other tools to enhance the client experience
Maintain composure, professionalism, and contact control when dealing with challenging clients to find the best possible solution
Use positive, professional, and appropriate grammar and word choice in written communication with clients via chat
Be punctual to work by logging in on time and adhere to all schedules and deadlines as scheduled in advance
Meet or exceed all productivity key performance indicators (KPIs) and quality goals as outlined
Ability to self-motivate and work remotely in a quiet space, uninterrupted and without distraction
Ability to work outside of normal business hours including early mornings, evenings and one required weekend day, which will be determined by business need.
Ability to work full time, 40 hours per week.
We're excited about you if you have:
Passion for Sephora clients and all things beauty
1-2 years of experience in the retail beauty industry
Strong knowledge of Sephora brands, products, ingredients, and application techniques
Well-developed listening, comprehension, verbal, and written communications skills
Maintain poise, patience, and professionalism in client engagement and contact center environment
Able to multi-task, have demonstrated organizational, detail orientation, prioritization, and time management skills to ensure that all client related inquiries / tasks / requests are completed accurately and at the first contact
Ability to work effectively in a team-oriented, high-demand, and fast-paced environment
Solid communication skills to effectively communicate with various levels of management and support
Demonstrated interpersonal skills to work effectively in a team environment and maintain a professional and positive manner
Strong time management skills
Maintain positive and upbeat attitude towards team members and clients at all times
You'll love working here because:
The people. You will be surrounded by some of the most talented, supportive, smart, and kind leaders and teams – people you can be proud to work with.
The business. It feels good to win – and Sephora is a leader in the retail industry, defining experiential retail with a digital focus and creating the most loved beauty community in the world…with the awards and accolades to back it up.
The LVMH family. Sephora's parent company, LVMH, is one of the largest luxury groups in the world, providing support to over 70 brands such as Louis Vuitton, Celine, Marc Jacobs, and Dior.
CLICK HERE for full details and to apply. For more jobs like this, check our Newest Jobs & Gigs page. To be the first to hear about jobs like these, like our Facebook page. Good luck as you make your work from home plans a reality!
PLEASE SHARE this post – turn your friends into Rat Race Rebels!