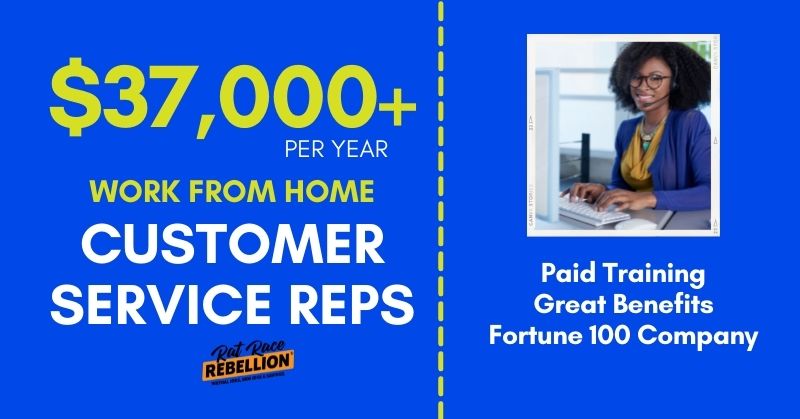 By Chris Durst           May 4, 2022
So, when I came across these openings, the first thing that came to mind was, "Liberty, Liberty, Liberty…"
Besides their "catchy" jingle, Liberty Mutual has an active work from home program. They also just posted new openings for Remote Customer Service Reps.
These are full-time positions with an annual salary range of $37,000 to $43,500.
Their benefits program includes:
Health
Health Savings Account (HSA)
DentalVisionDisability Insurance (both short- and long-term)
Life Insurance (for you and your family)
Accidental Death and Dismemberment Insurance
Dependent Care Flexible Spending Account
Employee Assistance Plan (EAP), including dependent care resources
Retirement Benefit (pension) Plan
401(k) Savings Plan with Company Match
Other valuable benefits
For this position, they are hiring from all states EXCEPT Alaska, Arizona, California, Hawaii, Illinois, Kentucky, Montana, and New York.
Their 10-week TRAINING PROGRAM STARTS early in June 2022.
Here's what the company has to say about the openings:
Our Common Purpose is the guiding principle that exemplifies the way we behave at Liberty Mutual Insurance. It supports us and keeps us on track as we strive to achieve our business goals. It defines how we interact with our customers, agents, and each other to deliver the kind of exceptional customer experience that differentiates us from our competitors. We achieve our Common Purpose by demonstrating our Quality Standards of behaving with integrity, delivering expertise, showing care and compassion, and making things easy.
The Gold Service program contributes to Safeco's position as a leader in the independent agency channel. Through Gold, we provide industry leading expertise to help our independent agents grow and care for their customers 24 hours a day/7 days a week/365 days a year. Our support not only improves customer experiences, but also allows agents to focus on other areas of their business, like promoting quality growth for Safeco.
At the heart of growing our program is you – our valued employee!
Our hours of operation are from Sunday through Saturday, 7:00am-12:15am PST. We support our customers 24 hours a day/7 days a week/365 days a year so our customer service representatives need to be flexible to work within the hours of operation, plus weekends and holidays.
Through our company paid 10 week training program, you will learn about insurance policies, regulations, servicing, and what it takes to demonstrate our Quality Standards and Common Purpose, delighting our customers and agents every step of the way. Training hours are from 7:00am-3:30 pm, Monday through Friday.
The following states/districts are excluded from eligibility at this time: Alaska, Arizona, California, Hawaii, Illinois, Kentucky, Montana, and New York.
Responsibilities:
Helps customers in their time of need by building rapport, responding to, and resolving inbound phone calls in a fast-paced call center environment. This is done by identifying and providing services and solutions to their questions regarding renewals, coverage, eligibility, billing, and policy changes.
Delivers expertise by identifying and analyzing customer and agent needs to ensure high satisfaction, growth and retention of business.
Provides counsel, guidance and suggestions to our customers to adequately cover and protect what they value most. This is done by using upselling and cross-selling sales skills to educate customers and agents on new and existing insurance products & services.
Upholds our customer care standards by achieving individual goals on call quality, handle time, lead transfer ratio, adherence, first call resolution, and reliability.
Maintains and tracks accurate data in various computer systems.
Qualifications
Active P&C Personal Lines License preferred
Associate`s degree in a business related field or equivalent training required.
Minimum of 6 months related work experience required, Customer service experience preferred.
Ability to review, record and organize written data from a variety of sources with no pre-established format.
Excellent oral, written and interpersonal communication skills, and the capacity to multi-task in a structured work environment are required.
Ability to handle confidential and proprietary information is critical.
Proficiency with computers is mandatory.
Knowledge and ability to use Microsoft office tools is necessary.
Must have a clear understanding of the organization`s policies, standards and procedures to guide customer interactions.
Appropriate licenses up hiring/training, along with passing Proficiency Assessments is required.
Our Gold team plays an essential role in delivering #peaceofmind to our customers and agents, and we look forward in having you join us to help achieve our goals together.
CLICK HERE for full details and to apply. For more gigs like these, check our Newest Jobs & Gigs page. To be the first to hear about gigs like these, like our Facebook page. Good luck in your next steps toward working from home!
PLEASE SHARE this post – turn your friends into Rat Race Rebels!
[social_warfare]