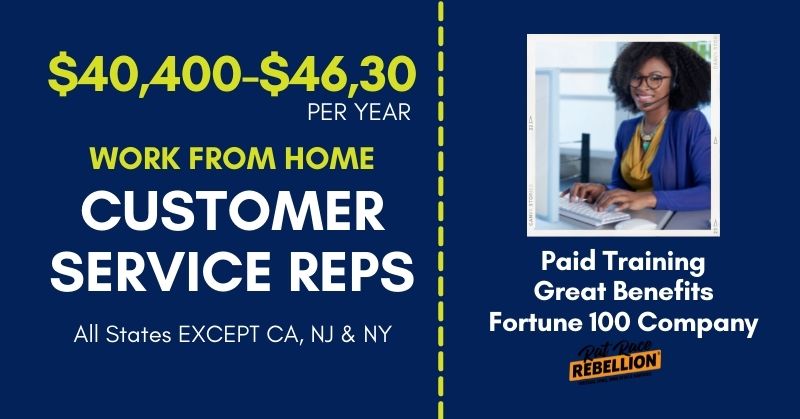 by Chris Durst       Aug. 29, 2022
Besides their "catchy" jingle, Liberty Mutual has an active work from home program. They also just posted new openings for Work from Home Customer Service Reps in most US states. However, they are not currently hiring in CA, NJ and NY.
The annual salary range is $40,400-$46,300. These are full-time positions with their Safeco division.
Professional Training Class Start Date: October 10, 2022
Their benefits program includes:
Health
Health Savings Account (HSA)
Dental, Vision, Disability Insurance (both short- and long-term)
Life Insurance (for you and your family)
Accidental Death and Dismemberment Insurance
Dependent Care Flexible Spending Account
Employee Assistance Plan (EAP), including dependent care resources
Retirement Benefit (pension) Plan
401(k) Savings Plan with Company Match
Other valuable benefits
Here's what the company has to say about the jobs:
Safeco sells insurance through more than 10,000 independent agents nationally and no two are exactly alike. The Agent Customer Service Representative provides support and ease of doing business for our independent agents through offering complete and accurate information while providing a superb experience. After attending our informative and interactive paid training program, you will become a subject matter expert in educating our agents on our innovative systems and services which allows them to promote quality growth for Safeco.
Our Common Purpose is the guiding principle that exemplifies the way we behave at Liberty Mutual Insurance. It defines how we interact with our customers, agents, and each other to deliver the kind of exceptional customer experience that differentiates us from our competitors.
Professional Training Class Start Date: October 10, 2022
**Schedules will be assigned with start times between 7AM and 11AM PST and end times between 3:30PM and 8PM PST (start times 10AM and 2PM EST and end times 630PM and 11PM EST) Monday through Friday.**
*At this time we are not considering applicants from CA, NJ & NY*
Responsibilities:
Delivers expertise by identifying and analyzing agent needs to offer solutions on Safeco products and services and provide education on self-service tools.
Research policy, coverage and eligibility provisions
Upholds our client care standards by achieving individual goals on call quality, handle time, adherence, first call resolution, and reliability
Maintains and tracks accurate data in various computer systems.
Qualifications
Associates degree in a business-related field or equivalent training required.
Minimum of 6 months related work experience required; customer service experience or help desk preferred.
Ability to review, record and organize information from a variety of departments.
Excellent oral, written and interpersonal communication skills, and the capacity to multi-task in a structured work environment.
Ability to handle confidential and proprietary information.
Proficiency with computers is mandatory; Knowledge and ability to use Microsoft office.
Must have a clear understanding of the organization`s policies, standards and procedures to guide customer interactions.
Passing Proficiency Assessments is required.
Here's some of what you can look forward to as one of our employees.
Competitive Compensation
Our compensation programs are designed to deliver above-market pay if you perform well, and significantly above that for exceptional performance over time. Virtually every employee is eligible for some type of variable incentive pay in addition to his or her base pay.
flex-work-schedule
Flexible Work Arrangements
We understand the role work-life balance plays in your ability to stay energized and engaged. So we place an emphasis on regular hours, flex scheduling, and generous time off through paid holidays, vacation days, and more.
top-notch-retirement
Top-Notch Retirement Plans
Our pension plan provides a monthly credit equal to 5% of your eligible compensation. You can also participate in our 401(k) plan, which offers a guaranteed match of $0.50 for every $1 you contribute, up to 8% of your eligible pay.
leadership-dev
Career Development
From regular coaching planning, to paid training, licensing, and 100% tuition reimbursement for approved courses, we're dedicated to your continued growth, because we know it leads to continued success.
health-and-wellness
Health & Wellness
You'll have access to comprehensive health, dental, and vision coverage, as well as a host of other insurance and wellness benefits—including progressive parental benefits and support.
CLICK HERE for full details and to apply. For more gigs like these, check our Newest Jobs & Gigs page. To be the first to hear about gigs like these, like our Facebook page. Good luck in your next steps toward working from home!
PLEASE SHARE this post – turn your friends into Rat Race Rebels!
[social_warfare]