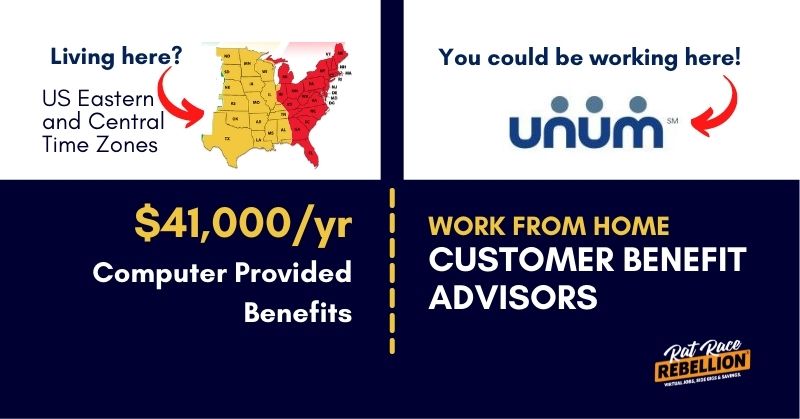 by Chris Durst      Dec. 20, 2021
These jobs filled quickly the last time we posted them – APPLY & SHARE NOW!
If you'd like to work from home for a larger, established company, the insurance giant Unum may be what you're looking for. The company is currently seeking Work from Home Customer Benefit Advisors in the US Eastern and Central Time Zones.
College preferred, but not required.
Computer provided.
Comprehensive benefits.
Salary: The starting salary is set at $41,600 ($20/hour) and we do account for geographic differentials in cost of living.
Here's what Unum has posted about this opportunity:
"The Customer Benefit Advisor (CBA) I is the entry level in a two-level career path. A CBA I is the critical first point of contact for our customers.
The incumbent is responsible for demonstrating proficiency servicing customer interactions for up to four lines of business serviced by Unum/Colonial life. This position will provide critical and accurate information on benefits, claims, and or policy administration with minimal operational oversight. Incumbents in this role will be tasked with compiling information for multiple product types, from multiple systems, and providing responses to customers that are thorough, clear, and concise. All work is carefully performed according to established protocols/procedures.
The incumbent in this role must demonstrate a willingness to provide strong customer service – providing accurate information to customers, expressing appropriate empathy, and resolving customer issues where appropriate. This position requires the use of multiple system applications and administrative processes. While service is focused on our external customers, this position is responsible for creating detailed/appropriate documentation for our internal cross-functional business partners.
In addition to providing excellent customer service in accordance with established standards, the incumbent in this role will also demonstrate contributions aligned with Contact Center key performance indicators. A successful CBA I will demonstrate individual metrics (i.e. accuracy, post-call surveys, average handle time, after call work, etc.) that are in line with pre-set expectations and drive results for the Customer Contact Center.
Salary: The starting salary is set at $41,600 ($20/hour) and we do account for geographic differentials in cost of living.
Principal Duties and Responsibilities
Be the customers' go-to person by being there, on time, ready to help them via multiple avenues of communication with timely and accurate information regarding policy and coverage-related questions.
Meet or exceed company goals and metrics to guarantee the best experience for customers.
Be open and motivated by feedback and guidance to be at your best for customers.
Protect customers' privacy and reassure them with empathy and professionalism.
Be available to work a regularly assigned shift between the hours of 8:00 am and 8:00 pm Eastern time.
Reliable attendance in accordance with contact center attendance guidelines.
Complete all required training without missing any content.
Ability to obtain information from multiple systems and relay to customers in a seamless manner.
Follow all documented processes/workflow to enhance customer service and reduce customer effort/operating efficiency.
Utilize resources and tools to accurately respond to customer inquiries.
Meet the expectations of the quality/productivity standards.
Demonstrate a passion for the values outlined in the We are Unum value statements.
May serve as a certified mentor, as needed
May perform other duties as assigned.
Job Specifications
1 year successful experience in a Contact Center, with a strong preference that the experience be in the insurance/healthcare/medical/financial field or equivalent area
College degree or equivalent work experience preferred.
Successful completion of Contact Center cross-training program, including demonstrating on phone proficiency and passing required knowledge checks.
Prior successful job progression and promotions with increased responsibilities.
A passion for helping customers and exceeding their expectations with high integrity.
Excellent verbal and written communication skills with the ability to flex your communication style to best meet the needs of customers.
Enthusiasm for working in a fast-paced, structured environment, answering numerous inquiries for customers at their greatest time of need.
Strong computer and multi-tasking skills as well as the ability to confidently work in multiple systems with dual monitors.
Familiarity with Microsoft applications such as Outlook, Word, and Excel.
Intellectual curiosity and a desire to continually learn and grow.
An excellent work ethic and ability to adapt and work successfully in a continually changing environment.
Dependability – being there when needed by teammates and customers.
If working from home, access to a desk, chair, and a dedicated workspace, free from distractions. Strong and reliable internet speed, with speeds of 25 MB download, 5 MB upload. (DSL is not an option for this position.)
Comfortable with video communications via MS Teams throughout the day to communicate with teammates and leadership face to (virtual) face.
Requirements for Work From Home workers:
Must be located in Eastern and Central Standard Time Zones.
Internet Connection must be reliable, consistent quality with speed of 25 MB download/5MB upload. DSL is not an approved internet connection for this position.
A separate, quiet dedicated work space must be established at remote site for the purpose of performing work duties. This area must be maintained in a safe condition, free from all hazards."
CLICK HERE for full details and to apply. For more jobs like these, check our Newest Jobs & Gigs page. To be the first to hear about jobs like these, like our Facebook page.
PLEASE SHARE this post – turn your friends into Rat Race Rebels!
[social_warfare]