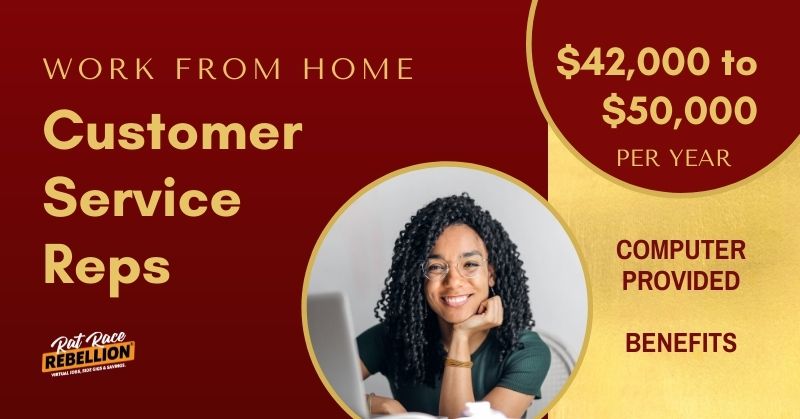 by Chris Durst      Jan, 19, 2022
Nova 401(k) Associates is "an energetic and thriving national third party administrator for retirement plans." They're hiring full-time Work from Home Customer Service Reps.
They're recruiting from across the US. Pay is listed as "$42,000 – $50,000 annually depending on experience and qualifications."
"A signing bonus may be available for highly qualified applicants," per the company.
A computer and other equipment is included. The company also helps pay your internet bill.
They also offer a comprehensive benefits package.
Here's what the company has posted about the openings:
Do you have a knack for customer service and problem solving? Are you excellent at communicating verbally over the phone, on video and via email? Are you looking for a career where you can learn a valuable, marketable skill and advance in a professional environment? We may have the job for you! We are looking to fill these positions immediately. A signing bonus may be available for highly qualified applicants.
Overview of the Position:
Nova 401(k) Associates is looking to fill several Customer Service Specialist positions. Customer Service Specialists provide clients support on simpler 401(k) issues over the phone. For example, Customer Service Specialists may assist clients with census submission questions, submitting Form 5500 and other issues.
Customer Service Specialists receive paid training and Nova supports Customer Service Specialists obtaining industry credentials through paid study time, paying for exams and professional membership fees. This is a fully remote position. Excellent performers who obtain a QKA designation will be eligible to apply for other positions after 18 months.
About Nova:
Nova 401(k) Associates is a vibrant and growing national third party, non-producing administration firm. We have a nationally recognized sales team allowing us to grow continuously and provide advancement opportunities for our professionals.
What Nova Offers You:
This non-exempt, salaried position supports a great work-life balance with a 37.5 hour work week, PTO and paid time off. We offer a competitive compensation package including medical insurance, dental insurance, disability insurance, life insurance, a 401(k) plan and an HSA.
What You will Be Doing:
Assist clients via the phone or video conference with census submission issues, submitting Forms 5500 and similar issues
Work directly with clients to help answer simple 401(k) questions, reset passwords, troubleshoot web access, etc.
Follow-up by phone with clients about missing items
Answer simple client questions via email
Document all client interactions in our workflow management system
Collaborate with account managers and others to ensure a positive client experience
Assist with other assigned tasks to balance workloads and receive well-rounded training
Perform work according to Nova policies and procedures
Complete assigned training
Work towards obtaining an industry designation

About You:
Three or more years of customer service experience
High school diploma
2 or more years of college coursework (generally a four year degree is required for promotions from this position)
Excellent written communication skills and ability to compose a professional email
Excellent verbal communication skills and knowledge of phone etiquette
Excellent time management, organizational skills and ability to multi-task
Experience with Microsoft Office and comfortable using a computer
An appropriate, quiet home work environment including a high quality internet connection
Knowledge of VOIP phone systems a plus
Help desk experience a plus
Experience with Zoom or Microsoft teams a plus
Professional appearance (business casual attire) when on Zoom meeting or Microsoft Teams meetings
Clean background check
Committed to lifelong learning and coachable
Salary and benefits:
$42,000 – $50,000 annually depending on experience and qualifications
Geographic adjustment available in select locations
Paid time off and paid holidays
401(k) plan with match, medical, dental, LTD, STD and life insurance
Signing bonus available for well-qualified candidates!
Hiring Process:
Apply online
Take online assessments
One video interviews
Complete and sign application
Background check
Offer sent via DocuSign
Preference will be given to applicants who complete steps quickly as we need to hire right away!
Other Information:
Start date – As soon as possible. We will support providing current employer two weeks notice if you are currently employed.
Location requirement – No specific location is required other than being in USA.
However, the approval to work remote will be specific to your current residence.
This is a regular, non-exempt, salaried, full-time position. Our normal work-week is 37.5 hours per week. No overtime is required, but a small amount of overtime may be available.
Our pay-cycle is bi-weekly.
We will provide the necessary computer equipment which is to be returned to us (at our expense) at the end of employment.
We will reimburse up to the lesser of 50% of your monthly internet expense and $50. We
will not pay for internet installation.
Nova 401(k) Associates is an energetic and thriving national third party administrator for retirement plans. We respond to all applications. If you do not receive a response, please check your junk mail folder or spam filter.
CLICK HERE for full details and to apply. For more jobs like these, check our Newest Jobs & Gigs page. To be the first to hear about jobs like these, like our Facebook page. May you be working from home soon!
PLEASE SHARE this post – turn your friends into Rat Race Rebels!
[social_warfare]