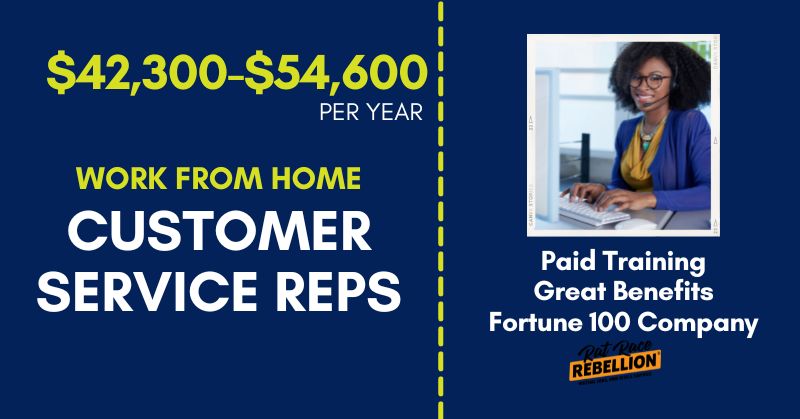 by Chris Durst   Nov. 15, 2022
Besides their "catchy" jingle, Liberty Mutual has an active work from home program. They also just posted new openings for Work from Home Customer Service Reps in most US states.
The annual salary range is $42,300-$54,600. These are full-time positions.
Paid training and onboarding takes place over 10 weeks from 9am to 5:30pm EST (40 hours per week). After training, hours change to a later start, "12pm-1:30pm to 10pm EST" with a possibility of changing to 11:30am – 8pm EST if needed.
The paid training prepares you for a license test that you'll pass to remain in the job. See the video with Chermaine or Mariah, both Customer Service Representatives, on the job listing page for more detail.
Their benefits program includes:
Health
Health Savings Account (HSA)
Dental, Vision, Disability Insurance (both short- and long-term)
Life Insurance (for you and your family)
Accidental Death and Dismemberment Insurance
Dependent Care Flexible Spending Account
Employee Assistance Plan (EAP), including dependent care resources
Retirement Benefit (pension) Plan
401(k) Savings Plan with Company Match
Other valuable benefits
Here's what the company has to say about the openings:
Within our Customer Response Center, the Remote Customer Service Representative provides timely, accurate and responsive information and service to policyholders and agents for a division of Personal Lines products, plans and programs. Independently solve problems relating to policies within scope and escalate others as appropriate. Identifies, analyzes, and owns customer policy needs to ensure high customer satisfaction, growth and retention of business.
Paid Training: Mandatory attendance is critical to your success and as such is required for the duration of training and performance will be continually assessed throughout. The paid training is Monday – Friday between 9am and 5:30pm EST (40 hours per week) for approximately 10 weeks.
After training and onboarding is completed, go-forward shifts will typically be between the hours of 12pm-1:30pm to 10pm EST. One weekend day (Saturday or Sunday) will be required with an alternate day off mid-week. Shifts may be subject to change in the future based on business needs to a shift of 11:30am – 8pm EST.
When you start in the Customer Service Rep (CSR) role within the Customer Response Center (CRC), you may be aligned to our our Primary or Expanded Call Group, which can include some complex calls. . As time progresses and you gain experience, you will be expected to move into more complex call groups. As you progress through the different call groups, you will be eligible for promotional increases.
Responsibilities:
Provides exceptional customer service by responding promptly to all inbound customer calls regarding personal lines policies, limited by line.
Builds rapport with each customer.
Listens to customers' requests and inquiries.
Works to retain policyholders who inquire about canceling auto policies through open listening, negotiating, and policy review of customer issues.
Escalates to appropriate team if necessary.
Processes policyholder transactions accurately and within Customer Response Center established time standards.
Interprets policy contracts to insured based on expert knowledge of personal lines auto products.
Identifies, understands and interprets customer needs to implement resolutions and makes recommendations for coverage enhancements.
Understands aspects of billing systems as it pertains to policy coverage.
Identifies and communicates transactions and impact to policy premium.
Evaluates and makes decisions regarding exceptions to payment plan and fees.
Makes alternate payment arrangements with customers and interacts with billing system to reflect arrangements.
Places policy in follow-up and ensures adherence to arrangements specified.
Manages and utilizes time effectively to ensure department meets required service levels for improved customer satisfaction results.
Proficiently utilizes on-line reference materials relating to auto policies to provide confident, accurate, and efficient.
Develops and maintains product, procedural and technical systems knowledge. Completes licensing and continuing education requirements.
Actively participates and leads LMS initiatives within the scope of the role.
Looks for opportunities to improve processes within team or department through root cause problem solving.
Provides leadership, coaching and technical/procedural knowledge to service representatives relating to personal lines auto policies.
Participate in training of new service representatives through job shadowing, work review, and coaching and feedback.
Utilizes technical systems, effectively and efficiently, including desktop, call center specific phone systems and the internet.
Supports and participates in office or department programs and contests.
Performs additional duties as assigned.
Qualifications
Associates degree and 1+ year Insurance experience preferred.
3-5 years related Customer Service experience is required.
Ability to review, record and organize written data from a variety of sources with no prescribed format is essential.
Excellent communication and interpersonal skills are required.
Personal Lines producer insurance licenses required upon hiring and training. [In other words, required to remain in the job. Not a requirement that you have the license before being hired. — Chris]
CLICK HERE for full details and to apply. For more gigs like these, check our Newest Jobs & Gigs page. To be the first to hear about gigs like these, like our Facebook page. Good luck in your next steps toward working from home!
PLEASE SHARE this post – turn your friends into Rat Race Rebels!