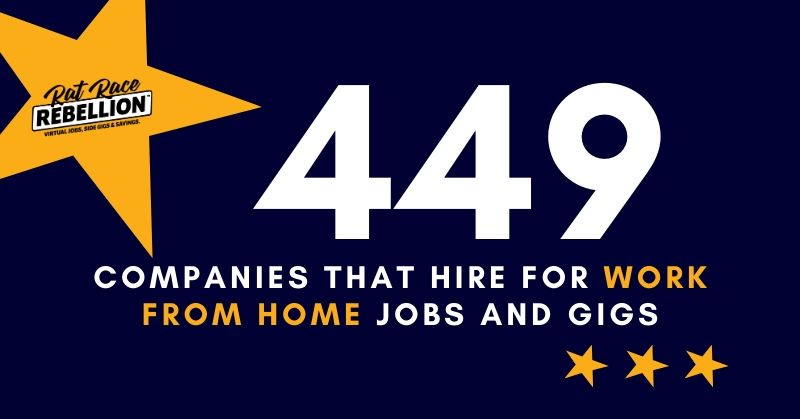 by Chris Durst       June 22, 2020
The RRR team has been hard at work checking links and adding new companies to our BIG LIST of Work from Home Jobs & Gigs. Christa just added over 100 new entries to help YOU find your ideal work situation.
You can visit it at any time by clicking on the – "Big List of Jobs & Gigs" – link in the menu at the top of every page on this site.
There are now 449 listings for screened companies.
What's more, you can sort the list by:
Company Name – Alphabetically
Job Type
Phone/Non-Phone
other categories
Categories include:
Appointment Setting
Artistic
Call Verifiers
Captioning
Chat
Clinical Trials
Concierge
Content Creation
Courthouse Researchers
Crafters
Crowdsourcing
Customer Service
Data Entry
Education
Extra Cash – Side Gigs
Finance
Healthcare
IT
Nurses
Medical Transcription
Merchandisers
Misc (a nice variety of hard to categorize jobs & gigs)
Moderators
Mystery Shopping
Notaries
On-Demand (caregivers, dog walkers, coaches, drivers, handymen, cleaners, movers, and more)
Phone Interviewers
Photographers
Sales
Proofreaders
Researchers
Reservations
Search Engine Evaluators
Subject Matter Experts
Surveys
Transcribers (non-medical)
Translation – Interpretation
Virtual Assistants
Writers – Editors
CLICK HERE TO GO TO THE BIG LIST NOW! Check our Newest Jobs & Gigs page. To be the first to hear about jobs like these, like our Facebook page. May you be working from home soon!