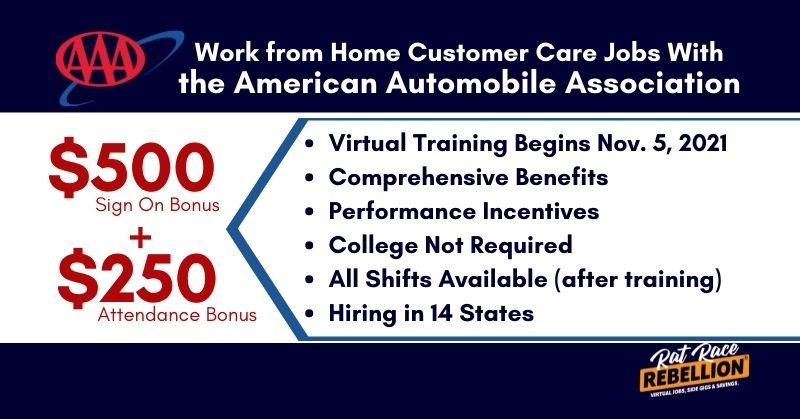 by Chris Durst        Oct. 25, 2021
TRAINING STARTS NOV. 5, SO APPLY OR SHARE QUICKLY IF INTERESTED!
AAA, the roadside assistance company, regularly hires people to work from home.
Currently, they've listed openings for Customer Service Reps.
They're hiring from Colorado, Florida, Georgia, Illinois, Indiana, Iowa, Michigan, Minnesota, Nebraska, North Carolina, North Dakota, South Carolina, Tennessee and Wisconsin. (If you don't live in a hiring state, please share with friends and family who might benefit.)
They're offering a $500 SIGN-ON BONUS (paid in two installments after 90 and 180 days of employment) and a
$250 Perfect Attendance bonus after 90-days.
Benefits include medical, dental, vision, matching 401(k), paid time off, and holiday pay.
Here's what the company has to say about the jobs:
Now Hiring Customer Service Representatives to be heroes every day, serving our members in need of Emergency Roadside Service. Customer Service Representatives are focused on doing what is right for our members in their time of need while helping them enjoy life's journey with peace of mind. We are hiring qualified individuals to work from home in Colorado, Florida, Georgia, Illinois, Indiana, Iowa Michigan, Minnesota, Nebraska, North Carolina, North Dakota, South Carolina, Tennessee, and Wisconsin.
Apply today to be a part of AAA – a company known for providing best-in-class service to its members when they need help the most! There is nothing like the feeling of providing safety, security and peace of mind to members and living out our AAA promise.
How you will benefit:
To prepare you for this exciting opportunity, we offer:
Full-time paid Training beginning November 5th, 2021
Hours during Virtual Training Monday through Friday from 10:00 am – 6:30 pm EST/9:00am – 5:30pm CST
Afternoon, evening, weekend shifts available after training (start and end times may shift slightly based on business needs, flexibility will be required to accommodate occasional schedule slides)
Voluntary overtime opportunities
As a reward for your passion and commitment, we offer:
Competitive base pay (based on location) plus shift premium for evening periods.
$500 sign on bonus, paid in two installments after 90 and 180 days of employment
Performance based incentives
$250 Perfect Attendance bonus after 90-days of incident free attendance
We also offer a performance based pay increase after 6 months of employment
Bi-Lingual a plus — Subsidy for bilingual skills (Must be fluent in Spanish and English)
Comprehensive benefits package to include Medical, dental, and vision benefits, matching 401(k), paid time off, holiday pay
Corporate Incentive Program
Complimentary AAA membership
Employee Referral Bonus
Employee recognition program
Qualifications
We are looking for candidates who have:
High School diploma or equivalent.
Six months of customer service experience
Call center experience preferred but not required
Ability to provide a high level of customer service in a professional environment
Ability to cross and upsell member benefits
Ability to operate and navigate a laptop or PC often while using multiple applications to include the Internet, Google Maps, Email, company applications and more. Ability to toggle back and forth between applications.
This position will require that you have the following equipment for training and job performance:
Desktop or laptop computer with speakers and microphone option
High Speed Internet access with minimum speeds of 100mb
Ability to connect to a router/modem with Ethernet cable
Personal cell phone or home phone
Ability to download company apps on cell phone or tablet
Earbuds/earphones with a microphone or computer speakers with a microphone are required for training (to watch videos, etc.). They will also be useful required times for coaching and training once OJT is over.
You can make a difference by helping our members during stressful situations. Come to the rescue by:
Providing superior customer service during every member interaction.
Responding to a high volume of emergency road service requests in a call center environment.
Responding to member needs with empathy and understanding while gathering information and providing solutions to get members back on the road.
Analyzing member accounts to determine additional products and services that benefit the member.
Exceeding performance metrics by following our detailed call intake process and efficiently working through calls in a timely fashion.
With our powerful brand and the mentoring we offer, you will find your position as a Customer Service Representative can lead to a rewarding career at our growing organization.
CLICK HERE for full details and to apply. For more jobs like this, check our Newest Jobs & Gigs page. To be the first to hear about jobs like these, like our Facebook page. Good luck as you make your work from home plans a reality!
PLEASE SHARE this post – turn your friends into Rat Race Rebels!