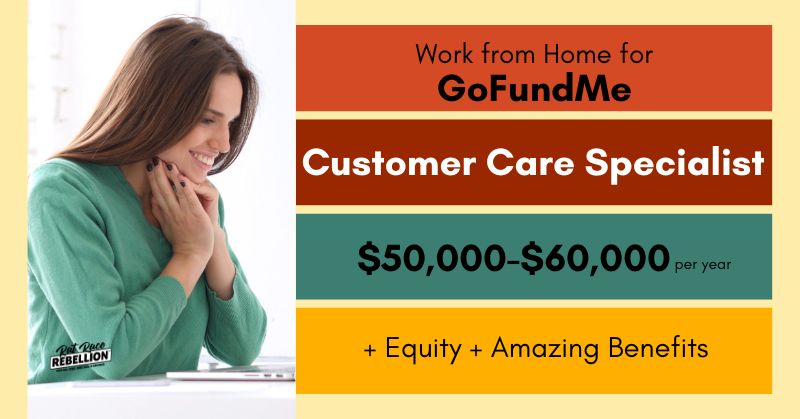 by Chris Durst       Aug. 10, 2023
As we write, this job listing is online and applications appear to be open. But jobs can fill at any time, so apply or share quickly if you're interested! Sorry, but we have no role in the HR processes of other companies. If you encounter difficulties in the application process please contact them directly. Good luck in your hunt, and may you be working from home soon!
Here's a chance to work with a company that is focused on helping people to help people.
GoFundMe, a global fundraising site that helps people as for help and support, has posted a work from home Customer Care Specialist job to their careers page.
In this role, you would provide support to GoFundMe customers via chat and email.
The pay range for this position is $50,000 – $60,000 per year + equity + benefits. Those benefits include "employer paid premiums for medical/dental/vision (100% for employee only plans & 85% for employee + dependent plans) & employer HSA contributions."
There are many other benefits as well.
Hiring in the United States, no state hiring exclusions are noted in the job description.
Here's what the company has posted about this opportunity:
Want to help us, help others? We're hiring!
GoFundMe is a global community of over 100 million people with the common purpose of helping one another. Our mission is to help people help each other by making it safe & easy for people to ask for help & support causes—for themselves, each other, & their communities. In 2022, GoFundMe joined together with Classy, a leading nonprofit fundraising software company that enables nonprofits to connect supporters with the causes they care about. Together, GoFundMe & Classy have empowered people & organizations to raise more than $25 billion since 2010. Our vision is to become the most helpful place in the world.
Join us! The GoFundMe team is searching for our next Customer Care Specialist who will offer effective & empathetic support to our customers & ensure that appropriate actions are taken to resolve customer problems & concerns.
The Job…
Make a difference by offering human support to our customers, connecting directly with organizers who are gathering support from their communities & generous donors who impact the success of each cause
Work in a dynamic environment, where you'll need to be resourceful, creative, adaptable & solution focused
Help our customers to successfully transfer raised funds to their bank accounts, coach them to succeed through their fundraising experience, & help them navigate tricky troubleshooting scenarios, all through some of the most exciting & tough moments of their lives
Provide support via live chat & email, & passionately champion customer feedback to improve the GoFundMe experience

You…
Fluent English speaker – This is a must. Proficiency in other languages is a plus!
Metric & goal driven – You enjoy challenging yourself & holding yourself accountable to reaching targets! We set high standards so we can provide an effortless experience to our customers.
Customer Centric – You care about the experience our customers are having & understand the impact you have on their GoFundMe experience
Compassionate – You truly care about people & want to help them, demonstrating strong emotional intelligence & the ability to adjust your approach based on the customer's situation
Adaptable – You enjoy being part of a growing organization, thriving under new challenges & an ever-evolving environment
Effective communicator – You are a strong writer & someone who is able to confidently use communication as a tool to address our customers' needs
Tech-Savvy – You are comfortable working in an online space, learning new tools quickly & troubleshooting tech-issues
Critical, solution-minded thinker – You can identify potential challenges & trends, & propose solutions. Everyone owns the success of our team!
Detail oriented – Did you notice "detail" is misspelled?
Resourceful – You are able to research independently, organize your resources effectively, & discover creative solutions to challenges you may encounter
Invested in personal growth – You have a growth mindset, hunger for feedback, & a strong desire to learn
Team Player – You enjoy empowering others, celebrating their wins, & supporting others' growth

Why you'll love it here…
Market competitive pay
Rich healthcare benefits including employer paid premiums for medical/dental/vision (100% for employee only plans & 85% for employee + dependent plans) & employer HSA contributions
401(k) retirement plan with company matching
Hybrid workplace with fully remote flexibility for many roles
Monetary support for new hire setup, hybrid work & wellbeing, & family planningA variety of mental & physical wellness programs to support employees
Paid parental leave & family planning stipend
Supportive paid time off policies including vacation, sick/mental health days, volunteer days, company holidays, & a floating holiday to use at your discretion
Learning & development & recognition programs
Gives Back Program where employees can nominate a fundraiser every month for a donation from the company
Inclusion, diversity, equity, & belonging are vital to our priorities & we continue to evolve our strategy to ensure DEI is embedded in all processes & programs at GoFundMe. Our
Diversity, Equity, & Inclusion team is always finding new ways for our company to uphold & represent the experiences of all of the people in our organization.
Employee resource groups
Your work has a real purpose & will help change lives on a global scale
You'll be a part of a fun, supportive team that works hard & celebrates accomplishments together
We live by our core values: Fueled by Purpose, Find a Way, Impatient to be Great, & Earn Trust Everyday
We are a certified Great Place to Work, are growing fast, & have incredible opportunities ahead!
GoFundMe is proud to be an equal opportunity employer that actively pursues candidates of diverse backgrounds & experiences. We are committed to providing diversity, equity, & inclusion training to all employees, & we do not discriminate on the basis of race, color, religion, ethnicity, nationality or national origin, sex, sexual orientation, gender, gender identity or expression, pregnancy status, marital status, age, medical condition, mental or physical disability, or military or veteran status.
The total annual salary for this full-time position is $50,000 – $65,000 + equity + benefits. Our salary ranges are determined by role, level, & location. Individual pay is determined by work location & additional factors including job-related skills, experience, & relevant education or training.
CLICK HERE for full details and to apply. For more jobs like this, check our Newest Jobs & Gigs page. To be the first to hear about jobs like these, like our Facebook page. Good luck as you make your work from home plans a reality!
PLEASE SHARE this post – turn your friends into Rat Race Rebels!