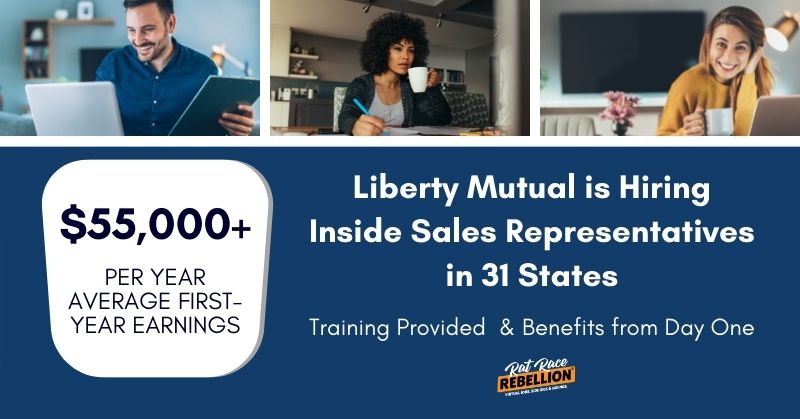 by Chris Durst         July 29, 2021
If you're, "persuasive, positive,and ready to use your skills to make a difference," Liberty Mutual Insurance wants you to know about their remote Inside Sales Representative positions.
The company says, "You'll receive paid, industry-leading training and benefits on day one, along with a competitive base, limitless commissions, generous incentives, and plenty of opportunities for rewards and recognition."
Currently, they have openings for these roles in the following 31 states: AL, AZ, CO, FL, GA, IA, ID, IN, KS, MD, MI, MN, MO, NC, ND, NE, NH, NJ, NM, NV, PA, OK, OR, RI, SC, TX, UT, VA, VT, WA, WI.
Base pay varies from state to state, however, it appears that the Total Average Earnings are in the $55k-$70k (first year). This would be base, plus incentives.
Here's what the company has to say about this opportunity:
"As an Inside Sales Representative you will be handling inbound calls driven in by TV, Internet, Mail and Third Party Marketing. You will consult customers on their insurance needs and match the correct coverages, products and benefits to convert leads into customers.
Qualifications:
At least 1 year of experience in sales and customer service
An engaging, outgoing personality and passion for helping customers
Ability to communicate well to both prospects and customers
Excellent analytical, decision-making and organizational skills
Strong typing capabilities and PC proficiency
Benefits
Here's some of what you can look forward to as one of our employees.
Competitive Compensation: Our compensation programs are designed to deliver above-market pay if you perform well, and significantly above that for exceptional performance over time. Virtually every employee is eligible for some type of variable incentive pay in addition to his or her base pay.
Flexible Work Arrangements: We understand the role work-life balance plays in your ability to stay energized and engaged. So we place an emphasis on regular hours, flex scheduling, and generous time off through paid holidays, vacation days, and more.
Top-Notch Retirement Plans: Our pension plan provides a monthly credit equal to 5% of your eligible compensation. You can also participate in our 401(k) plan, which offers a guaranteed match of $0.50 for every $1 you contribute, up to 8% of your eligible pay.
Career Development: From regular coaching planning, to paid training, licensing, and 100% tuition reimbursement for approved courses, we're dedicated to your continued growth, because we know it leads to continued success.
health-and-wellness
Health & Wellness: You'll have access to comprehensive health, dental, and vision coverage, as well as a host of other insurance and wellness benefits—including progressive parental benefits and support."
Why Liberty Mutual?​
​Positivity. Flexibility. Determination and a persuasive personality. Qualities like these cannot be taught. But they can be sharpened, strengthened, and appropriately compensated when you join Liberty Mutual Insurance as a part of our Contact Center Sales Organization. Bring your unique talents to our Fortune 100 company and receive paid-training, licensing in all 50 states, and a dynamic role that directs only warm leads your way (no cold calls) – because we believe in supporting your success, not holding it back. Join our team and realize the rewards of a career with unlimited earning potential, uncapped commissions, and a portfolio of benefits that start on day one.​
​You'd be a great fit if you are: ​
​A Passionate Seller: When a lead comes in, you skillfully pick up the phone and use your sales expertise to turn prospects into happy, confident Liberty Mutual customers. ​
​A Front Lines Liaison: You rise to the role of representing the Liberty brand, you believe in what you're selling, and you enjoy connecting customers to the right products for their individual needs.​
​A Reliable Teammate: Whether you work at the office or from home, you adapt well to different environments, schedules, and the varying needs of our customers.​
​A Customer-Centric Closer: While "sales" is in your title, integrity is in your nature. That means you sincerely care that customers get exactly the quality products and services they need to embrace today and confidently pursue tomorrow.

CLICK HERE for full details and to apply. For more gigs like these, check our Newest Jobs & Gigs page. To be the first to hear about gigs like these, like our Facebook page. Good luck in your next steps toward working from home!
PLEASE SHARE this post – turn your friends into Rat Race Rebels!