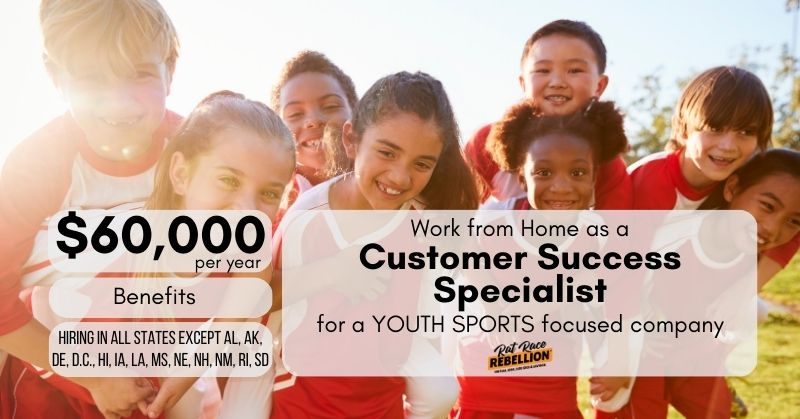 by Chris Durst      March 20, 2023
TeamSnap – a company that "is home to the largest online community for everything youth sports" – has posted a listing for work from home Customer Success Specialist.
*************
Update – It looks like the company has received all the applications it needed and has deleted the listing. For more jobs like these, see our Daily Jobs & Gigs page.
*************
Hiring across the US except AL, AK, DC, DE, HI, IA, LA, MS, NE, NH, NM, RI and SD.
What I love about their listing: If your skills are a close match, but not exact, the company still encourages you to apply. They say, "Got cold feet? If you're thinking you don't meet 100% of the above qualifications, you should still seriously consider applying. We're all humans with special talents that go beyond what's listed here."
$60,000/yr., inclusive of base and bonus. Also provides funds for your home office and other needs.
No college required.
The company also offers a comprehensive benefits package.
Here's what the company has to say about the job:
At TeamSnap, we believe when the world connects through sports; the world becomes better. TeamSnap is a sports and communication platform dedicated to taking the work out of play in youth sports. We also believe our jobs should excite us, our teammates should support us and our bosses should inspire us. We empower our people to bring big ideas and tiny egos, landing us on Outside Magazine's list of "Best Places to Work" and Built In's "100 Best Remote-First Places to Work."
Our Customer Success Specialists are TeamSnap systems experts and support Customer Success Managers and Customers as they begin using our products. This role provides a high-level of support through new Customer onboarding, serving as a guide to best practices in program, scheduling and registration set-up. You'll ensure Customers are set up for success to drive adoption of our full suite of products in TeamSnap applications.
What You'll Do:
Delivering a "WOW" customer experience while providing expertise during onboarding and strategy calls, customer set-up, and through their first 30 days.
Collaborate with New Business, Customer Success Managers and CX Advocates closely to ensure all critical information is received during customer sign-up and getting the Customer's first season and registration running smoothly.
Provide feedback about product tools and processes that could improve Customer experience and adoption.
Leveraging your "read the cues" skills to identify how we can best serve each customer with the tools we have, providing set-up recommendations and best practices to ensure success.
Providing platform guidance and training during a customer's first 30 days.
What Will Set You Up for Success:
A positive attitude, ready to offer help and support in a friendly and professional way
An above average understanding of how TeamSnap products and services and best practices for use
An excitement to help customers and co-workers engage with our product
Excellent communication skills, verbal and written
Previous experience in SaaS environments
Must be able to work in West Coast hours. Hours may be 8a-5p or 9a-6p PDT
Bonus Points:
Previous experience in onboarding, L&D, or training
Experience in Salesforce
Experience as a parent, coach, or participant in recreational sports
Got cold feet? If you're thinking you don't meet 100% of the above qualifications, you should still seriously consider applying. We're all humans with special talents that go beyond what's listed here.
Compensation
We're committed to equitable compensation for all TeamSnappers. The minimum starting point for this role is $60,000, inclusive of base and bonus, with comp updated based on multiple factors. Our comp is highly competitive in our space and we adjust overall comp based on relevant experience, skills, certifications, and geographic location.
Location
TeamSnap is a fully remote company, so you need to be very comfortable working with people who aren't in the same time zone as you. We are always expanding, but there is a small list of states we do not hire in, including Alabama, Alaska, Delaware, District of Columbia, Hawaii, Iowa, Louisiana, Mississippi, Nebraska, New Hampshire, New Mexico, Rhode Island, and South Dakota, and while we love all parts of the world, we can only hire permanent US residents at this time.
Opportunities to Grow
At TeamSnap, we work hard to provide a culture of trust, accountability, inclusivity, and boundless opportunities to grow, along with the chance to make a lasting impact and have some fun while doing it.
Total Rewards
We're proud to be remote-first. We've been remote since 2009, long before COVID made it cool
Unlimited PTO and paid parental leave for ALL parents (not just primary or secondary)
100% premium coverage of medical/dental/vision for you and your family
401K to help you invest for the future
$1,500 annual learning and development stipend
Travel to fun locations for all-company meetings and team events
Generous home office allowance to set you up for success
TeamSnap Swag to keep you looking sharp
A monthly stipend for health & wellness and so much more!
TeamSnap Total Rewards
CLICK HERE for full details and to apply. For more jobs like these, check our Newest Jobs & Gigs page. May you be working from home soon!
PLEASE SHARE this post – turn your friends into Rat Race Rebels!