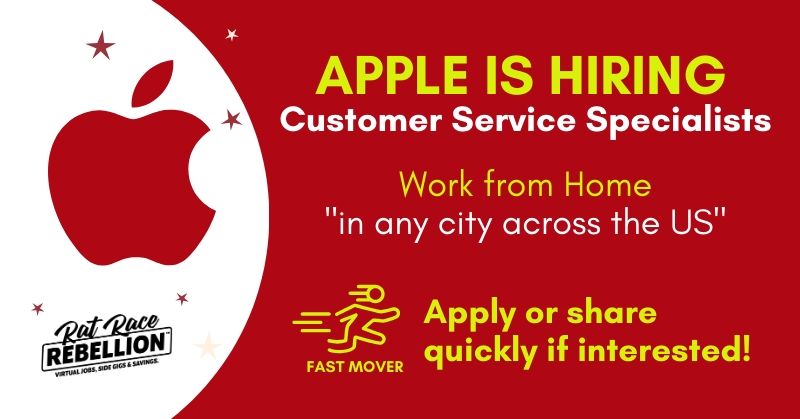 by Chris Durst      May 27, 2020
APPLY & SHARE QUICKLY – APPLE JOBS ALWAYS FILL FAST!
Apple just posted their work from home Customer Service Specialist openings and we want our RRRebels to be the first to know about it! Average pay $35,000/yr., per employee reviews.
You may apply "from any city across the US that has available internet infrastructure. You do not need to live in the city this is posted in to be considered," the company says.
Here's what Apple has posted about this full-time job:
"At Apple, we believe in hard work, a fun environment, and the kind of creativity and innovation that only comes about when skilled people from diverse backgrounds approach problems from varying perspectives. We believe each customer interaction is an opportunity to delight, engage, and inspire.
As a Customer Service Specialist, you will provide premium, end-to-end services for Apple customers, across telephone, email and/or chat. You and your fellow team-members will be responsible for ensuring that Apple customers receive the best possible service. Do you bring awesome energy and a great attitude to your everyday interactions with your customers and team members? We aim to go above and beyond 'customer service' to surprise and delight Apple customers.
This position can be located on-site at the Apple campus in Austin, Texas or at home from any city across the US that has available internet infrastructure. You do not need to live in the city this is posted in to be considered.
Key Qualifications
Excellent written and verbal language skills in English (required)
Demonstrates a passion for outstanding customer focus
2-3 years of excelling in a sales, customer service, or support role – with the majority of experience in a customer-facing role
Adept at navigating ambiguous customer situations
Routinely demonstrates listening skills and is attentive to customer needs
Skilled at customer engagement
Maintains composure across a variety of customer and peer interactions
Embodies approachability with peers and customers alike
Delivered consistent results in previous roles
Ability to multi-task and navigate multiple, different work streams and tools
Ability to work independently with limited supervision
Exhibits patience during complex customer issues
Willingness and ability to appear on live video with co-workers
Willing and able to work a schedule from 6:00 am to 11:00pm (Central) within a 7-day work week, including holidays, with additional flexibility during high volume times of the year.
Description
As Customer Service Specialists, we will provide extraordinary phone support to Apple customers. Routine customer interactions include order status questions or changes to previously placed orders. We are able to translate tech-speak, billing, shipping and eCommerce jargon into every day, understandable terms. We will also need to use multiple sources of information to stay current on product features, technology changes and events that affect customers. This is a fast-paced, performance-based environment where calls are monitored, recorded and assessed. This is an At-Home position.
Education & Experience
Bachelors degree or equivalent work experience.
Additional Requirements
Is being an At-Home Service Specialist a great fit for you? Consider the following questions:
Do you have a private workspace in your house with a door, where ambient noise can be minimized during work hours?
Do you have a private workspace with a desk and chair? Does this workspace allow for the proper installation of your technical equipment?
Do you have, or are you able to get, an analog or digital phone line that can be dedicated to business calls? (monthly allowance provided by Apple)
Do you have, or are you able to get, high-speed internet service meeting minimum bandwidth requirements of 10 mbps downstream and 2 mbps upstream? (monthly allowance provided by Apple)
Are you a self-starter who is comfortable in an environment remote from co-workers and managers?"
CLICK HERE for more and to apply. For more jobs like these, check our Newest Jobs & Gigs page. To be the first to hear about jobs like these, like our Facebook page and check your feed for our posts. May you be working from home soon!
PLEASE SHARE this post – turn your friends into Rat Race Rebels!
[social_warfare]