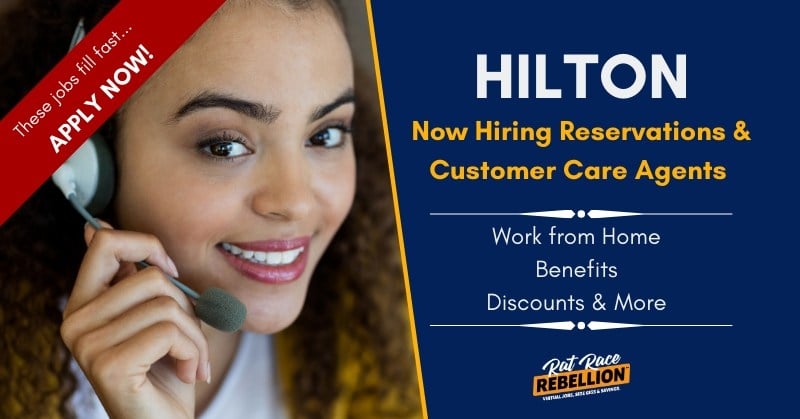 by Chris Durst       Feb. 27, 2021
Apply or share quickly if interested. These usually fill fast.
Hilton is hiring Work from Home Full-Time Remote Sales and Customer Service Representatives. This role involves helping Hilton guests with their reservations and handling customer service issues.
Computer is provided (you must have your own monitor), no college required. Paid virtual training included.
Hiring from AL, AR, DE, FL, GA, ID, IN, IA, KS, KY, LA, MI, MS, MO, NE, NH, NC, OH, OK, SC, TN, TX, UT, VA, WI and WY. If you don't live in one of these states, please share with friends who do!
Base pay $12/hr. per the text they sent to us. (Their work from home FAQ page lists $11/hr., but this may simply be an older figure.)
Here's what the company has posted about the job:
"Hilton Reservations and Customer Care (HRCC) is on a path to revolutionize human hospitality in a digital world, the same way we defined hospitality from its early beginnings. We strive to deliver personalized solutions that inspire a passion for travel, and our goal is to make a lasting impression with every Hilton guest with whom we interact.
What will I be doing?
The Remote Sales and Customer Service Representative is a work from home role within HRCC's support team and is perfect for someone with strong communication skills that can easily switch from selling Hilton to solving problems. This means being able to perform various roles, based on training provided. This includes (but is not limited to)–advising, selling, responding to inquiries/requests, and resolving issues/complaints.
More specifically, you will:
Deliver excellent service and respond in a friendly, timely, and consultative manner using discovery principles to uncover the customer needs and matching to the appropriate Hilton offering or solution.
Develop an understanding of Hilton and partner offerings (e.g. timeshares, credit card, etc.), and utilize that knowledge to maximize revenue through consultative selling.
Demonstrate proficiency and meet specific daily sales and service goals and metrics.
Appropriately acknowledge service failures, handle escalated problems, and identify service recovery options to maintain customer loyalty.
Be receptive to feedback and quickly apply performance improvement recommendations.
Equipment – You will be required to provide (non-reimbursable):
Computer Monitor
Surge protector
High speed wired internet service of 10 mbps or higher (WiFi is not permitted)
Personal Phone Number/Smartphone
Availability/Locations – We are currently hiring candidates in 26 states across the country, including: Alabama, Arkansas, Delaware, Florida, Georgia, Idaho, Indiana, Iowa, Kansas, Kentucky, Louisiana, Michigan, Mississippi, Missouri, Nebraska, New Hampshire, North Carolina, Ohio, Oklahoma, South Carolina, Tennessee, Texas, Utah, Virginia, Wisconsin and Wyoming.
What are we looking for?
We believe the success in this role will demonstrate itself through the following attributes and skills:
Think and act independently, use good judgment, and build rapport with customers.
Take initiative, ownership, and are accountable.
Can influence customers with a positive and high-energy!
Accountable for downtime related to technology issues and report outages in a timely manner.
Provide a quiet work environment or home office, free from noise and distractions for your entire shift and be self-motivated.
Attendance and active participation in virtual training sessions is required, including timely and 100% completion of self-paced training modules.
To fulfill this role successfully, you should demonstrate the following minimum qualifications:
High School Diploma/GED
Three (3) years of steady job experience in a consultative customer service oriented and/or sales role
One (1) year of successfully meeting specific metrics/goals in a performance driven role, including high customer satisfaction scores, negotiating, overcoming objections, and/or upselling and cross-selling
Excellent verbal and written English communication skills and active listening skills
Can set up job related computer equipment, run various computer programs, troubleshoot, and fix issues independently
It would be helpful in this position for you to demonstrate the following capabilities and distinctions:
For work-at-home positions, have previously held a work-at-home job
Experience with virtual training, which required completing self-paced modules
Prior experience in the hospitality industry"
CLICK HERE for full details and to apply. For more jobs like these, check our Newest Jobs & Gigs page. To be the first to hear about jobs like these, like our Facebook page.
PLEASE SHARE this post – turn your friends into Rat Race Rebels!