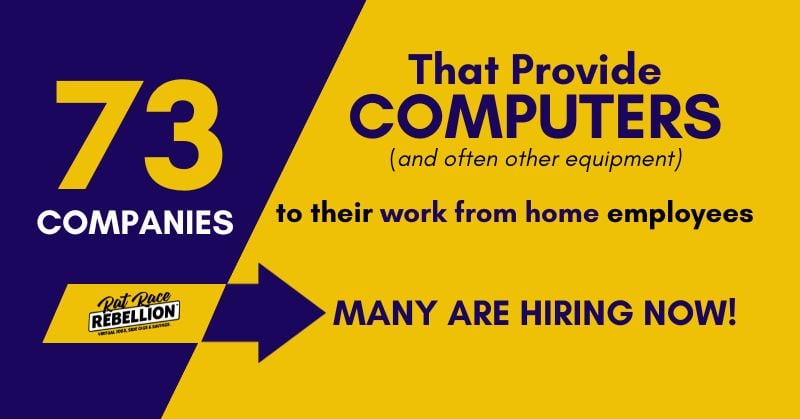 by Chris Durst    Updated Sep. 13, 2023
Many people have asked if we could compile a list of companies that provide computers (and sometimes monitors, furniture, and other equipment) to employees who work from home. So here goes!
Following is a list of 70 companies that provide equipment (or have historically) for their home-based employees.
Note: Some companies may not be hiring right now. Also, the types of open jobs will vary from company to company, so you'll need to roll up your sleeves and do a bit of digging to find the best fit.
And now, the list!
The links will take you directly to each company's career page. Once there, use their search features to single out the work from home jobs. Here are a few tips for accomplishing that:
Look for preset check boxes, drop-down menus, etc. that have a "remote," "virtual," "work from home" or similar option. If none exists…
Try these search words or phrases – one at a time – in the search/keyword field: remote, virtual, work from home, work at home
Use the site's filters (if any) to fine-tune your search by job type, full- or part-time, and other specifics
AAA
We'll be updating this page periodically — remember to BOOKMARK this page so you can check back for updates!
Also, we often feature computer-provided jobs in our daily posts and job leads. To ensure you don't miss them, subscribe to our daily email newsletter  and like our Facebook page. May you be working from home soon!
PLEASE SHARE this post – turn your friends into Rat Race Rebels!