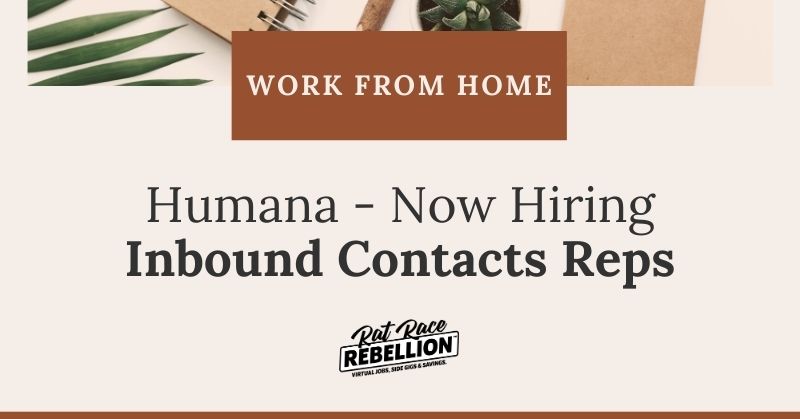 by Chris Durst     Oct. 11, 2022
Humana, a Fortune 100 company, is hiring work from home Full-Time Inbound Contact Reps to support their members. Computer provided.
The company is hiring in most states.
The pay rate isn't noted in the job description. An average of $17.61/hr. is mentioned on Glassdoor, but that's not official. In general, Humana is known to pay competitive rates.
Broad benefits included.
Here's what the company has to say about the openings:
The Inbound Contacts Representative 1 represents the company by addressing incoming telephone, digital, or written inquiries. The Inbound Contacts Representative 1 performs basic administrative/clerical/operational/customer support/computational tasks. Typically works on routine and patterned assignments.
Responsibilities
The Inbound Contacts Representative 1 addresses customer needs which may include complex benefit questions, resolving issues, and educating members. Records details of inquiries, comments or complaints, transactions or interactions and takes action in accordance to it. Escalates unresolved and pending customer grievances. Decisions are limited to defined parameters around work expectations, quality standards, priorities and timing, and works under close supervision and/or within established policies/practices and guidelines with minimal opportunity for deviation.
Required Qualifications
2 years of customer service experience
Strong customer service orientation
Strong attention to detail
Strong typing and computer navigation skills
Ability to manage multiple or competing priorities, including use of multiple computer applications simultaneously
Effective verbal and listening communication skills
Must be passionate about contributing to an organization focused on continuously improving consumer experiences
Preferred Qualifications
Associate's or Bachelor's Degree
Previous inbound call center or related customer service experience
Healthcare experience
Fluency in Spanish
Additional Information
COVID 19 Vaccination:
Humana and its subsidiaries require vaccinated associates who work outside of their home to submit proof of vaccination, including COVID-19 boosters. Associates who remain unvaccinated must either undergo weekly negative COVID testing OR wear a mask at all times while in a Humana facility or while working in the field. Every associate and contractor who work inside a Humana facility or in the field, regardless of vaccination status, must complete a daily health screening questionnaire.
Interview Format:
As part of our hiring process for this opportunity, we will be using an exciting interviewing technology called Modern Hire to enhance our hiring and decision-making ability. Modern Hire allows us to quickly connect and gain valuable information for you pertaining to your relevant skills and experience at a time that is best for your schedule.
If you are selected for a first round interview, you will receive an email/text correspondence inviting you to participate in a Modern Hire interview. In this interview, you will listen to a set of interview questions over your phone and you will provide recorded responses to each question. You should anticipate this interview to take about 15 minutes. Your recorded interview will be reviewed and you will subsequently be informed if you will be moving forward to next round of interviews.
Alert: Humana values personal identity protection. Please be aware that applicants selected for leader review may be asked to provide a social security number, if it is not already on file. When required, an email will be sent from [email protected] with instructions to add the information into the application at Humana's secure website.
Work-At-Home Requirements
WAH requirements: Must have the ability to provide a high speed DSL or cable modem for a home office. Associates or contractors who live and work from home in the state of California will be provided payment for their internet expense. A minimum standard speed for optimal performance of 25×10 (25mpbs download x 10mpbs upload) is required. Satellite and Wireless Internet service is NOT allowed for this role.
A dedicated space lacking ongoing interruptions to protect member PHI / HIPAA information
Scheduled Weekly Hours: 40
CLICK HERE for full details and to apply. For more jobs like these, check our Newest Jobs & Gigs page. To be the first to hear about jobs like these, like our Facebook page. May you be working from home soon!
PLEASE SHARE this post – turn your friends into Rat Race Rebels!
[social_warfare]