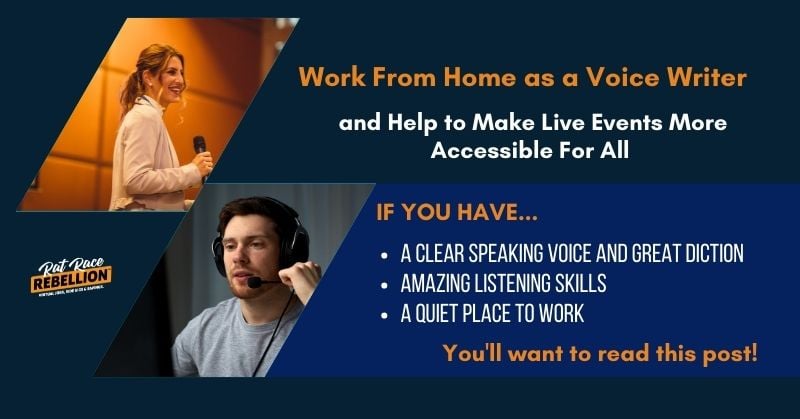 by Chris Durst      Nov. 30, 2022
Repeat after me… this might be a cool side gig.
3Play Media wrote us that they're looking for part-time work from home Voice Writers to provide accurate captions for live events. No experience necessary, no state hiring restrictions mentioned.
In this role, you would:
Find a quiet space in your home (for this job you'd need uninterrupted attention)
Set yourself up with a comfortable headset and microphone
Listen to the speaker who is addressing a group at a live event and, as simultaneously as possible, repeat what they are saying in a clear, well-enunciated voice. This lets the speech recognition software translate your words into real-time captions for audience members
In addition to re-speaking the words, you'd need to speak the punctuation (if you use speech-to-text on your cell phone, you likely already have the hang of this). So, for example, you will actually say the word PERIOD at the end of a sentence; or the words QUESTION MARK at the end of a question.
We reached out to the company regarding pay and they replied, "Live voice writers are paid on average $0.50 per captioned minute plus up to 20 minutes of prep/check-in time prior to an event. If an event runs long, they receive $0.55 per additional captioned minute."
Here's what the company has posted about these independent contractor roles:
Help Make Live Events More Accessible For All
3Play Media is committed to making media widely accessible, using technology and human expertise to deliver high-quality video and audio accessibility services to customers around the world. We believe that the impact of accessibility is universal and inclusive of all people, with and without disabilities.
We serve more than 10,000 customers across multiple industries, including education, media & entertainment, government, and enterprise companies. Our solutions increase the value of our customers' online and live events by making it accessible and usable for all audiences.
Why work at 3Play
3Play Media is the premier media accessibility provider in North America – With more than 10,000 customers across education, media & entertainment, government, and enterprise companies, you'll voice write for a wide variety of events to provide equal experiences for all attendees.
Voice Writers work with our patented technology – 3Play's cutting edge platform for voice writing makes your time working as smooth and efficient as possible.
Flexible scheduling and freedom of choice– As a Voice Writer, you'll choose the jobs you want to do that fit your schedule.
Competitive rates – We value all your time spent working. Voice Writers are paid for event prep time and overtime when events run long.
3Play provides transcription, closed captioning, audio description, and live captioning solutions to customers around the world. Period.
This is a skill called voice writing. Voice writing is one way to provide accurate captions for live events.
It's kind of like simultaneous translation. Instead of a foreign language, a voice writer translates spoken words to written words with the help of an automated speech recognition software.
The practice of voice writing looks a little something like this [see video of this process in action by clicking the link at the bottom of this post]. The voice writer wears a comfortable headset with a microphone and sits with their computer in a quiet location.
As the event live stream begins, the voice writer speaks directly into an automated speech recognition engine. A voice writer's breathing, diction, and pacing maintain accurate caption capture throughout the event.
Voice writing creates accurate, complete, understandable captions. This provides deaf or hard-of-hearing participants with the same level of access and information as hearing participants.
Required Qualifications
Access to a headset, computer, and strong internet connection
Excellent verbal communication, listening skills, and a clear, consistent speaking voice
Sitting or standing comfortably for the duration of an event (up to 90 minutes)
Multitasking between listening, speaking, and typing
Managing projects, working independently, and closely following instructions
Completing a background check before starting to work
CLICK HERE to view a video of Voice Writing in action, and to apply. For more jobs and gigs like these, see our Newest Jobs & Gigs page. To be the first to hear about jobs like these, like our Facebook page, and check your feed for our posts.
PLEASE SHARE this post – turn your friends into Rat Race Rebels!
[social_warfare]