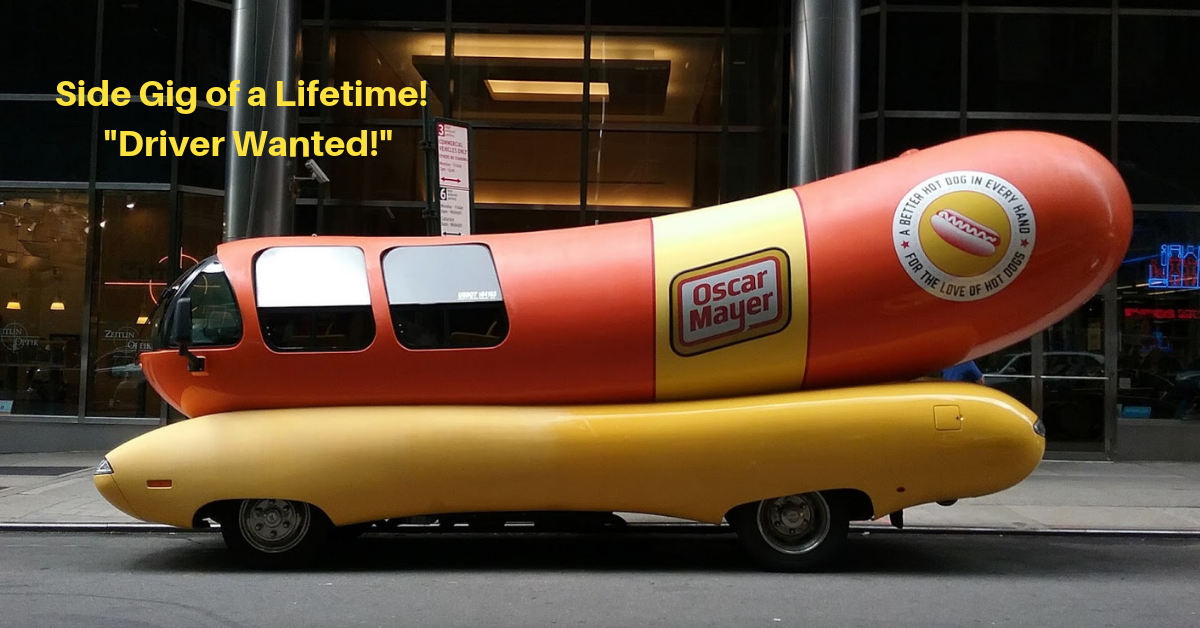 By Mike Haaren – Co-Founder Rat Race Rebellion – Jan. 21, 2021
It's not every day we get to post about something like this. You may have seen the Wienermobile (if you haven't, you can only relish the possibility! Heh heh). Well, now's a chance to drive it for a whole year, and get paid, and see the country, too!
Oscar Mayer is looking for people to drive their famous car. If you cut the mustard, of course. Heyo! (Everybody's making these condiment jokes. Please just roll with it!)
It's a one-year position, driving coast to coast. "Competitive salary, plus expenses, benefits, and team apparel."
If you know any college grads or seniors — or you're one yourself — apply or share quickly if interested! Last year, the deadline for applications was Jan. 31. It isn't mentioned this time, but you should probably assume the openings won't last long.
Here's an excerpt in their own words:
"Have you always dreamed of working with hot dogs? Well, look no further. All of your hot dog dreams just came true. We could say 'drivers wanted,' but what we really mean is WIENERMOBILE navigators ready to deliver unlimited joy to thousands of people every single day.
"We need outgoing, creative, friendly, enthusiastic, graduating college seniors [or grads — scroll down in their description] who have an appetite for adventure and are willing to see the country through the windshield of the Oscar Mayer Wienermobile. Applicants should have a BA or BS, preferably in public relations, journalism, communications, advertising, or marketing, though applicants are not limited to these degrees."
"Where? – The Hot Dog Highways of America. Wienermobile vehicles travel through all regions of the country visiting big cities and small towns alike, bringing miles of smiles to millions."
Click here for more. (Scroll down to "Hotdoggers Wanted.") Or to go straight to the application page, click here. For more side gigs see our Newest Jobs & Gigs page. To be the first to hear about jobs and gigs we post, like our Facebook page and check your feed for our posts. May you be working from home soon!
PLEASE SHARE this post – turn your friends into Rat Race Rebels!