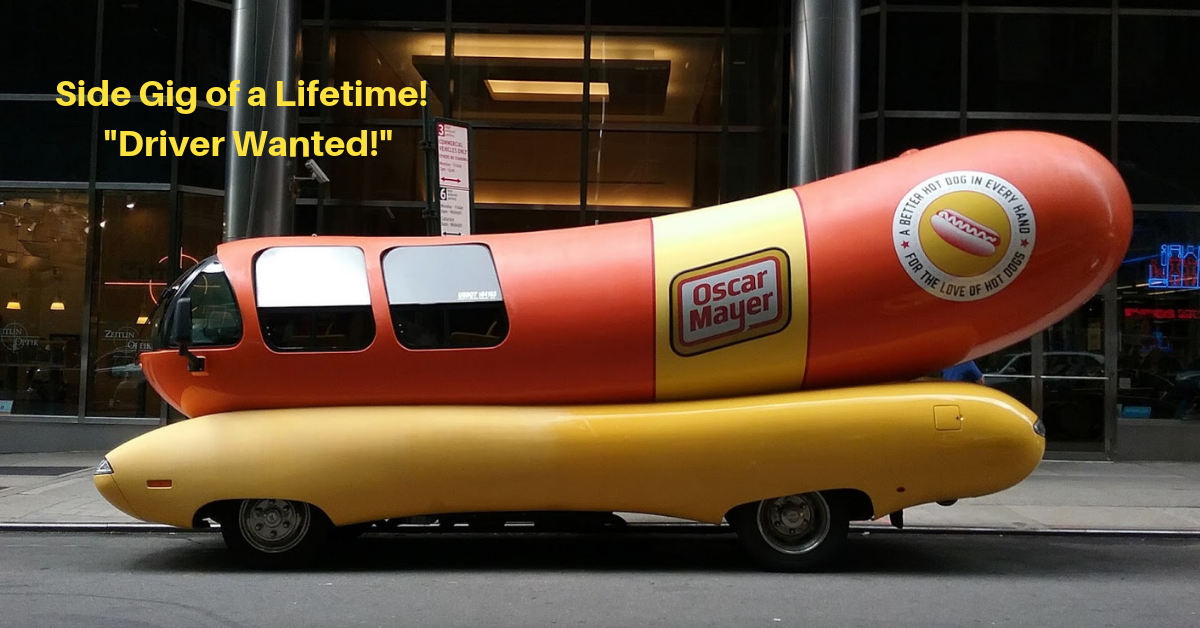 By Mike Haaren – Jan. 11, 2023
It's not every day we get to post about something like this. You may have seen the Wienermobile (if you haven't, you can only relish the possibility! Heh heh). Well, now's a chance to drive it for a whole year, and get paid, and see the country, too!
Oscar Mayer is looking for people to drive their famous car. If you cut the mustard, of course. Heyo! (Everybody's making these condiment jokes. Please just roll with it.)
It's a one-year position, driving coast to coast. "$35,600 base salary – a weekly allowance of $150 ($7-200/yr.) for meals & personal travel – 18 days of paid time off – full health benefits package – and 100% of Hotel expenses covered…"
Here's an excerpt in their own words:
Full Time – 1-year paid assignment
An Oscar Mayer Hotdogger…
Is an outgoing- creative- friendly- exuberant- college graduate who has an appetite for adventure and is willing to see the country through the windshield of the Oscar Mayer Wienermobile for one year!
Is a representative of Oscar Mayer as a brand ambassador through radio and television appearances- newspaper interviews- grocery/retail events- charity functions- and a variety of other activities
"Meats" and greets people from coast to coast- while maintaining the company car (Oscar Mayer Wienermobile)
Works with internal and external consumer promotions- marketing and sales professionals
Manages their own traveling public relations firm on wheels; organizing promotions- contributing to brand social content and pitching TV- radio and print media
Where? – The Hot Dog Highways of America. Wienermobile vehicles travel through all regions of the country visiting big cities and small towns alike, bringing miles of smiles to millions.
We need outgoing, creative, friendly, enthusiastic, graduating college seniors who have an appetite for adventure and are willing to see the country through the windshield of the Oscar Mayer Wienermobile. Applicants should have a BA or BS, preferably in public relations, journalism, communications, advertising, or marketing, though applicants are not limited to these degrees.
Click here for more. (Scroll down to "Hotdoggers Wanted.") You can also find more detail here. For more side gigs see our Newest Jobs & Gigs page. To be the first to hear about jobs and gigs we post, like our Facebook page and check your feed for our posts. May you be working from home soon!
PLEASE SHARE this post – turn your friends into Rat Race Rebels!
[social_warfare]