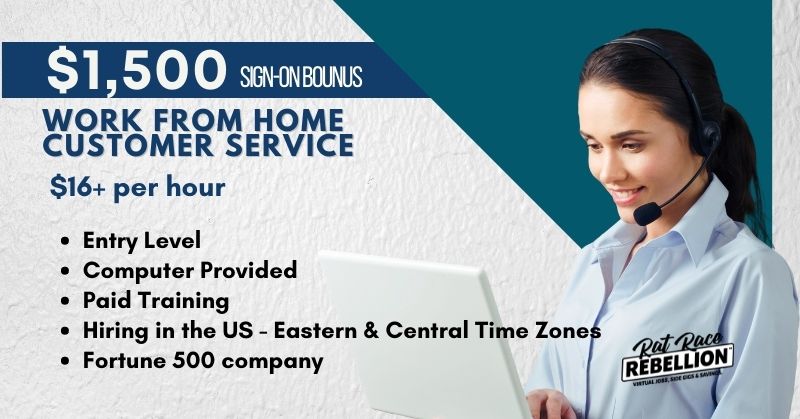 by Chris Durst        Nov. 7, 2022
NOTE: These jobs will fill quickly, so apply or share ASAP if interested.
UnitedHealth Group is looking for work from home Customer Service Advocates in the Eastern and Centra time zones. $1,500 sign-on bonus. Pay starts at $16/hr. (or more, depending on your location). Computer provided. Benefits.
Per the company, "Even if you have no prior experience, we have training classes starting soon to help you build the successful career that you want – apply today!"
In this full-time role you'd help customers with questions about their health benefits.
Here's what the company has to say about the openings:
If you are located within Eastern OR Central Standard Time Zone, you will have the flexibility to telecommute* (work from home) as you take on some tough challenges.
Even if you have no prior experience, we have training classes starting soon to help you build the successful career that you want – apply today!
Turn on the news on any night of the week and you're likely to hear about the changes that are sweeping through our health care system. It's dramatic. It's positive. And it's being led by companies like UnitedHealth Group. Now, you can take advantage of some of the best training and tools in the world to help serve our existing and new customers. You'll take as many as 50-70 calls per day from customers who have questions about their health benefits. As their advocate, you'll use your personality and our tools to help them through the health care benefits available to them, including helping them enroll in a new plan. This is no small opportunity.
This position is full-time (40 hours/week) Monday – Friday. Employees are required to have flexibility to work any of our 8-hour shift schedules during our normal business hours of 8:00am – 8:00pm EST / CST. It may be necessary, given the business need, to work occasional overtime.
*All Telecommuters will be required to adhere to UnitedHealth Group's Telecommuter Policy.
Primary Responsibilities:
Respond to and resolve, on the first call, customer service inquires and issues by identifying the topic and type of assistance the caller needs such as benefits, eligibility and claims, financial spending accounts and correspondence
Help guide and educate customers about the fundamentals and benefits of consumer-driven health care topics to select the best benefit plan options, maximize the value of their health plan benefits and choose a quality care provider
Contact care providers (doctor's offices) on behalf of the customer to assist with appointment scheduling or connections with internal specialists for assistance
Assist customers in navigating myuhc.com and other UnitedHealth Group websites and encourage and reassure them to become self-sufficient
This role is equally challenging and rewarding. You'll be called on to research complex issues pertaining to the caller's health, status and potential plan options. To do this, you'll need to navigate across multiple databases which requires fluency in computer navigation and toggling while confidently and compassionately engaging with the caller.
You'll be rewarded and recognized for your performance in an environment that will challenge you and give you clear direction on what it takes to succeed in your role as well as provide development for other roles you may be interested in.
Required Qualifications:
High School Diploma / GED (or higher) OR equivalent work experience
Minimum of 3+ years of combined education, work and/or volunteer experience
Ability to work business hours in EST or CST
Preferred Qualifications:
Customer Service Experience
Sales or account management experience
Health Care/Insurance environment (familiarity with medical terminology, health plan documents, or benefit plan design)
Social work, behavioral health, disease prevention, health promotion and behavior change (working with vulnerable populations)
Telecommuting Requirements:
Reside within Eastern OR Central Standard Time Zone
Ability to keep all company sensitive documents secure (if applicable)
Required to have a dedicated work area established that is separated from other living areas and provides information privacy
Must live in a location that can receive a UnitedHealth Group approved high-speed internet connection or leverage an existing high-speed internet service"

CLICK HERE for full details and to apply. For more jobs like these, check our Newest Jobs & Gigs page. May you be working from home soon!
PLEASE SHARE this post – turn your friends into Rat Race Rebels!