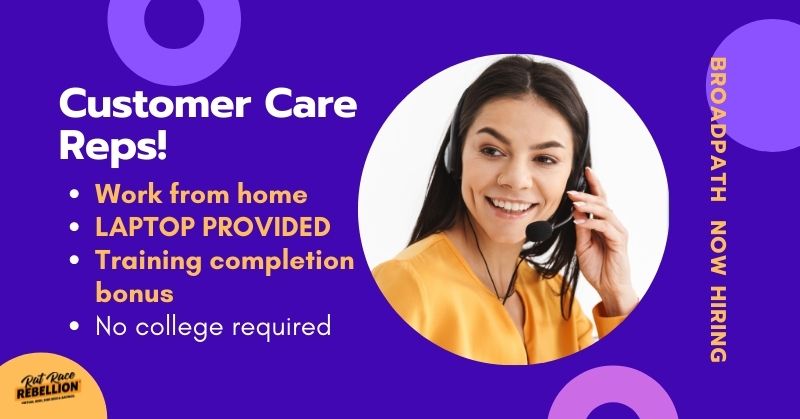 by Chris Durst     Jan. 12, 2022
BroadPath Healthcare Solutions is hiring Work from Home Customer Care Representatives.
Applicants should have at least two years of call center experience, as well as some experience in money (yes, cashiering experience counts).
The company will provide you with the equipment you need, and will train you to succeed in the job.
There's also a Training Completion Bonus! "Upon successful completion of onboarding paperwork, Corporate Compliance Training, and attendance of your paid training, you will receive our $100 Training Completion Bonus!"
No state hiring exclusions are listed in the job post, and no mention is made of the pay rate. That said, historically, their pay rate is competitive in the marketplace.
Be sure to note that equipment includes a webcam, as the company monitors employees while they work. If you prefer not to be monitored, you'll probably want to skip this job and continue your search.
Here's what the company has posted about this opportunity:
"Grow with a company that is passionate about helping you maximize your full potential. Become a part of transforming customer and client experience through the utilization of our innovative work from home technology. At BroadPath we believe in assuming the highest intention for others, our employees are empowered through their voices which helps us to continue shaping the emerging future, bringing innovation, and flexibility to the Work from Home Industry. Through our tailored training programs, backed by our hands-on approach we ensure that you are set up to be successful on your first day. As part of our dynamic team, you will provide world class customer service to our members via inbound calls. You will assist them with questions surrounding their coverage, updating relevant account information, or helping resolve any inquiries they may have! Training Completion Bonus! Upon successful completion of onboarding paperwork, Corporate Compliance Training, and attendance of your paid training, you will receive our $100 Training Completion Bonus!
Responsibilities
Associates are expected to meet or exceed established performance goals in the areas of efficiency, call quality, customer satisfaction, first call resolution, adherence, and attendance
Work a highly regimented schedule with a full day of assisting customers on the phone
Properly escalate telephone calls to escalated departments, process online call sheets and required documentation
Ensure compliance with BroadPath, Client, and any job specific regulations in place for their team and role
Basic Qualifications
Minimum 2 years of call center experience
Some experience in money or financial customer service capacity, i.e. credit advisor, cashier, etc
Maintain daily productivity and time management requirements
Show excellent customer service skills, as indicated by Quality Assurance scores and other measures
Strong customer service skills including diplomacy and the art of diffusing tense situations
Excellent attendance and strict adherence to daily schedules is required in order to be successful in the job
High School Diploma or GED preferred
Preferred Qualifications
Previous call center experience
Previous successful work at home experience
Note: Some of our call center positions require a specialized level of experience interacting with a particular type of customer such as a health insurance plan member or a financial services customer as examples. This specialized experience will be listed in the qualifications when it's required for an available position.
Our Customer Care Representatives will enjoy the following benefits:
Training completion bonus! Upon successful completion of onboarding paperwork, corporate compliance training, and attendance of your paid training, you will receive our $100 Training completion Bonus!
Access to BroadPath's Limited Medical Plan starting first of the month after 60 days of employment. After one (1) year of full-time employment, you will receive access to our Major Medical Plan and 401K
Bhive Kit; includes a web camera that allows you to join our Connected Culture!
Employee Referral Bonus Program (Uncapped)
Weekly Pay
CLICK HERE for full details and to apply. To see more jobs like these, check our Newest Jobs & Gigs page. To be the first to hear about jobs like these, like our Facebook page and check your feed for our posts. May you be working from home soon!
PLEASE SHARE this post – turn your friends into Rat Race Rebels!
[social_warfare]